More than 100 inmates have been killed in a deadly fight inside a prison in the Ecuadorean port city of Guayaquil.
It is expected to take days to identify the bodies, leaving relatives of inmates fearing the worst. Journalist Blanca Moncada Pesantes spoke to some of those waiting for news.
Not even at the height of the coronavirus pandemic in March and April 2020, when death was in the air in many neighbourhoods of Guayaquil, had so many relatives ever gathered outside the city's morgue.
When President Guillermo Lasso announced that the death toll had risen, dozens of families rushed to the forensic laboratory where the bodies of the victims were being taken. They want to find out where their loved ones are and, crucially, if they are still alive.
They have yet to get an answer and their anxiety only increased as explosions could again be heard coming from Guayaquil's biggest prison, a sign that the gang war inside - said to be linked to the drugs trade - had not been brought under control.
Late on Thursday, police said they had regained control of the prison following a major operation involving 900 officers and army soldiers and gave a revised death toll of 118.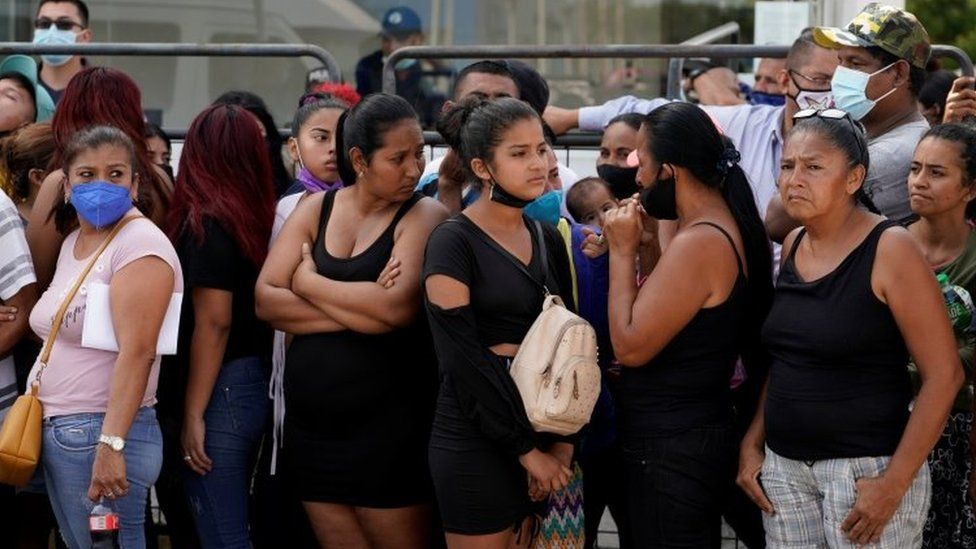 One of those outside the morgue was 66-year-old Gustavo Vives, whose 24-year-old son was killed in the prison riot.
"He's not on the list [of fatalities] but I know he is dead because I saw a photo of his body and I identified him from that," he says.
Like many others, he has been getting information from footage and photos shared on social media and among inmates' relatives.
By midday on Thursday, the area outside the forensic lab was full of people. Funeral workers looking for business milled among anxious relatives.
They had coffins at the ready should they be needed - unlike during the darkest days of the coronavirus pandemic when a shortage of coffins in Guayaquil saw some people forced to use cardboard boxes to bury their loved ones.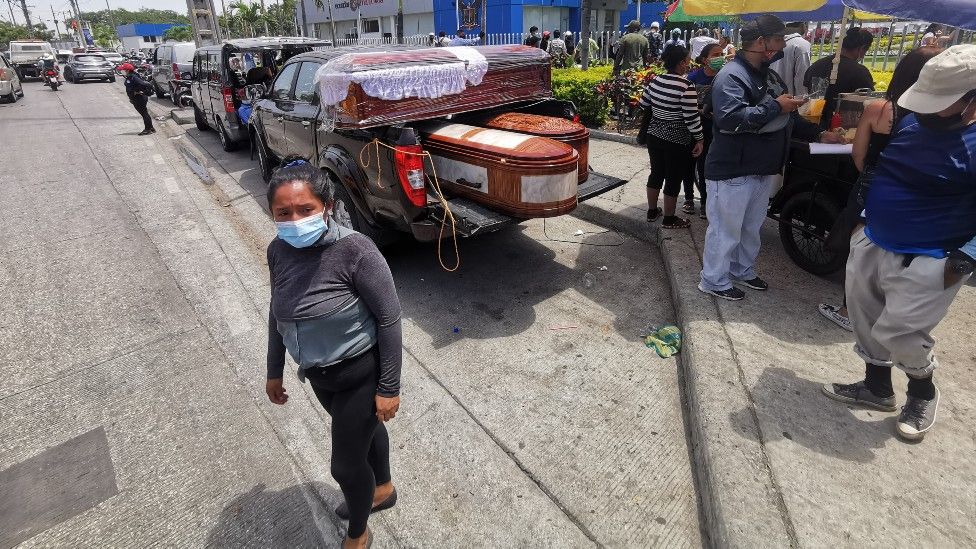 Zenaida Moreira, 50, handkerchief in hand, was looking for her 23-year-old Darwin Camino, who was sent to the prison - Guayaquil's most dangerous - two years ago. A drug user, he had been arrested for stealing chairs from a school.
"He's serving a sentence for theft and yet he was locked up among killers, rapists and drug traffickers," said Ms Moreira.
The mother feared the worst after having seen videos of the carnage inside the jail.
"I don't know if one of the bodies I saw was his. I saw a decapitated head, the face is similar to his, but the authorities are not saying anything," she said, in tears.
Her son would call her over from a phone smuggled into the prison but it has been days since she last heard from him.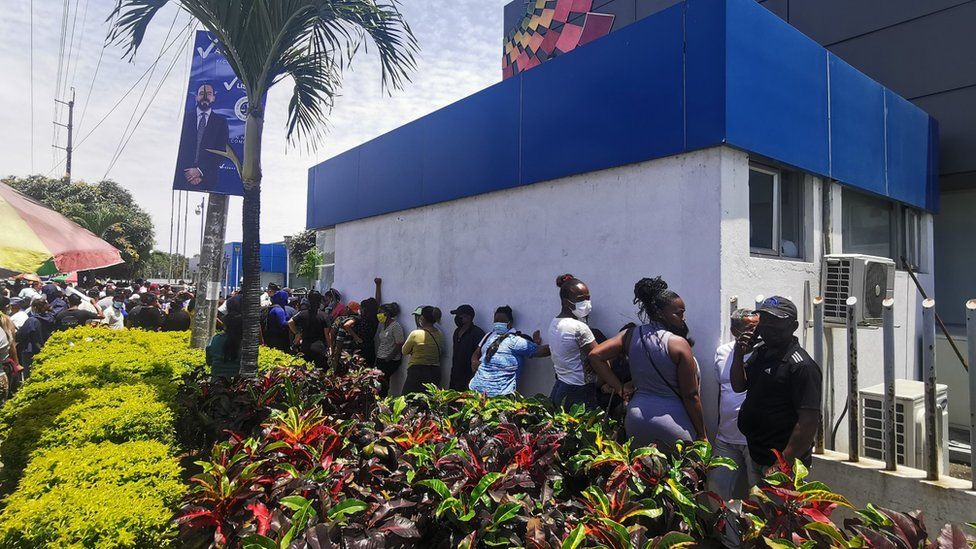 Her daughter María, Darwin's 30-year-old sister, tried to reassure her. The women have heard that security personnel carried out a sweep of the prison on Wednesday and they hope that he only lost contact because his phone was seized.
But they are staying put outside the morgue, just in case.
The forensic lab is not the only place where relatives are gathering. The authorities have asked them to go to the Abel Jiménez sports stadium, where they have been promised updates and psychological support.
But 40-year-old Pedro Murillo, who is searching for his 20-year-old son, says he got neither.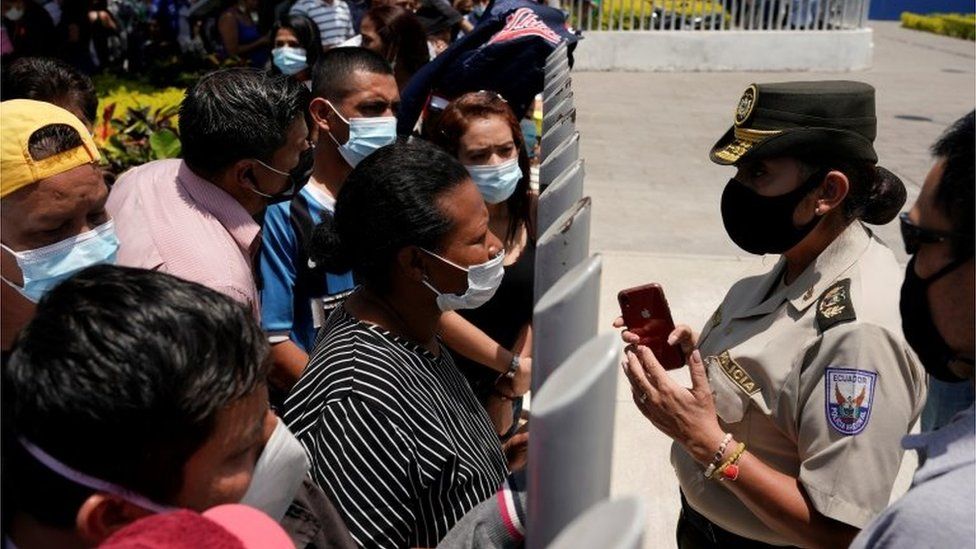 "I arrived and they just asked me what his name was and if he had any tattoos, nothing more," he says of the soldiers guarding the perimeter of the stadium.
"I haven't slept for two days and two nights. I haven't been able to go to work because I'm so distraught."
Most of the fatalities are thought to have occurred in wings five and six of the prison. There are reports that some of the bodies in wing five have been burned, which will further delay efforts to identify them.
There are also scores of injured inmates. A doctor told the BBC that at least 50 wounded prisoners had been taken to Hospital del Guasmo between Tuesday and Wednesday.
With so many inmates there, some medical personnel fear that the gang war which landed the patients there could flare up again inside the hospital's wards.
There are also fears that the death toll may rise further as police slowly search through the prison complex room by room.
DISCLAIMER: The Views, Comments, Opinions, Contributions and Statements made by Readers and Contributors on this platform do not necessarily represent the views or policy of Multimedia Group Limited.