On May 5, 2020, the Korle-Bu Teaching Hospital released a statement announcing that patients with Covid-19 including a nurse, a security officer, an orderly, and a doctor had been discharged after recovering.
It is a success praised by everyone; the hospital management, the media and the public.
Speaking on Joy FM's Ultimate Health show May 10, some leading medical staff of the multidisciplinary team at the nation's premier healthcare centre shared how they made it happen.
"We worked diligently as a multidisciplinary team. At Korle Bu we practice a multidisciplinary approach in the management of cases. So this concept wasn't new to us," Head of Department of Medicine at Korle-Bu, Dr Patrick Adjei says.
"What is quite interesting is the enthusiasm the various disciplines have worked with. There's a strong energy that cuts across. When you take the cleaners, cooking staff, nurses, doctors, and even the engineers, all support services like administration to hospital management, there is so much push. I think that's the best I've met so far."
The team is also made up of a dietician, a pharmacist, a consultant physician, a nurse specialist, and a clinical psychologist.
Physician specialist, Dr Fiifi Duodu says about his team, "I don't think we are doing anything different from what the other centres are doing but I can say that we have a lot of specialties at hand so we take their input. We are privileged to have these staff anytime we need them."
But the remarkable recovery of one elderly patient has stunned the masses because evidently, around the world the elderly mostly do not survive the virus. 
Dr Duodu explains that helping an elderly man to recover is the outcome of combining different specialties together.
He believes that there is value in having multiple specialties and skills available as it is critical and essential for managing patients with Covid-19 especially those with underlying health issues.
"The main thing is because we have cases with chronic heart problems, chronic lung and kidney problems, the input from the other staff specials is very key."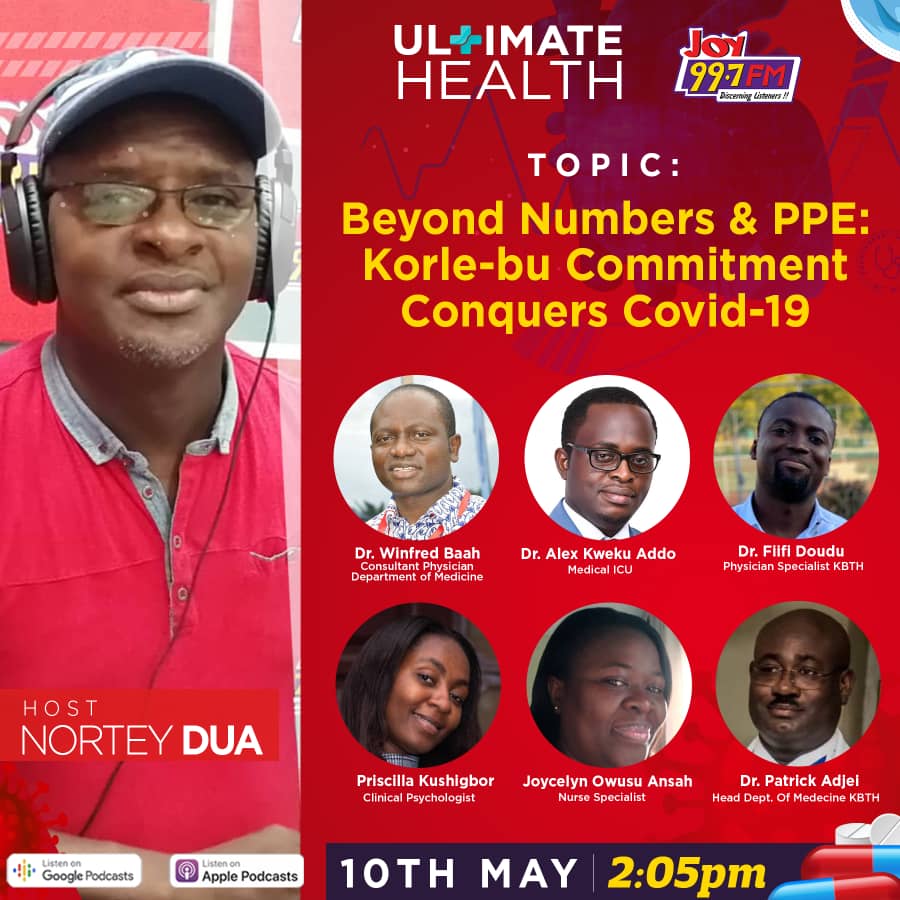 As part of clinical management of COVID-19, Nurse specialist, Joycelyn Owusu Ansah says it is also key to keep stigmatisation at bay.
"Stigmatisation is an impediment in treating patients and accepting the patient, helping the patient to even accept that the condition is there is very important when treating him or her. So what we do here is that we don't stigmatise. We try as much as possible to have a good relationship with them, reassuring them at all times," she said.
In addition, the team has introduced recreational activities that patients with COVID-19 engage with while on admission.
"You cannot lock them up and expect them to cooperate with you. As much as possible, from their head to [their] toes, assess them and help them," she stressed.
"We have transformed our hospital environment to look like the home. When you enter their rooms, in their homes they have their televisions, they have nice bathrooms, they enjoy their beds, that is exactly what we try to do here. We mimic the whole environment."
"This is breaking down the walls of stigma, and even breaking down anxiety," the nurse specialist adds.
Dr Adjei adds that the use of advanced medications and oxygen support therapy has greatly helped in the treatment of patients with Covid-19.
"For those that are very ill, the main therapy has been oxygen support and we've limited assisted ventilation to the minimum. Most of our asymptomatic cases have psychological support, and those that need fluids, we give them fluids."
"We make sure their medical conditions are controlled and in a few cases we've had to use advance medications which have given us a fairly good result."
The multidisciplinary teams continues with their good work to help fight against the virus.
DISCLAIMER: The Views, Comments, Opinions, Contributions and Statements made by Readers and Contributors on this platform do not necessarily represent the views or policy of Multimedia Group Limited.