Two suicide bombers on motorised rickshaws have killed at least seven people in Maiduguri in the north-east of Nigeria, officials say.
A female suicide bomber blew herself up outside a camp for displaced people, killing five men, the army said.
Within 30 minutes, another bomber detonated explosives near a fuel depot.
Boko Haram Islamists are the key suspects, remaining able to stage frequent attacks despite major recent government gains against them.
Nine bodies, including those of the two suicide bombers, were recovered.
Twenty-four people wounded in the explosions were evacuated to nearby hospitals, said Sani Datta, spokesman for the National Emergency Management Agency.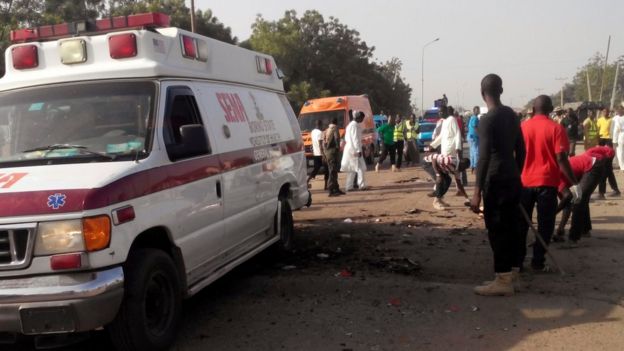 The main suspects, Boko Haram, have staged many attacks in the area
The agency said the first bomber tried to enter the Bakassi camp, which is estimated to house 16,000 people displaced during the government's seven-year battle against Boko Haram.
A military spokesman said the second bomber was following a fuel tanker "with the sole aim of gaining entry to cause maximum damage and casualties."