Save Our Environment Foundation has secured funding to start an integrated Community-Based Waste Management System in Bechem, in the Tano South Municipality of the Ahafo region, for the next 18 months.
The $33,000 UNDP GEF/SGP project will create livelihood opportunities for over 2,000 people.
The project aims to build households' capacity in the efficient collection of waste generated and design business models for degradable and non-degradable wastes.
It will be a collaborative effort among the Municipal Assembly, Zoomlion Ghana and other waste management enterprises, small farmer associations, the community, the University of Energy and Natural Resources (UENR), and civil society organisations involved in knowledge and advocacy.
This was made known at a consultative workshop in Bechem.
Residents in Bechem have raised concerns over poor waste collection and disposal, which continue to compromise their health.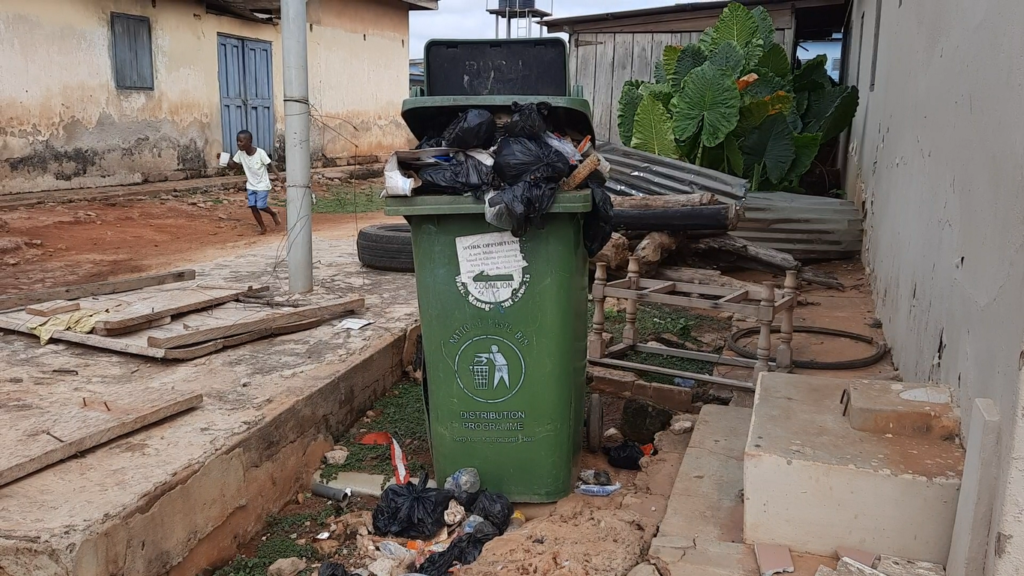 Lydia Fosu Gyaebour lamented how it takes Zoomlion days and weeks to collect waste even though their assemblymen and other stakeholders have had series of discussions with them.
She added that the disgusting odor they have to leave with each day makes them sick all the time.
Another resident, Alice Tawiah, who lives less than 5 meters from a refuse dump site, was cooking amidst the stench when Joy News visited.
Mrs Tawiah said authorities have done little to help them, as the unavailability of toilet facilities in most of the community means people attend to nature's call, add it to the refuse they generate, and dump them at the site, in the midst of homes and churches.
"We are appealing to the government to come to our aid; else we will continue to grapple with flies, Malaria, and cholera."
With a projected population of 98,994 in the municipality, an average of 64,346 tons of waste is generated each day.
But, according to a Save Our Environment Foundation document, Zoomlion Ghana, contracted by the Tano South municipal assembly, can only collect and dispose of a little over 2,300 tons of waste in a month.
The NGO said only 337 out of 16,312 households have access to waste containers and disposal services, and the remaining population does not have any "proper means of disposing of waste".
There is also the challenge of no segregation of wastes with only one dumping site in the municipality. The huge volume of uncollected waste finds its way into river bodies, gutters, and the environment, leading to floods and diseases.
Executive Director of Save Our Environment Foundation, believes, Collins Osei a different approach is required to manage the waste and ease the associated effects on the people and the cost to the government.
"By the end of the project, we will establish a waste collection, sorting, and disposal systems in five communities in the Tano South Municipal, set up a business model of waste processing and recycling facility to turn wastes into organic fertilizer, bags, etc, and support women, youth, and disabled people to develop income generation and livelihood development in integrated waste management", he explained.
The expected outcomes of the project, according to the executive director, include, 1400 tons/year of plastic waste collected, sorted, and re-purposed, involving 2,000 beneficiaries, and 5,000 small-scale farmers in climate-smart organic commercial farming.
He revealed they will also be working with the Municipal Assembly and the Ministry of Food and Agriculture to have a waste management plant under the One District, One factory for the production of fertilizers in the municipality.
Mr. Osei, however, noted a worrying situation where a single waste collection truck serves both Tano South and North Municipal assemblies. He insisted it's a major reason why Zoomlion is unable to collect the piled-up wastes.
"We are going to support the community members by purchasing some tricycles to pick some of the waste generated at their homes," he said.
On his part, the Tano South municipal coordinating director, Anthony Owusu Amoako, said the Assembly will partner with the NGO in the waste management and ensure Zoomlion rectifies and improve waste collection.
He advocated for behavioral change among the communities to ensure the sustainability of efforts by the stakeholders.
DISCLAIMER: The Views, Comments, Opinions, Contributions and Statements made by Readers and Contributors on this platform do not necessarily represent the views or policy of Multimedia Group Limited.