The vision of the Lighthouse Chapel International, now the UD-OLGC, has historically been The Great Commission: to reach the unreached, and to go to the uttermost parts of the earth with the Gospel, in line with the clear instructions of Jesus in Matthew 28:19. In fulfilling this scripture, the UD-OLGC's in-house practices indicate that any faith-filled believer of the church, willing and available to work for God, will be trained, sent and supported to fulfil their calling.
After interviewing a number of such believers of the UD-OLGC, specifically sent to the Northern Regions of Ghana as missionaries, it became evident that despite the strong faith of these missionaries, a high level of hard work, focus, integrity and humility is required to achieve certain levels of success on the mission field.
What was also evident from their accounts was that despite their being physically distant from Accra, the UD-OLGC was directly involved in their care and welfare in an obviously intimate way. It is fair to say that from their perspective, irrespective of the fact that their churches were in some of the remote places in Ghana, the pride and joy of the founder of the UD-OLGC, Bishop Dag Heward-Mills, is to see them succeed both in ministry and in their personal lives.
They recount how they were trained without cost at the world-renowned Anagkazo Bible and Ministry Training Center, (ABMTC), how they were supported financially when they were sent on missions, how they founded and maintained impressive churches in remote areas in the North of Ghana, how the UD-OLGC built and continues to build complete church buildings and office blocks for the churches they started, and how they have prospered spiritually, financially, socially and internationally.
As the denomination commemorates the 58th birthday of the founder, some of the missionaries have reflected on life and ministry under Bishop Dag Heward-Mills.
How Anagkazo Bible and Ministry Training Center prepared them for missions with free textbooks, free food, stipends, scholarships, and the best spiritual and practical ministry survival skills
Rev Daniel Kharis Boateng – Missionary to Kpandai
Rev Daniel Kharis Boateng's upbringing was not an easy one. He recollects, "One of the major difficulties for me growing up as a young boy was my education. I had no one to pay my school fees. It was a real challenge for me. I worked as a waiter at Golden Tulip Hotel to make ends meet. I fought and did what I could to get where I could."
He remembers getting born again and joining the Lighthouse Rose of Sharon Cathedral La, then pastored by Rev Dr. Browne of blessed memory. He became dedicated and interested in the things of God. His pastor, who also happened to be a lecturer at the prestigious Anagkazo Bible School, suggested that he enrol to be trained at the Anagkazo Bible School for ministry. However, the challenge was how to pay the fees.
He said, "I was amazed to discover that Anagkazo Bible School was giving scholarships to anyone who had a desire to serve God and would like to be trained to become a pastor. So, I quickly took the opportunity. This was my chance to obtain a tertiary education since I had no chance of ever furthering my education otherwise. Even more amazing was the fact that apart from being awarded a scholarship, the cost of my textbooks was covered by the school. I was provided with meals every day, and to top it all, throughout the four years of studying at the bible school, I received stipends every month!"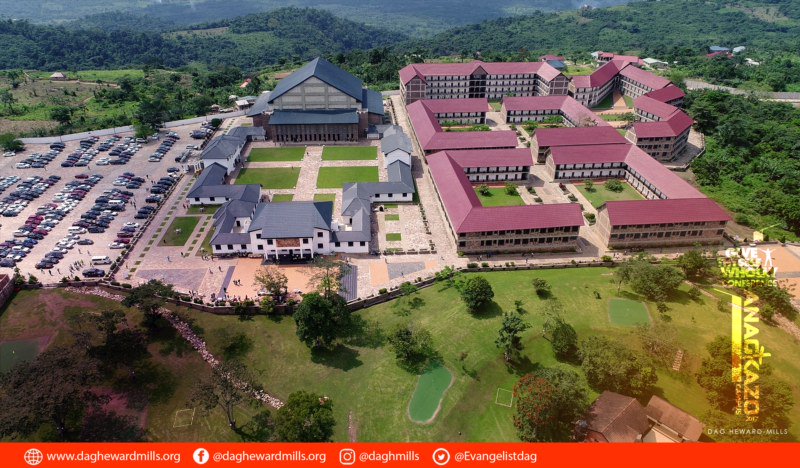 Rev Paul Baba Amaytus – Missionary to Salaga
According to Rev Paul Baba Amaytus, (a.k.a. Rev Baba), "I was a young man, full of desire and zeal to enter into the ministry of our Lord Jesus Christ, but I was confused and lacked focus and wisdom. Then I met Bishop Patrick Bruce, then Rev. Patrick Bruce, 16years ago in Tamale. He, along with his wife, encouraged me to go to the Bible School. God bless Bishop Patrick and Episcopal Sister Philippe Joy Bruce."
"I entered ABMTC in 2005. When I arrived on campus, I was amazed at the luxurious facilities the school had to offer. The school had its own running water system. We had water running throughout the day! There were bathrooms with showers and running water, toilets fitted with water closets and clean and well-organized rooms with beds and mattresses. It was a world of luxury for me!"
"At ABMTC, everything was made free for us: food was free, accommodation was free, textbooks were free and tuition was free. All these were made available to us for the duration of our four years of education at ABMTC. In fact, that bible school is simply a gift to the body of Christ."
"Another remarkable thing about the ABMTC is the quality of teaching. This bible school boasts some of the best selection of lecturers and instructors of the highest quality and qualifications. At ABMTC, we received the best training possible, which prepared us for the mission field."
Rev Raphael Essien – Missionary to Yendi
"I remember my first meeting with Bishop Dag in 2005 at Takoradi. He encouraged us to work for the Lord. I was stirred up, and filled with a strong desire to serve the Lord, I took my pastor's advice and enrolled in the prestigious Anagkazo Bible College in February 2006. Amazingly, I paid nothing to be there. I remember how we were fed three times a day, and even when the period of being fed ended, we were given stipend every month until we completed in 2009."
How they acquired skills for leadership, public speaking, and building construction as missionaries
Rev Daniel Kharis Boateng – Missionary to Kpandai
"Today I am a missionary to Kpandai in the Northern Region of Ghana, serving the Lord faithfully. When it comes to LEADERSHIP, which I strongly believe is one of Bishop Dag's strengths, I've realized that my skills as a leader have really been sharpened through what I learnt from the Bible School and on the mission field. I remember during my first two meetings with the Local Council of Churches in my District. I shared some ideas in the meeting based on the wisdom keys I had learnt from Bishop Dag's ministry and teachings. I was amazed at the response of the pastors. To my surprise, and for the first time in the history of the council, they unanimously voted me the Chairman of the Council immediately after the term of the sitting chairman at the time ended."
Rev Paul Baba Amaytus – Missionary to Salaga
"In the year we graduated from ABMTC, a new policy of training known as "Become Who You Can Become" was introduced for missionaries. This policy was introduced to ensure that as missionaries, we would not relax on the mission field, watching movies and surfing the internet and expecting that monies would be sent to us every month, but that we would be spiritual, mature and work hard to bring out the best in us."
"I was not in the least discouraged by this policy because I knew it was the right thing to do to ensure the longevity of a mission, so I took courage from stories I had read about the early missionaries to Ghana and Africa, like the Basel Missionaries. I read about how some did carpentry and masonry, and others started mission schools. I also remember being encouraged to consider doing activities like poultry farming and animal husbandry to sustain us on the mission field. I knew that I had all the skills and knowledge to become who I could become and that if I did not succeed, it would be due to my own lack of wisdom."
Rev Raphael Essien – Missionary to Yendi
"In 2010, Bishop Dag sent me to Yendi in the Northern Region of Ghana as a missionary. By the grace of God and through the love, care, encouragement, advice and support from Bishop Dag, I have a church with about 600 members in Yendi. I would be lying if I said we were sent to the mission field and abandoned. In fact, a huge cathedral had been built for us, and an office block is also currently under construction. The depth of experience I have gained as a result of being on the mission field is invaluable. I have been able to start a church, lead and direct hundreds of people, and even have messages to preach to them every week! I don't take it for granted. I have gained invaluable skills and experience in building construction. The building is expensive, and for Bishop Dag to invest so much in a young mission is a sure sign of confidence and trust. I know he believes in me, and he knows we can achieve great things for the Lord in Yendi.
Rev Samuel Akparibo – Missionary to Zebilla
"Kaiii! Let me tell my story! This is how my life and ministry has been changed since I met Bishop Dag Heward-mills. I joined the Lighthouse Chapel International in December 1996 at Tema L-Paso in Community One. In 1999, at a Lighthouse Chapel International convention in Community Eight, I had my first personal encounter with the Prophet, Bishop Dag Heward-Mills. That was when I had the conviction of the call of God on my life into ministry, and I enrolled at Anagkazo Bible and Ministry Training Center. In September 2002, I was sent to start churches in Navrongo, Paga, Bonia and Pungu. I went to Navrongo on a bicycle and planted these four churches under the Lighthouse Chapel International in the then Navrongo/Paga district. On some Sundays, I would gather the members from Paga, Bonia and
Pungu branches to Navrongo for church services. It was a huge challenge shepherding all the souls in this region, so I raised helpers like Pastor Paul Kaba, a teacher who is now pastoring Bonia branch, and Dr. Patrick Ansah at Navrongo Health Research Center, who pastored the Paga church until Pastor Duncan was sent to take it over as a mission church. These were the key pillars who greatly helped in making my Navrongo/Paga ministry work possible. I was able to raise these helpers by teaching them the same things I had been taught in bible school, while working alongside them. Laziness has no place in ministry work, and as Bishop Dag taught us, you will have it if you build it.
Bishop Dag's vision is to construct a church building for every church, and so, together with Dr Ansah and Pastor Paul Kaba, we set out in search of lands for the building of Navrongo/Paga Mission churches.
In 2005, I was transferred to Zebilla to start a new mission. By the grace of God, and the grace upon the house, Zebilla now has nine beautiful churches with buildings.
Sadly, the Paga Mission failed when Pastor Duncan took over, although it was thriving when it was pastored by Dr Ansah, well enough for it to have been considered a mission church."
How they were supported on the mission field

Rev Paul Baba Amaytus – Missionary to Salaga
"After our graduation and appointment, I was sent to Salaga as a missionary, where I inherited two churches with church buildings. These were the Salaga and Kasawurape branches.
"Despite the "Become Who You Can Become" policy, we were not left as orphans to suffer on the mission field. Various support was made available to us right from the start of the mission. I was given a three-bedroom apartment, a motorbike, and monthly allowances until my mission could take care of me."
"I have been two years on the mission field and being motivated by the policy of "BECOME WHO YOU CAN BECOME," I have planted six Churches in addition to the two I inherited. I have planted churches in Okpando, Kumdi, Kojoboni, Kalendi, Bujai and Kpandai. By The grace of God, we now have eight branches under The Salaga Missions. Not only that, but as a result of Bishop Dag's vision for churches to have buildings, all my eight branches have church buildings. The Salaga Missions now has an average attendance of 350."
How they have achieved personal prosperity on the mission field by buying lands, building personal houses, building and owning schools and travelling abroad
Rev Daniel Kharis Boateng – Missionary to Kpandai
When it comes to leading people, through following Bishop Dag's teachings, I've also been able to lead my members from a classroom into our own church building with seven more branches, and an attendance of over 500 members, by the grace of God. Today, through the same strong leadership I copied from Bishop Dag, I have six church buildings in different locations in the Kpandai District. Having been involved in building of the churches, I've acquired so much experience that I've also been able to build 15-unit classrooms, 3 offices and washrooms for our mission school which I started myself in September 2015. This school is my own project born out of the grace on our denomination but not connected to my church work. Not only that, but by God's grace, I'm also building my personal four-bedroom house right in Kpandai, now at the roofing level. Indeed, I have now become like Jacob. I came with my two bags of luggage to Kpandai, but now, God has prospered me on the mission!"
My lifelong dream was to travel abroad and to end the cycle of poverty and sufferings in my family. I did whatever I could and even tried to stow away in a ship in Abidjan but to no avail. But as a missionary in the UD-OLGC, Bishop Dag took me to South Korea for the Church Growth Conference, an experience of a lifetime! I remember how he took all of us, the pastors he had taken to Korea, to the riverside in Seoul for a chat! He spoke to us and encouraged us, pointing out interesting landmarks to us, and teaching us how to lead ourselves into prosperity no matter where we lived. I cannot forget that experience!
Today, I also have relationships with international ministers with whom I am still in contact! Woooow! What a blessing! Everything I had wanted and dreamed to have back in the day, now as I am serving the Lord under Bishop Dag's ministry, I'm getting them one after the other without sweat!"