Inadequate furniture in many schools, including second-cycle schools in Ghana, partly accounts for unconducive teaching and learning.
At the Asare Bediako Senior High School in the Ashanti region, at least two students are compelled to share one mono desk which is adversely affecting learning and students' punctuality.
A 100-piece desk donation by the Fifty-50 Club will help solve the furniture deficit of the school and improve education.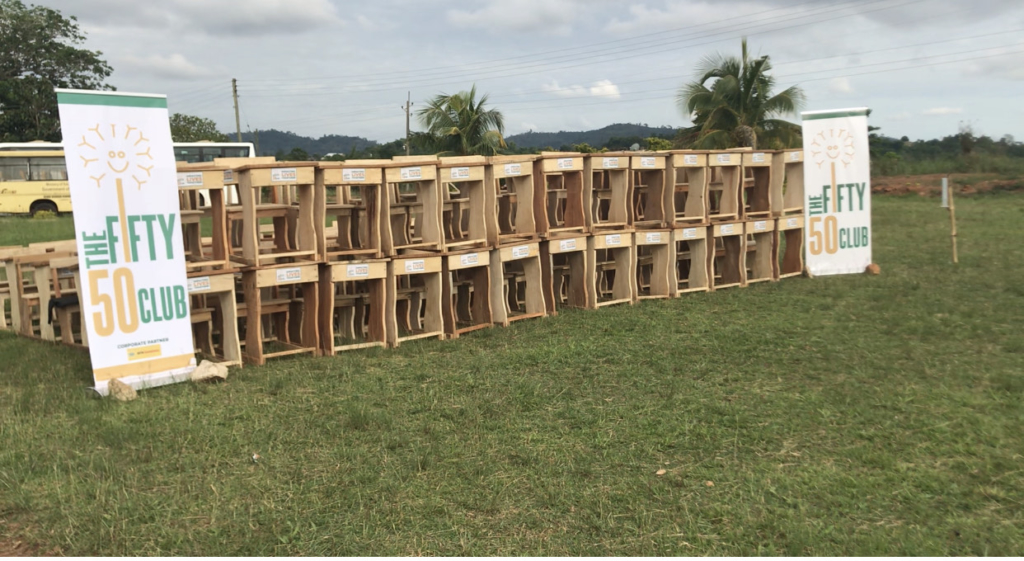 Quality education and proper learning environments are usually assessed with students' comfort and adequate intramural resources.
The situation is different at the Asare Bediako Senior High School at Akrokerri in the Adansi North District in the Ashanti Region.
The school was established in 1993. The over one thousand and five-hundred students lack furniture.
The classes end up partially empty, with two to three students packed on the available limited mono desks.
Many of these old desks are broken and squeaking for fixture and renovation.
The situation is affecting enrollment and punctuality among students.
"Desks are one of the problems facing us. During prep times in the evening, many students sit on the floor and windows to be able to study. And it's not favorable for any academic institution. Due to this inadequacy, there may be fifteen desks in a class containing about forty to fifty students. So the best thing we do is to perch each other in twos and threes," some students expressed.
The Fifty-50 Club donated 100 pieces of mono desks worth GH¢25,000 to Asare Bediako Secondary School at Akrokerri to improve the learning and teaching environment.
President and Founder of the Club, Jacob Edmund-Acquah, explained the gesture forms part of the club's intention to assist vulnerable communities.
"We hope this will go a long way to help and provide comfort for students to concentrate on their studies and excel in their final exams.
"We are hopeful that this will inspire others as we also continue to do and support communities in the Ashanti region and Ghana as a whole. It is part of our commitment to contribute to the progress of our children and society," he said.
Showing appreciation, the headmaster, Emmanuel Aseidu, appreciated the gesture to help improve the school's long-standing furniture crises.
"We only have 600 desks to cater for about 1,500 students. We are short of about 900 desks. And this has come to reduce the burden. We are most grateful for this. Some even don't come to school because when they come, they don't get a place to sit.
"So they won't also come and stand. It's going to help us a lot. As of now two people occupy one desk and this will lessen it for us. If they sit better and comfortably, they can concentrate.
"In the Adansi District, this year the best student came from here. The students are doing well but we need more of these deeds," he said.
The Club, in addition, offered a four-year scholarship of GHS 10,000 per semester to 19-year-old Clifford Wilson who expressed gratitude for the gesture.
The Fifty 50 Club is an Obuasi-based non-profit association of employees of AngloGold Ashanti and its subsidiaries who support groups and individuals in the community, in the areas of health, education, and socio-economic empowerment.
DISCLAIMER: The Views, Comments, Opinions, Contributions and Statements made by Readers and Contributors on this platform do not necessarily represent the views or policy of Multimedia Group Limited.