The Small Arms Commission has warned of possible politically motivated violence during the 2016 elections after observing a trend pointing to stockpiling of weapons.
Executive Director of the Commission, Jones Applerh expressed fears that the elections could trigger a heightened demand for arms.
A number of arms seizures must have informed the fears of the Commission. There were seizures reported in the Western Region in February, 2016 where the police collected at least 13 guns within three months.
The arms included five pump action guns, four locally manufactured pistols, two AK47 assault rifles, one single-barrel gun, one foreign pistol and many rounds of ammunition.
Two suspected armed robbers were killed by the police while retrieving some of the arms.
In the Volta region, the Ghana Immigration Service on January 27, 2016, intercepted 12 locally manufactured single barrel guns at Aflao. A 41-year-old Beninois national was arrested on suspicion of smuggling the guns into Ghana from Togo.
The interception came barely a month after the Aflao Customs Division of the Ghana Revenue Service impounded several boxes of ammunition at the Kpoglo customs barrier in Aflao in the Volta Region.
Mr. Applerh is especially worried about the movement of arms in the Ashanti region where the police arrested four persons including a Burkinabe after intercepting loads of rifles and ammunition in the regional capital, Kumasi.
Some of the arms were capable of shooting down an aircraft, police said.
Eleven AK 47 riffles, 10 G3s, 45 automatic side-arms, 9mm AK 47 tracer ammunitions, one machine gun, 45 automatic G3 ammunitions, four firing pins and five 12.7mm ammunitions were seized.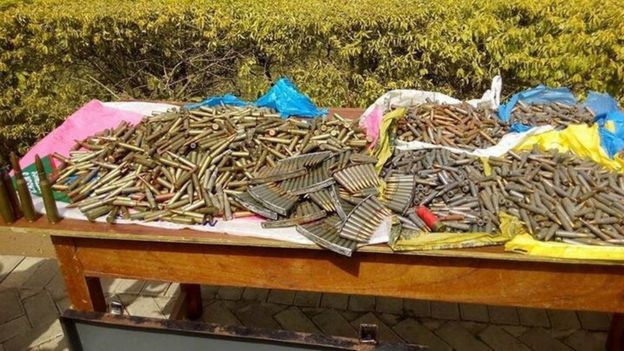 Photo: Ammunitions seized in Kumasi
It is believed to be the biggest arms haul in the region.
"What bothers us now is why Kumasi has become an attraction for arms movement," Mr. Applerh told Joy News' Francis Abban, adding that arms trafficking used to be the least of Ghana's security troubles.
Already, there are 2.3 million weapons in civilian hands according to a 2015 research by SAC with at least one million owners having unregistered weapons.
Mr. Applerh said the Commission is worried vigilante groups end up receiving these arms to perpetrate violent acts.
He said vigilante groups may not always have a political agenda but may also render their services to anyone who needs them either for crimes such as armed robbery or contract killings.
The Public Relations Officer (PRO) for the Ashanti Regional Police, ASP Mohammed Tanko said while there is no concrete evidence of stockpiling, the number of arrests and interceptions could logically suggest such an activity may be going on.
He stated that the purpose of these weapons appears to be for armed robbery.
"Our suspicion is that most of the weapons that come into the country are bought by armed robbers," ASP Tanko disclosed.
He cited the killing of a policeman after armed robbers stormed the Open Space Hotel in Kumasi on Thursday, May 19.
According to the PRO, the security apparatus has a well-drilled intelligence network that can pick up signals of activities of vigilante groups.
So far, the region has not picked up any such signs, he stated.