If 2017 was all about gorgeous landscapes, bucket list trips, the world's best beaches and traveling closer to home, 2018 is all about thinking outside the box for a great escape. The world is officially rethinking luxury travel, with people looking to explore the world now more than ever. Leave your presumptions about certain parts of the world at home and get your passports ready–these are the 18 top places to travel in 2018.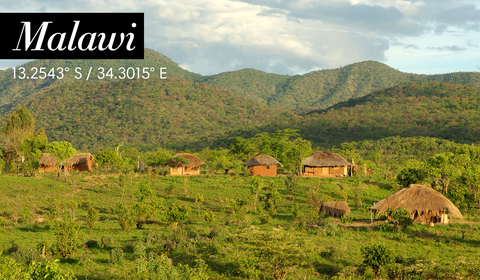 Why to go: Tucked neatly into a sliver of lake-riddled landscape in southeastern Africa, the lush vistas of Malawi make for a truly exceptional travel experience. Further off the beaten path than the now well-traveled South Africa or Morocco, Black Tomato co-founder Tom Marchant describes the private, less touristy atmosphere of Malawi as "akin to being let in on one of the continent's best-kept secrets." He adds, "There's just something so spellbinding about Malawi. In a world where change is inevitable, it remains remarkably untouched. Underlined by an infectious warmth, Malawi never fails to astound; it's unlike any other African nation."
What to do: If you find yourself struggling to choose between snorkeling among the glittering marine life of Lake Malawi (it's home to one of the continent's few freshwater aquatic parks), the draw of a true safari experience among the abundant antelope, hippos, and zebras of Liwonde National Park (we like the Mvuu Camp lodges, nestled right inside of the park), or viewing the historical treasures in the Museum of Malawi in Blantyre, worry not; the compact nature of the country makes traveling between these must-see locales a breeze. "Malawi's allure comes from its juxtaposition of simplicity with diversity: the stark terrain of the Great Rift Valley runs into the sun-dappled waters of Lake Malawi and mists swirl over the Zomba Plateau," Marchant explains. "Here, you can hike through grasslands one day, stroll along pristine beaches another and roam with herds of elephants the next."
Pro tip: Malawi experiences its highest heat and heaviest rainfall from November to April. For cooler, drier (but still beach-friendly) weather, plan your stay to hit the sweet spot between May and October, when the hemisphere is in the middle of its winter.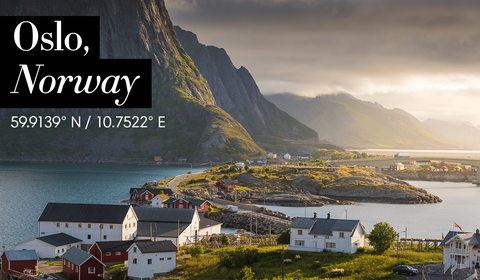 Why to go: It's safe to say that 2018 is destined to be a year of royal wedding mania, so you might as well lean into it and go international with your noble-nuptial buzz. While heading to London this May for Harry and Meghan's nuptials may seem tempting (and it shouldn't, as the event promises to attract hoards of tourists, making the exploration of the city almost impossible), Norway may be your way to have your (wedding) cake and eat it too on the travel front. This year marks the 50th anniversary of the King and Queen of Norway, and in true royal fashion, they're celebrating the event with a full calendar year of arts, culinary and cultural events throughout their capital city. What better time to visit the happiest country in the world?
What to do: Oslo is considered one of the foremost cities for contemporary art, especially when it comes to sculpture, so a trip to one of the city's spectacular outdoor sculptural showcases is practically a requirement. Vigeland Park, a popular attraction in Norway, celebrates the work of beloved Norwegian sculptor Gustav Vigeland with over 200 bronze and granite pieces by the artist. Ekebergparken, the large public sculpture park that overlooks the city, features works from Louise Bourgeois and Tony Oursler as well as classical works from Rodin. While you're there, stop off at the Munch Spot, the view that inspired Oslo icon Edvard Munch's The Scream. Thespians can head to Henrik Ibsen's house, which serves as a miniature museum to the famed playwright. The city is also home to some top-notch examples of the Neo-Nordic food movement, including Maaemo (the most northern Michelin three-star restaurant in the world), as well as bold fusion cuisine that will surprise even the most jaded of eaters, like an adventurous moose heart dish at Korean-Norwegian spot Pjoltergeist.
Pro tip: Oslo's latitude means that depending on the time of year, visitors can experience as little as six hours of daylight in the winter months, or as many as eighteen hours during the summer. Prepare to be thrown for a loop when it comes to your body's natural clock, bring an eye mask to insure your night's are restful, and plan your indoor and outdoor activities accordingly.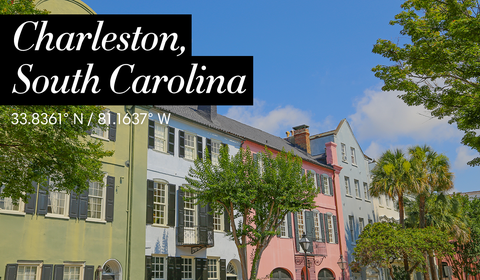 Why to go: Want to be totally transported without even breaking out your passport? Charleston is rife with architecture and history enough to evoke any of the great European cities–all of it permeated with a uniquely American sensibility and quintessentially southern charm. Long viewed through the lens of its storied, cultural past, Charleston of the modern era is a fast-growing, constantly changing city with a vibrant music and art scene, spectacular hotels, parks and Georgian row houses, and world-class restaurants. If you love New Orleans and Nashville, this is an American city worth spending a long weekend in.
What to do: Charleston's location at the epicenter of several rivers meeting the Atlantic ocean makes it prime for a boat tour, where you may even spot a few dolphins. For a touch of history, head to one of the area's beautiful antebellum homes: Middleton Place features historical reenactments of life in colonial times, the Fort Sumter National Monument, or the Old Exchange Building & Provost Dungeon where George Washington once greeted locals and prisoners who were held during the American Revolution. Of course, low country cooking is also one of the city's big draws, and visitors would be remiss not to stop in at the many acclaimed restaurants like Husk, traditional barbecue spots like Lewis Barbeque, or taking in a sampling of local treats at the weekly Marion Square farmers market.
Pro Tip: Too many to count! But we've got the low down on low country with over 50 places to stay, eat, shop and more in our handy weekend guide to this sweet city.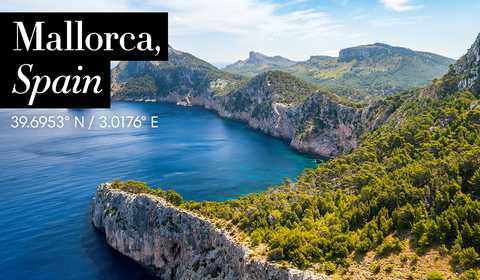 Why to go: A longtime favorite of European vacationers, this island off of Spain's eastern coast is still a sleeper-hit for American travelers. While recent rulings that placed a cap on Airbnbs and hotel rooms (designed to deal with overcrowding in the summer months) may make snagging an overnight spot slightly more challenging than in years past, the trade-off in space and privacy is entirely worth it.
What to do: Spend your days enjoying the island's many historic sites, like the spectacular Antoni Gaudi-designed Catedral de Mallorca, the ancient fort-cum-ceremonial home of the King of Spain, Palau de l'Almudaina, or Real Cartuja de Valldemossa, which has served alternately throughout the centuries as a royal palace, a monastery, and a part-time home to figures like composer Frederic Chopin and writer George Sand. The artistically inclined will appreciate Es Baluard, a contemporary art museum featuring works by Miro, Barcelo, and Picasso. Those seeking a more back-to- nature experience can get a workout on the island's stunning natural rock formations (or just some truly gorgeous photos); and boating through the Cuevas del Drachs, a series of subterranean caves known for their crystalline waters and awe-inspiring stalactites, is an otherworldly way to spend a day lounging in the sun.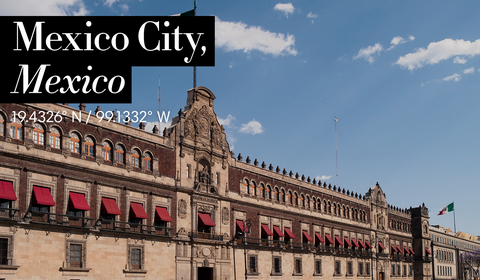 Why to go: "Though two of the most popular neighborhoods (Roma and Condesa) suffered extensive damage during the earthquake in September, it's nearly impossible to notice," says travel writer (and new Mexico City resident) Brooke Porter Katz. "The city is back up and running—and welcoming visitors with open arms." Less frequented by American travelers than Mexico's coastal meccas, Mexico City, nestled in the country's interior, offers a completely different perspective for those looking to explore beyond Puerto Vallarta and Cancun. "This year is an especially exciting one for the city: it's the World Design Capital of 2018, a first for a country in the Americas," says Porter Katz. "February will bring the esteemed Zona Maco contemporary art fair. It has an incredible food scene, and is a great value thanks to the peso/dollar conversion rate."
What to do: Porter Katz is a fan of Museo Frida Kahlo, the museum dedicated to the renowned Mexican artist, housed in her lifelong home (reserve tickets in advance to make sure you can get in to this popular attraction). She also suggests a day trip to the Teotihuacan pyramids, as well as heading to the Plaza Garibaldi to listen to mariachi bands in the evenings. "And just walk!" she adds. "The best way to see the city is really to just wander around the different neighborhoods."
Pro tip: "Uber is the best way to get around from neighborhood to neighborhood," advises Porter Katz. "Just avoid getting on the road during morning or evening rush hour. Traffic at those times is terrible."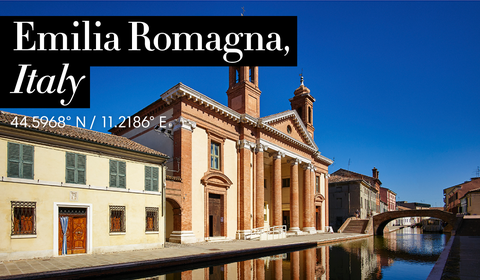 Why to go: Rome is iconic, Florence is a feast for the eyes and Lake Como is beyond dreamy, but if you're looking to expand your Italian vocabulary beyond the expected, it's time to add north-eastern region Emilia Romagna to your list. Home to cities like Modena (where Parmigiano-Reggiano and balsamic vinegar come from), Parma (with its titular ham), and Bologna (one of the historic centers of Italian commerce) Emilia Romagna is an Italophile's dream. "Often overlooked in favor of Lombardy and Tuscany, traveling through this rich land reveals a whole host of treasures," says Marchant. "Each city unveils more hidden delights and gastronomic indulgence than the last."
What to do: "Whilst Emilia Romagna may be the birthplace of Ferrari, Maserati and Lamborghini, slow travel is the way forward here," Marchant says. Instead of locking yourself into a single city, set yourself up for a few days of touring the countryside, winding between artisanal producers–try Acetaia Giusti, billed as one of the oldest balsamic vinegar producers in the world–and medieval villages–make sure to stop off in Ravenna, the last capital of the western Roman empire and home to no less than eight Unesco heritage sites–at a leisurely pace, stopping for a wine or a bite whenever the mood strikes. Then head into the region's city-center to amp up your appetite even more. "The capital of Emilia Romagna, Bologna, is a city to be explored as much with your taste buds as with your eyes," advises Marchant. "Serving up some of the country's most gourmand-approved street food, it's hard to pass through Bologna without stopping for some of the city's best mortadella and a glass of Sangiovese."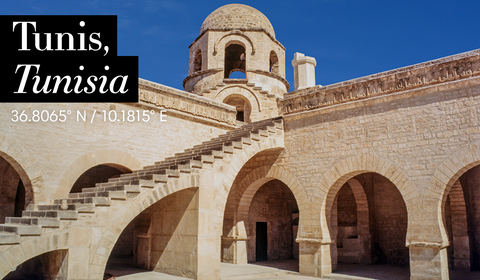 Why to go: Less than a hundred miles off of the coast of Sicily, Tunis brings a unique perspective–even for seasoned travelers of Africa. Think spectacular Mediterranean beachfronts and Grecian-style white domes set against sweeping arches and stately minarets that evoke the city's
longstanding Islamic heritage. European parapets and cathedrals from the country's time under the colonial influence of France are scattered in between the dynamic cityscape. Built on the former capital of the Carthaginian empire, Tunis sports a long and varied cultural history that can still be seen in every facet of the city's architecture, food, and culture.
What to do: Spend a day as a time-traveler, walking through the ruins of the ancient Carthage city of Byrsa, or exploring the Baths of Antoninus. Built by the conquering Romans in the second century and said to be the largest such baths outside of Rome at the time, the ruins now encompass an archaeological park where visitors can explore a slice of the ancient world. Soak up the Medina, the city's central Old Town, grabbing a bite at a centuries-old cafe like Café M'Rabat before shopping in the bustling market scene. Make sure to stop off at the Mosque of the Olive Tree, the largest and most majestic mosque in the city, elaborately decorated with pillars and awe-inspiring mosaics.
Pro tip: To add an extra dash of luxe to your trip, spend an afternoon getting pampered at the Roman-inspired spa at the newly opened Four Seasons Hotel Tunis.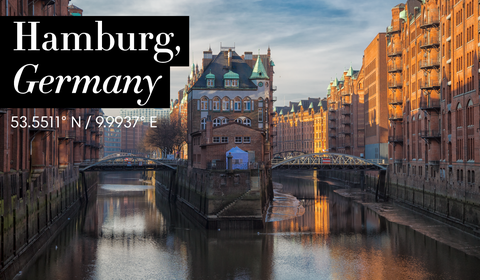 Why to go: Music-lovers should consider this north-German city a must-visit, thanks to the opening of the heavily-anticipated, decade-delayed Elbphilharmonie concert hall last year. Designed by Swiss architecture firm Herzog and de Meuron, the $850 million crown-shaped hall boasts some of the most precisely calibrated acoustics in the world, as well as awe-striking interiors that double as an art show. Formerly known as an industrial city, the Hamburg of recent years has developed into a hub of nightlife, bars, and restaurants, becoming Europe's next big up-and-comer.
What to do: As long as you've got your ears in tune, head to the copper-domed St. Michael's church, an 18th-century landmark where visitors can sit in on impromptu recitals during the daily organ-tuning, or travel up the spire for some Instagram-worthy views. Head over to the Gängeviertel, an ultra-artsy corridor of 19th-century buildings that house galleries, workshops, exhibitions, concerts, and social projects for the free-thinking ilk. Make sure to keep your calendar open on Sunday mornings, when the city's legendary 300 year-old fish market is bustling. Here, you can grab a bite, listen to some live music, and pick up a few (non-fishy) souvenirs.
Pro tip: Reeperbahn, Hamburg's red-light district, may raise a few eyebrows, but it's also home to some of the best and most historic bars in the city–the Beatles even got their start in the district back in the '60s.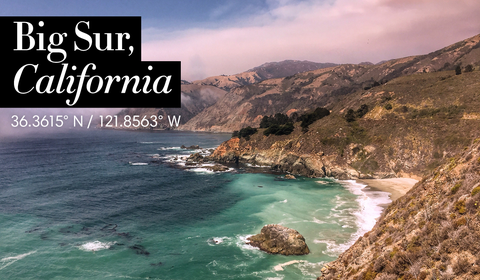 Why to go: Nature lovers will find it hard to resist this haven, with a 90-mile stretch of California's Pacific coast on one side and the St. Lucia mountain range on the other. But even if your idea of getting back to nature involves more camera bags than hiking equipment, Big Sur has something for everyone. With multiple state parks and national forests, luxurious boutique hotels and award-winning restaurants, this serene spot makes for a perfect domestic getaway. "After the big winter storms earlier in 2017, the major hotels got big upgrades, giving travelers a whole new reason to visit this incredible stretch of California coast," says travel writer John Wogan.
What to do: No trip to Big Sur would be complete without snapping a shot of the 80-foot McWay Falls at Julia Pfeiffer Burns State Park. Take the leisurely mile-long Overlook Trail with sweeping views of the granite cliffs and crashing seas to get there. While out west, opt for a scenic drive up the coast to the 86-year-old Bixby Creek Bridge, one of the highest single-span bridges in the world, for an astoundingly beautiful view of the rolling hills and glittering coastline; or, do some beach-combing at Jade Cove, where divers once found a 9000-pound jade boulder. Book a sunset table at Sierra Mar, the restaurant at the beloved Post Ranch Inn, whose cliffside setting and lauded seasonal California fare were practically made for a romantic evening for two.
Pro tip: "Winter and early spring are some of the best times to visit, with crowds scarce and dramatic fog and mist giving everything a cinematic vibe," Wogan says.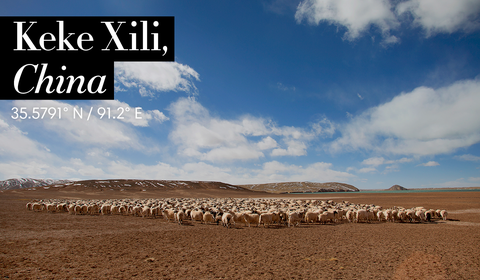 Why to go: Though China is one enormous landmass, many international travelers spend their time in the country's southern and eastern regions, ignoring the unique cultures and experiences offered in the west. Part of the Qinghai-Tibetan Plateau and recently named a Unesco world heritage site, Kekexili is a region that offers a vastly different look at China from what appears in most American movies and TV shows. "The cultural nuances of Qinghai Province are what make it so alluring," explains Marchant. "The region has far more in common with Tibet than the rest of China–here, monks and nomads coexist with Han Chinese, and locals speak Mandarin with a lyrical Tibetan accent that you'll find nowhere else in this vast country." He adds, "Despite the naturally beautiful scenery and countless amazing Tibetan sites, Kekexili is a gritty, off-the-beaten-path province with very few tourists, but it won't stay this way forever. In 2018 we're urging clients to experience it now, while this stunning region is at its most untouched."
What to do: At nearly 15,000 feet above sea level, Kekexili encompasses one of the largest, highest plateaus in the world. That isolation means that many of the plant and animal species that survive in the region, including the endangered Tibetan antelope known as the chiru, are found exclusively on the plateau. As such, the area is also home to one of China's largest nature preserves, the Hoh Xil Nature Preserve, where wild yaks, white-lipped deer, antelope, and even bears roam for visitors to observe. The area is also rich with picturesque landscapes, from rippling grasslands to snowy mountain tops. This trip is the ideal opportunity to take in scenery, culture and experiences in ways you never have before, and snap some shots to make even your best-traveled friends jealous.
Pro tip: Marchant advises that that best time of year to go is the warmer months, during spring and summer. The prime time, he says, is September.