The National Chocolate Day which was instituted in 2005 to coincide with Valentine's Day which is commemorated on 14th February every year has become a memorable day in the Ghanaian calendar.
This day is mostly celebrated in the urban centres whilst the cocoa farmers who toiled to produce the cocoa beans for the chocolate are left out of the celebrations.
In view of this, the Executive Members of the Alumni Association of the University of Ghana Business School (UGBS) embarked on a trip to Kwahu Bepong in the Eastern Region of Ghana to celebrate the "Chocolate Day" with cocoa farmers of the town.
The event took place at the palace of the Kwahu Bepong Chief on the 14th of February 2021.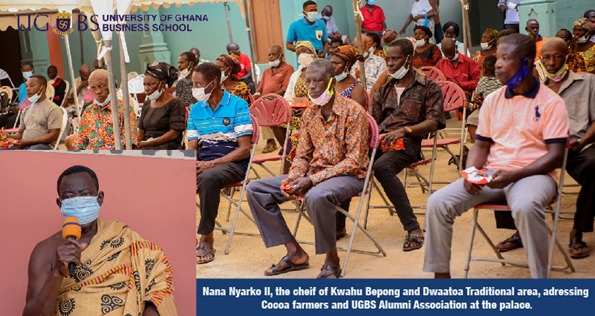 Nana Nyarko II, the Chief of Kwahu Dwaatoa and Kwahu Bepong, welcomed the Alumni Executives to his palace and thanked them for taking time to celebrate this year's Chocolate Day with them.
Addressing the gathering, Dr. Kwaku Ofosu-Asare, President of UGBS Alumni Association (UGBS) remarked that, "Bepong has been selected as the first and best cocoa production town in Ghana.
We, the Alumni Association of UGBS, have therefore decided to celebrate this chocolate day with the best". He further stressed that without cocoa, Ghana loses its value and worth.
"It is rather unfortunate that when the Chocolate Day celebration is going on, people tend to forget about the farmers who worked hard to grow this cocoa which is later exported to make chocolate", he said.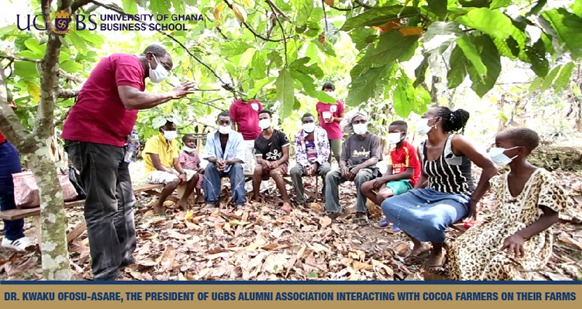 Some of the cocoa farmers on their part outline the challenges associated with their work and shared their experiences with the Association Executives They further revealed that many of them have never eaten or seen chocolate before.
Mr. Johnson Sumoah, the Chief Farmer of Bepong, mentioned that the youth of the town have no interest in cocoa farming especially since there is little money in the business.
He suggested to the Executive Members of the Alumni Association to encourage their youth to take part in the cocoa business to boost production in the town.
Another cocoa farmer, Mrs. Emma Bosompeng suggested to the members of the Association to speak to the government on their behalf to support the uneducated cocoa farmers financially concerning their pensions.
The cocoa farmers pleaded through the Association Executives for government to provide them with pesticides.
The discussions ended with the distribution of chocolate bars to the cocoa farmers present at the gathering.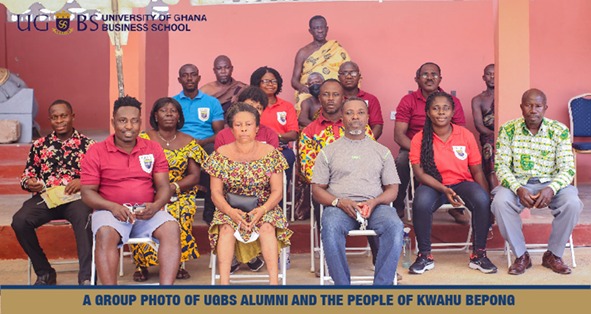 The team then moved to the village to celebrate the Chocolate Day with the farmers and their children on their cocoa farms. There were smiles and laughter on the faces of cocoa farmers as they ate the chocolate with their children.
The event ended with a caution message from the Executive Members of the Alumni Association to the cocoa farmers to ensure that they adhere to the COVID-19 protocols so as to keep themselves and their community safe.