It's hard to believe but everyone's favourite 1990s show, The Fresh Prince Of Bel-Air, turns 30 this month.
With lovable characters, surprisingly smart storylines and a host of memorable moments – from that Tyra Banks cameo to Carlton's famous dance – the show was a key cultural touchstone of the decade in which it was conceived.
What really caught our attention back in the day, however, was Will Smith's character's brilliantly outlandish style.
So, to mark this most monumental of anniversaries, we're counting down some of Smith's best looks from the show.
This is a story all about how… etc, etc.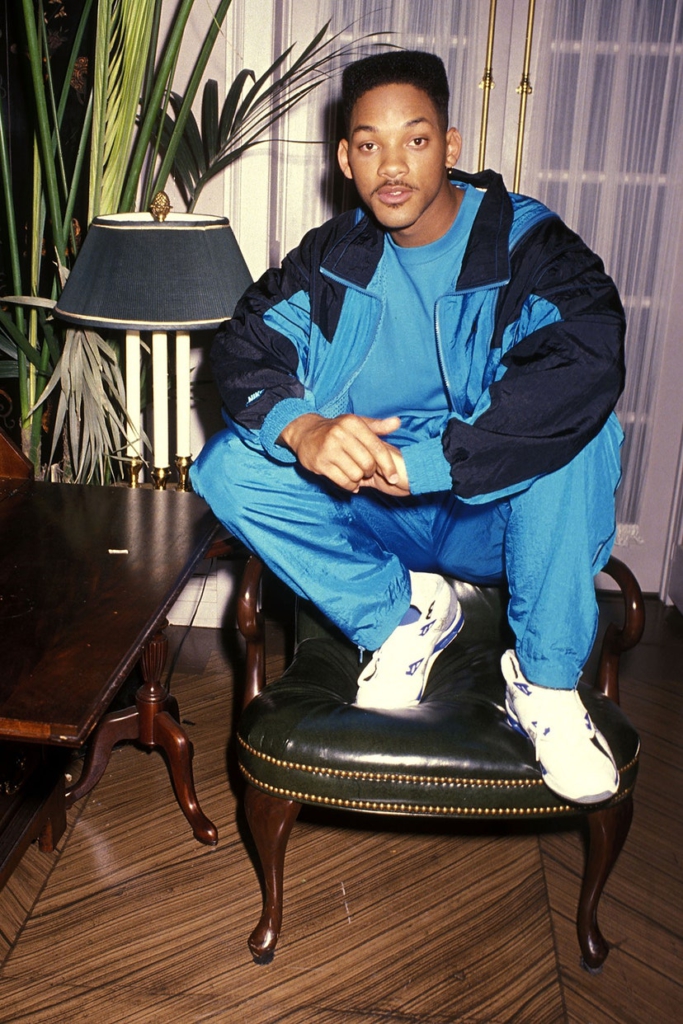 Feet of the seat
If the 1990s was to be defined by one garment, it would be the shell suit, the brighter the better.
Smith definitely followed this rule, but what makes the outfit so spot on is the attention to detail.
Not only did he match his tracksuit to his T-shirt, but sky blue was also the colour of his socks and the Reebok sign on his trainers.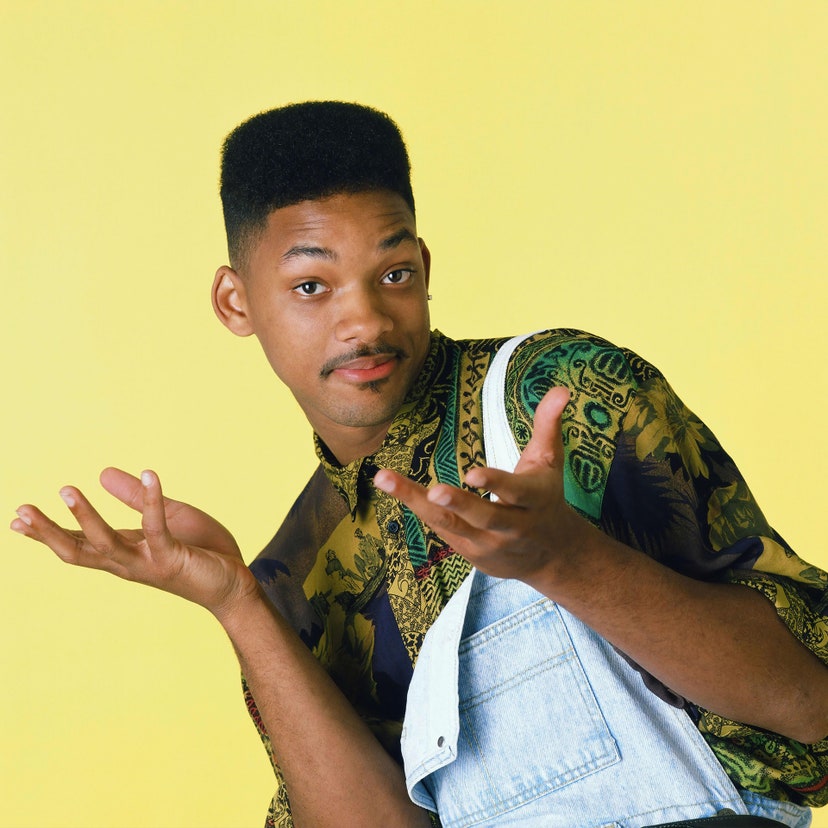 Who knows ?
Dungarees were synonymous with Smith during his time on The Fresh Prince Of Bel-Air and here, in early promo pictures, Smith gave us a taste of what was to come.
The dungarees are worn with one side of the bib undone and was finished with an oversized batik-print shirt.
Nip down to London's Brick Lane today and we can assure you that you will see this outfit being replicated.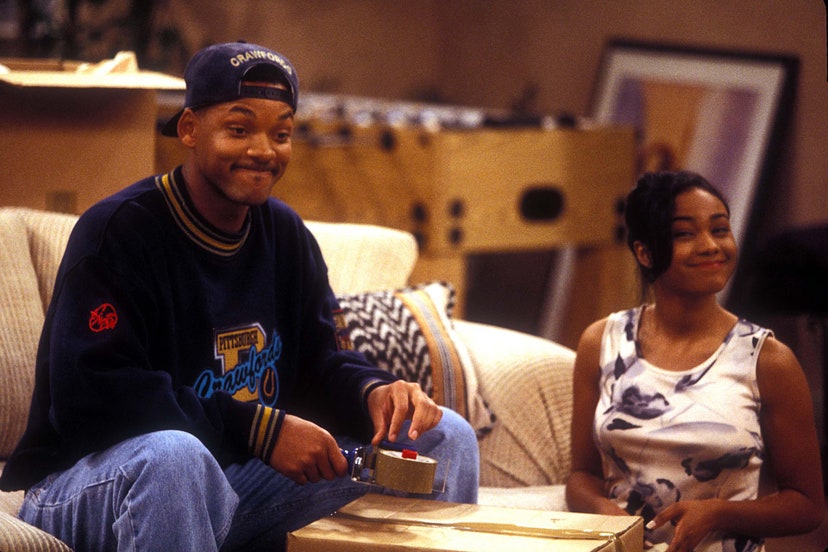 Chillin'
Although Smith was known for his outlandish style, he sometimes surprised us all with a stripped-back look, as perfectly shown here.
Baggy washed denim, sure, but the detail is all in the jumper.
Pittsburgh Crawfords was a famous baseball team made up entirely of only African-American players.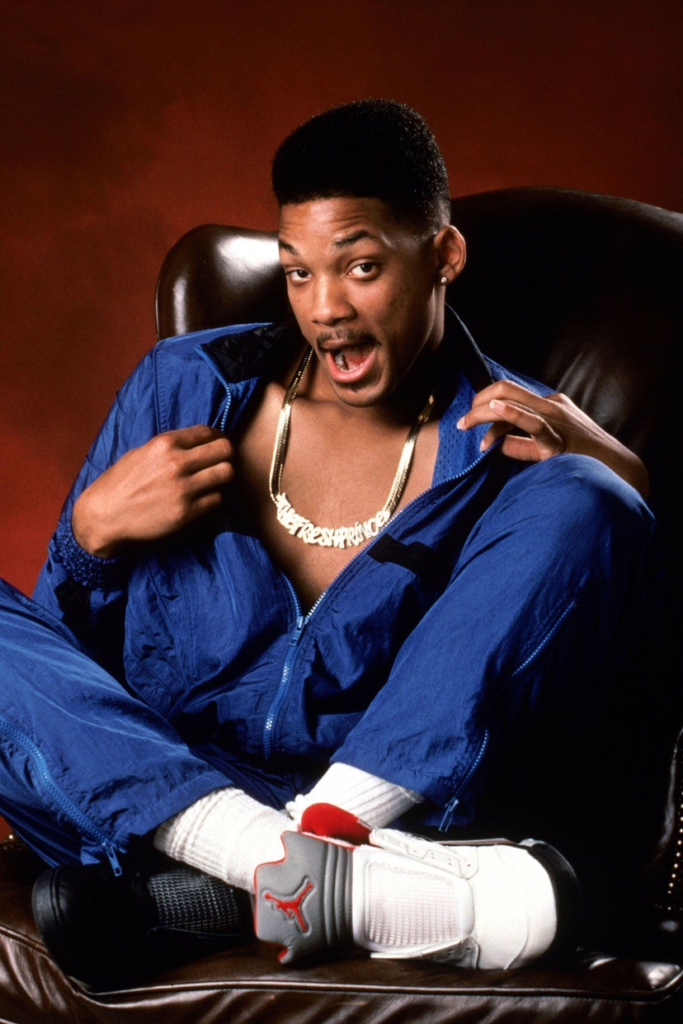 Step aside, kanye
Long before Kanye West went topless under a Louis Vuitton suit, Smith had the look mastered in a tracksuit.
Finished with some serious neck bling and classic 1990s high-top Jordans, it'd be fair to say that Smith walked so Kanye could run.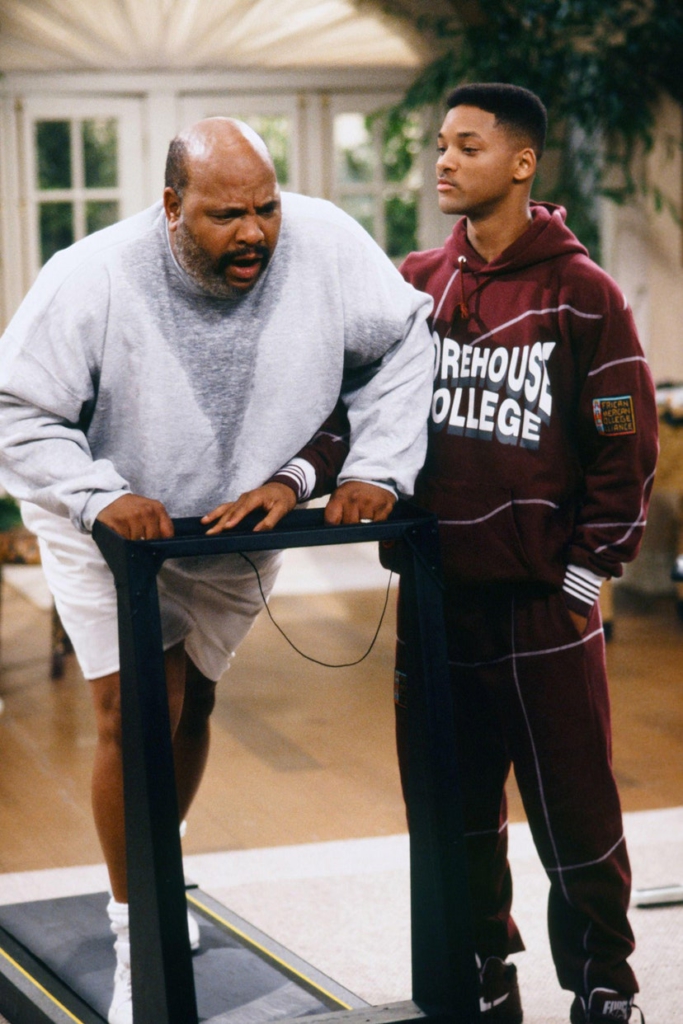 Exercise. Its good for you
Here Smith once again proves why he is the crown prince of the tracksuit. Instead of classic bold 1990s shades, he opted for a darker maroon with contrast cuffs and finished with some classic high-top trainers.
On another note, serious appreciation for Uncle Phil's grey marl sweater, sweat marks notwithstanding.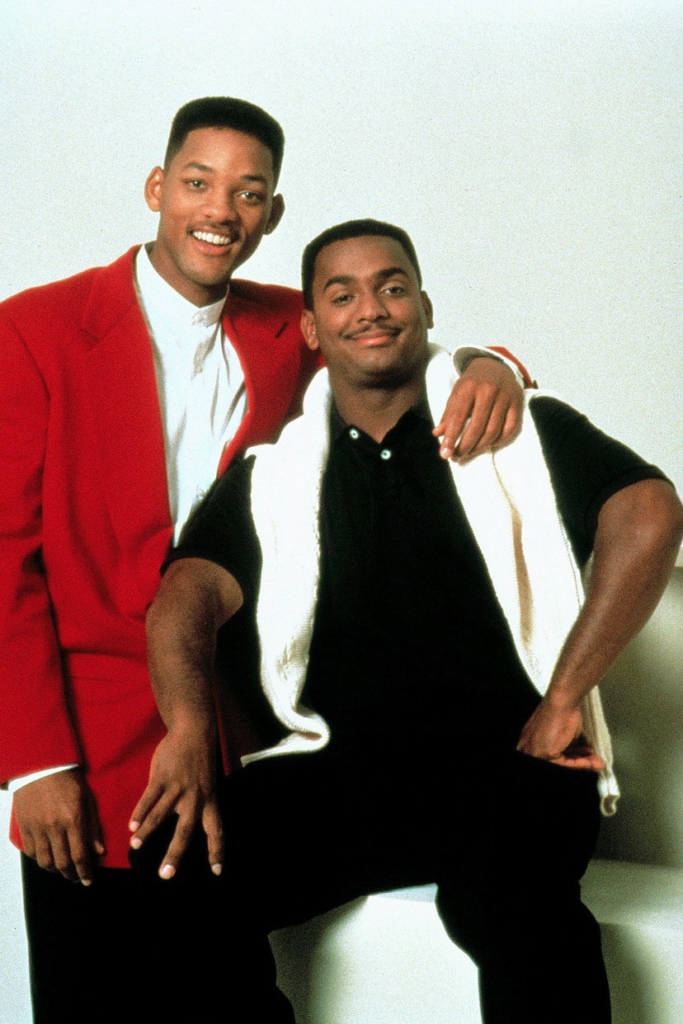 The suit, on Will's rule
It was rare that Smith ever went sartorial but when he did, it was always worth noting.
Here he shows that you don't have to abide to traditional rules to look smart.
Mismatched suit, no collar and no tie might sound like a recipe for disaster but Smith pulls it off in his stride.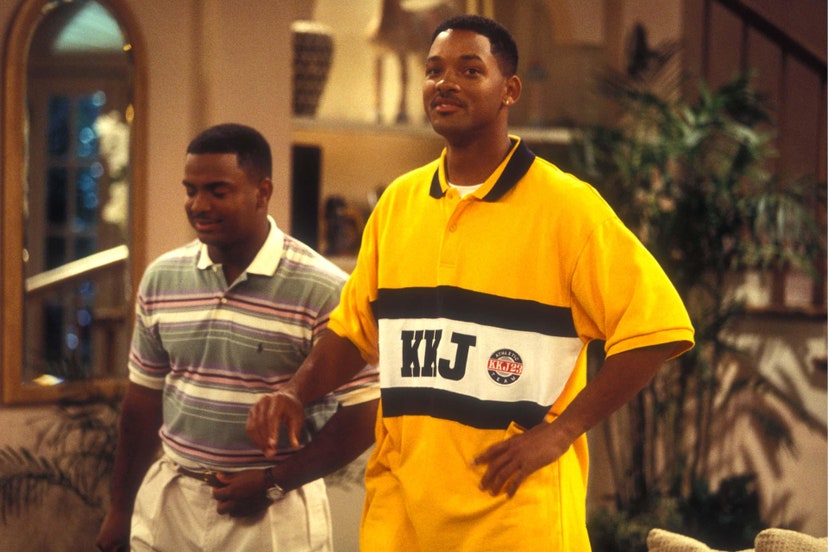 Polo shirt face-off
For all the Fresh Prince mega-fans, you will know that this outfit is important as it was the outfit that was worn in the last ever episode.
In a strange way it sums up Smith's style all in one: bright colours, oversized fits and bold motifs.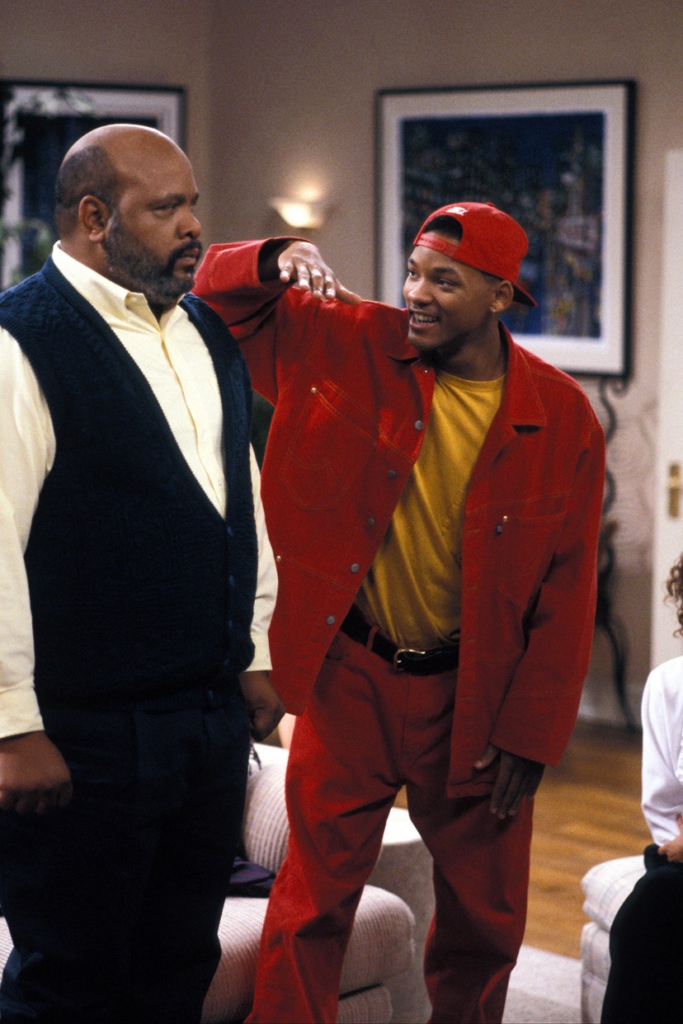 The next level of double denim
The 1990s was a decade synonymous with double denim, but Smith being Smith took the trend to the next level.
Behold all-red double denim.
Not a look for the faint-hearted, the oomph was further enhanced by the yolk-yellow tee and scarlet cap.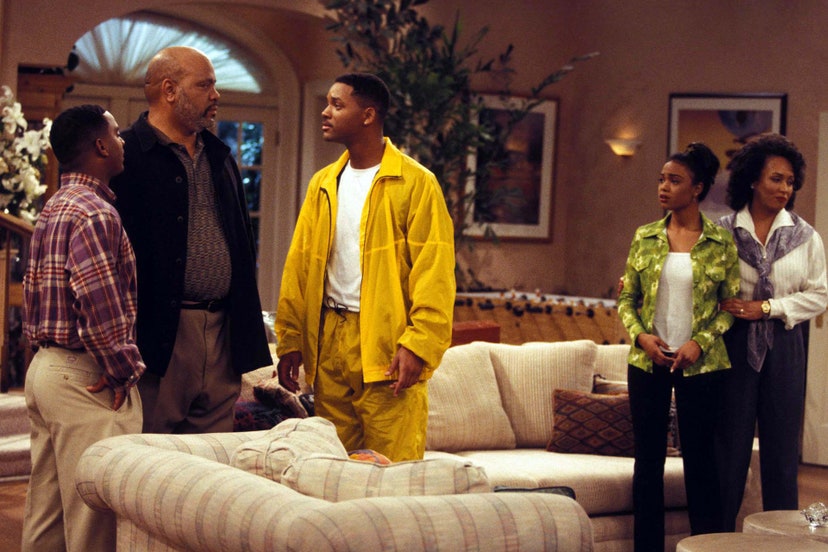 Mellow in yellow
Long before Ali-G and Kill Bill made the yellow tracksuit a thing, it was Smith who created this bold fashion statement.
Pictured here on the final episode with the full Banks family, he stuck to a more subtle look and opted for a classic white oversized crewneck T-shirt.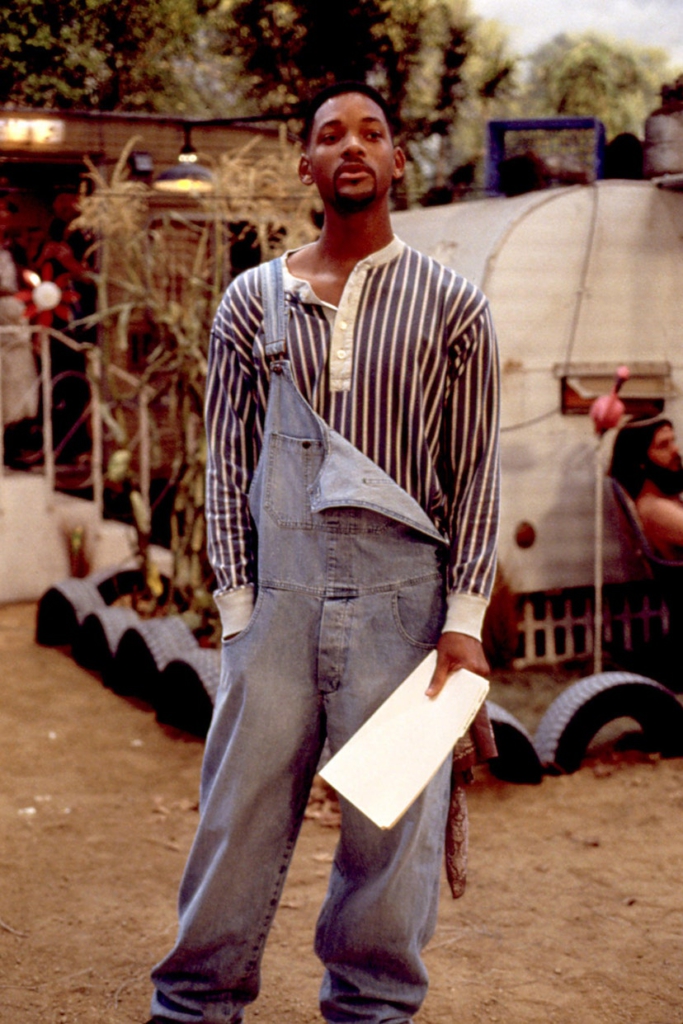 Script in hand
Another dungaree moment for Smith.
Again he kept one half of the bib undone, but this time he opted for a striped button-down top and oversized washed denim for full O Brother, Where Art Thou? effect.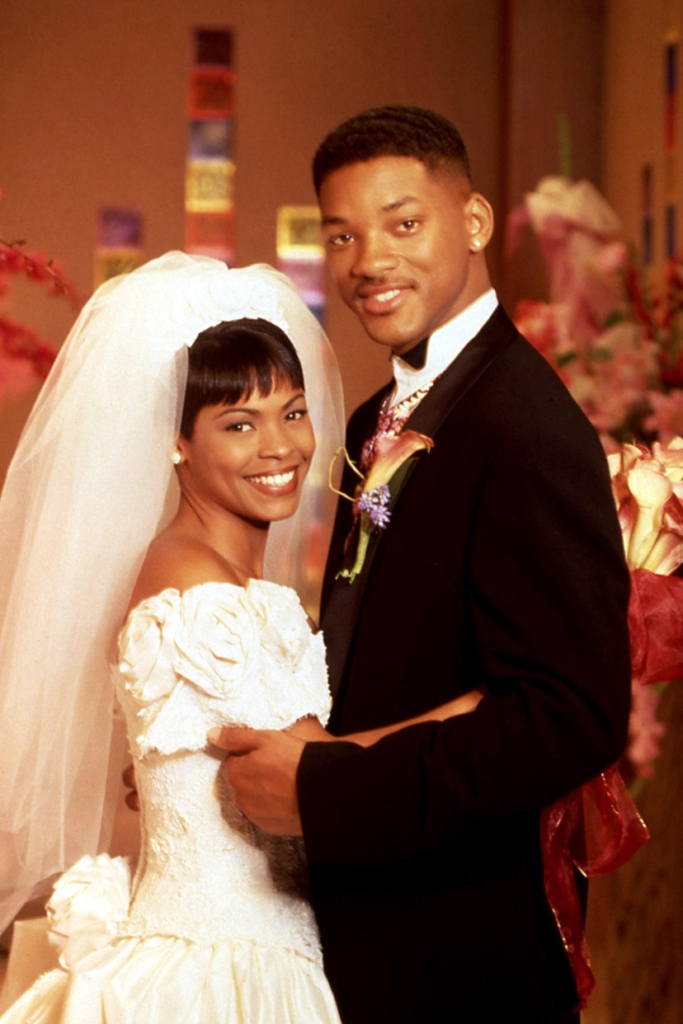 wedding ready
Will and Lisa's marriage may not have gone to plan but something that did was Will's wedding outfit.
The long-cut blazer was finished with exaggerated shoulder pads, satin lapels, contrast waistcoat and an orchid.
DISCLAIMER: The Views, Comments, Opinions, Contributions and Statements made by Readers and Contributors on this platform do not necessarily represent the views or policy of Multimedia Group Limited.