Yam farmers in the Wenchi Municipality of the Bono region have been urged to adopt the best scientific production methods such as trellised and ridging planting technology to enhance their competitiveness on the global market.
Glut of yams in production communities like Amponsahkrom, Subinso and Branam has been an annual ritual, especially during bumper harvest period that is from August to October.
Wenchi Municipal Director of Ministry of Food and Agriculture (MoFA), Victor Yao-Dablu, who gave the advice said "the situation is largely because farmers are unable to explore the huge international yam market and the yams are often in big sizes, a sharp contrast to the specification of the yawning foreign market".
According to the Ghana Export Promotion Authority (GEPA), USA and UK are the main export destinations of yams from Ghana. Together these markets take up to 75% of the total Ghanaian export value (US$27.5 million in 2016).
Despite the inroad of Ghana's yams on the international markets, there are huge potentials in countries like Belgium, Canada and Mali for farmers to explore to address the perennial production excesses.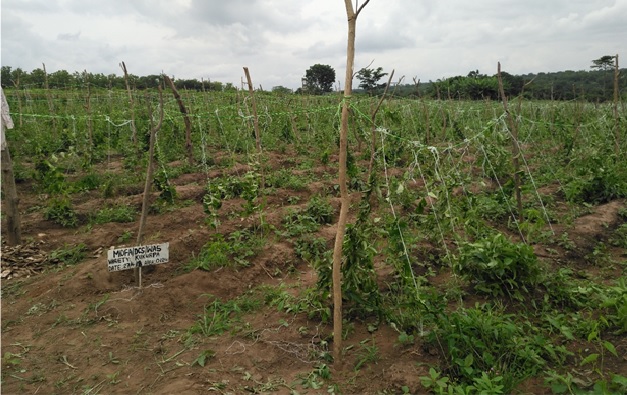 Mr. Yao-Dablu said yam farmers must look beyond producing for local consumption but for export too. "There is an international demand for much smaller yams than the usual Ghanaian preference-big ones so all farmers targeting the international market must be mindful of it," he added.
He stated that planting on ridges and trellised with mini set planting materials will give farmers the required yam sizes, suitable for the international market.
The Wenchi MoFA director explained that the technology is cost efficient and helps in managing resources such as land to conserve the environment by not destroying the forest.
He said "in the traditional mounding system of planting, farmers have to erect a stick for every two plants but with trellised, you can put just a rope for 20 to 30 sets.
A two-acre land can produce about 32,000 tubers on a trellised farm as compared to about 7,000 tubers on the same size of land with the mounding method".
According to Mr. Yao-Dablu, trellised and ridging system of yam farming is an example of green economy which results in improvement of human beings and social equity, while significantly reducing environmental risks and ecological scarcities.
"It is also in line with the attainment of the Sustainable Development Goals (SDGs), particularly Goal two which encourages Food security and improved nutrition, and promote sustainable agriculture," he said.
Its target is to ensure double agricultural productivity and the incomes of small-scale food producers, particularly women, indigenous peoples and family farmers.
In an effort to make technologies like trellised method available to yam producers who are mostly small scale farmers, Mr. Yao-Dablu hinted of a collaborative effort between the Wenchi Agriculture Station which trained Agriculture Extension Agents (AEAs) who have also trained farmers in Amponsahkrom and Subinso.on the technology.