Ghana offers a wonderful living experience in a fast-evolving environment that is rich in multiculturalism and breathtaking landscapes. Known for its peaceful setting, natural beauty and hospitality, Ghana is the best place to live. We'll be looking at five facts about living in Ghana.
Accommodation and Housing
For anyone relocating, accommodation is a major cause for concern. Housing and accommodation in Ghana are quite challenging especially in the urban areas because of the housing deficit in Ghana. Though accommodation in Ghana may not be overly abundant, there are a variety of housing options you can choose from. From luxury apartments to rented rooms to large family homes. Due to the rate at which the real estate sector is booming in Ghana, many Ghanaians and foreigners are buying and investing in residential properties rather than relying on the room rental system where homeowners or landlords make ridiculous demands such as paying 2 years rent for a house that you will probably stay in for just six months.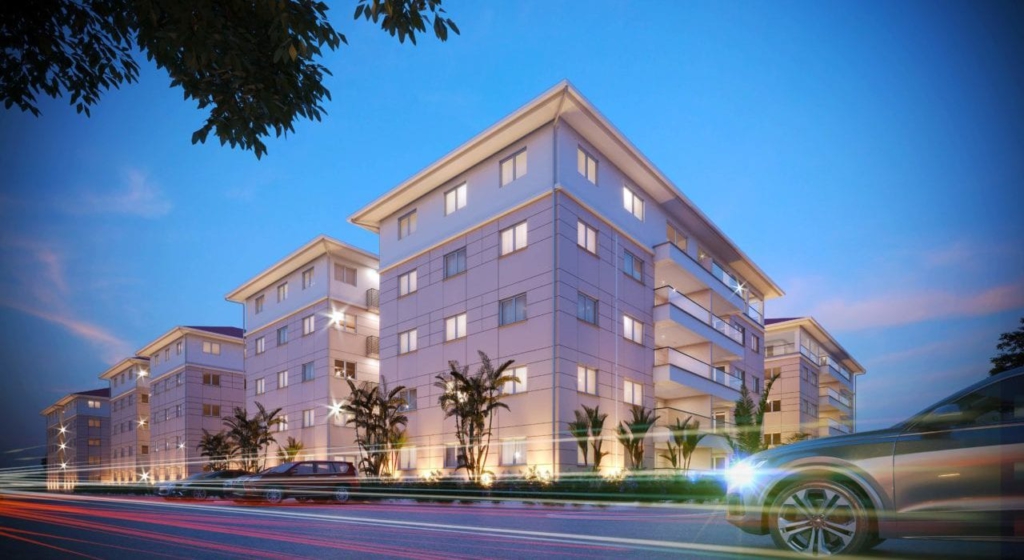 Eden heights offer exceptional residential space to all indigenous Ghanaians and foreigners living in Ghana, who are looking for accommodation. Ranging from spacious one-bedroom apartments to penthouses, the luxury and comfort of residents are uncompromised. These properties are situated at convenient locations and are fitted with a world-class sports facility, on-site management office, ample parking space, and a serene environment.
Daily transportation hustle
Transportation in Ghana is another area that is of keen interest to people living in Ghana or foreigners who want to live in Ghana. Just like accommodation, there are various transportation options in Ghana, with the most popular ones being public buses (trotros) and taxis.
Once you live in Ghana, hustling for public transportation should be something you are used to by now. Mornings are characterized by individuals forming long queues to catch a bus to either their workplaces or school. However, you're spared from all this trouble if you have your own means of transportation and thanks to the increasing number of car-hailing services, you can skip the stress of finding a public bus.
After going through all that, you're likely to be in traffic for 30 minutes or an hour. Traffic in Ghana can be stressful, but the hawkers who sell in traffic make it a bit more bearable. These vendors sell different things such as plantain chips, doughnuts, mashed kenkey, yoghurt, breakfast packs, fruits and whatnot. You can even grab a quick breakfast while you wait for the traffic to ease up.
Food
Living in Ghana as a foreigner introduces you to different types of delicious cuisine from different ethnic groups. Most dishes in Ghana are starch-based and are accompanied by sauce, soup or stew and they are mostly eaten by hand. Although there are so many dishes in Ghana. These four are very popular amongst Ghanaians; they are fufu and soup( pounded cassava and yam taken with soup, it could be light soup, palm nut soup or groundnut soup. There are different types of soups but these are the common ones); Jollofrice; kenkey with fish (cooked corn dough covered with corn leaves taken with hot grounded pepper and fish), banku with okro and red red ( cooked black-eyed beans mixed with palm oil and cassava granular flour, and taken with fried plantain).
Festivals
One thing you're bound to experience while living in Ghana as a foreigner or citizen is one festival or another. All ethnic groups in Ghana have festivals that they celebrate. These festivals are joyous moments characterized by dancing, eating, drinking and display of rich culture. Through these festivals, the stories of the ethnic groups are told to the younger generation. They are usually used to commemorate past events and to remember ancestors for their struggles and contributions.
Tourist sites and attractions
Ghana's tourist sites and attractions are the reason most foreigners and Ghanaians love the country. Thanks to its beautiful landscape, Ghana boasts of beautiful tourist sites and attractions such as Lake Volta, Mount Afadjato, Boti falls, Kakum National Park and many others.
Pros and Cons of living in Ghana
Living in Ghana, just like any place comes with pros and cons.
Pros
Anyone living in Ghana as a foreigner can attest to the fact that Ghanaians are the most welcoming people. Ghanaians have a way of making people feel at home and are willing to help in whatever way they can without any bias.
For many ex-pats, Ghana is the ideal location to escape from all the conflicts and violence in the world. All ethnic groups coexist as one and there has never been any religious tension. It is no surprise that many investors like to set up businesses here in Ghana.
There are about 72 local languages spoken across the different ethnic groups. However, English is the county's lingua franc and therefore it breaks the language barrier and allows foreigners to communicate easily with Ghanaians.
Cons
Rent is a major issue here in Ghana. Landlords make it impossible to rent a room unless you're willing to pay rent advancements. Some landlords ask that you pay rent for one year or two years in advance. That is why we at Eden Heights have made it our mission to provide luxurious yet affordable apartments with outstanding interiors and amenities for everyone.
No one living in Ghana can escape the heavy traffic. Whether you have your own car or commute by public transportation, you're bound to be caught up in traffic. The traffic in Ghana can be unbearable on weekdays, especially in Accra. It is even worse when the route you use is closer to a market, on market days you're likely to spend close to an hour or more in traffic because that is when most suppliers are bringing in their food items or wares for traders to buy and sell. Most times you might end up late to wherever you're going.
Most ex-pats and people living in Ghana as foreigners have the perception that things in Ghana are cheap, which is not true. Every day, the price of everything in Ghana keeps increasing. From rent to bills to the price of groceries to fuel, all these things are essential for normal living but the average Ghanaian may struggle a bit to meet any of these needs because of their ever-increasing prices.
Cost of living in Ghana (in US dollars)
The cost of living in Ghana is higher than most foreigners and ex-pats think. The average cost of living in Ghana in a month is roughly $701 which is GH¢4,781. A one-bedroom apartment in Accra may cost $659 more or less which is GH¢ 4,500 depending on the real estate company you're buying from. A one-bedroom apartment outside Accra may be about $146.62 which is GH¢1000. The monthly cost of food expenses may be around $274 which is GH¢1,868.78 and the monthly transport fare may sum up to $83.9 which is GH¢ 572.23. These prices may vary as time goes on.
Causes of the high cost of living in Ghana
According to a news article by citifmonline.com in 2017, Economist, Dr Said Boakye blamed the high cost of living in Ghana on the importation of products. The transportation cost is high and the imported products are not many hence products that were cheap in the USA for instance, are expensive in Ghana because the cost of transporting the products have been added to the original cost of the product thereby increasing the price.
Also, as the country is developing, more foreign companies are setting up businesses causing growth in the foreign population hence the demand for accommodation is high amongst foreign ex-pats but there is low supply. This causes prices to increase.
Living in Ghana as a Nigerian
For many Nigerians, Ghana is their second home. This is because Ghana shares a close bond with Nigeria. Compared to Nigeria, Ghana is much smaller and less populated. A lot of Nigerians have relocated to Ghana to stay and work. Some Nigerians also prefer living in Ghana because they feel that Ghana is more peaceful and secure than Nigeria.
Living in Ghana as an American
As mentioned earlier, a lot of foreigners especially Americans are working and living in Ghana. For some it's a change of scenery and environment, for others, they are taking advantage of another economic market to make a profit. Whatever it may be, Ghana is a beautiful place to live. The housing deficit and high cost of living do not undermine the fact that Ghana is a good place to live and work.
Can foreigners buy a house in Ghana?
Yes! No law hinders a foreigner from buying a house or even land in Ghana. Most lands in Ghana are owned and sold by families or clans. Lands owned by the Government of Ghana are used for commercial and government projects only. Before you buy a land or house, you need to know the type of land or house you want to buy. Note that fixtures on the land all belong to you. Once you know the type of house or land you want to buy, you need to contact a real estate developer or company that is either recognised by Ghana Real Estate Developers Association(GREDA) or has a good track record and excellent reputation in the industry. Eden Heights is an excellent choice for any foreigner or Ghanaian who wants to buy a property. Our properties include
One-bedroom
One-bedroom plus study
Two-bedroom deluxe
Three bedroom plus study
Three bedroom standard
Four bedroom
Penthouse standard
Penthouse deluxe
All our properties are located in prime settings, giving easy access to malls, restaurants, business centres, banks and more. We prioritise the comfort of our residents. Our properties are well managed and fitted with top-notch amenities and features such as fully-equipped fitness centres, modern and well-furnished kitchens and bathrooms, 24/7 security and utility supply, reliable and fast Wi-Fi and a world-class sports complex. If you're a foreigner, willing to buy property in Ghana, contact us, we are committed to providing excellence in the real estate sector.
Eden Heights, which is being developed by Westhills Ridge Company Limited, has been carefully designed and constructed to meet safety and health standards. The property has also been developed to suit the lifestyle patterns of the modern city dweller, making it undoubtedly a unique residential destination for luxury in Ghana.
DISCLAIMER: The Views, Comments, Opinions, Contributions and Statements made by Readers and Contributors on this platform do not necessarily represent the views or policy of Multimedia Group Limited.