Foreign Minister says "detractors" are trying to read meanings into the comment she made while campaigning for Lydia Alhassan at the Ayawaso West Wuogon Constituency.
According to Shirley Ayorkor Botchwey, her statements were not meant as an attack to the Creative Arts Industry but to John Dumelo.
"It was never meant to be an attack on a particular person or the entire film making and Creative Arts industry."
"Any desperate attempts by the political opportunists to twist and portray this as a swipe an entire industry should be treated with the contempt it deserves," she added.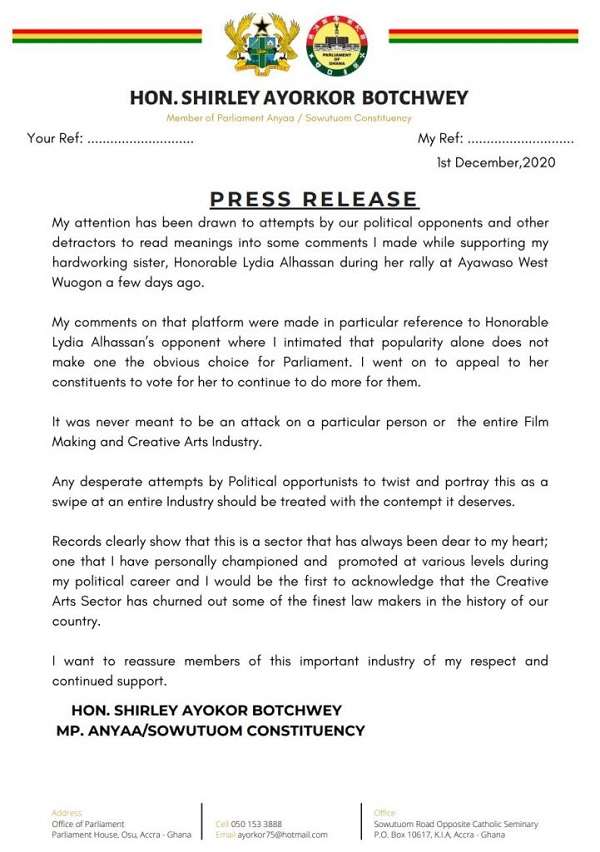 Shirley Ayorkor Botchwey's statement comes after she was heavily criticised for saying Parliament was for serious minded people, not those who have acted in some movies and think they are popular.
She also told electorates in Ayawaso West Wuogon Consitutuency that they will be stuck watching movies only if they fail to vote for the NPP.
Many industry persons including Van Vicker, Mr Logic, 3Music CEO Sadiq Abdulai Abu, Kwesi Ernest, Lydia Forson among others have condemned the statement.
"I feel unhappy hearing it because I think actors are very serious people. If we have to go to the studio to sing a song or act in front of the camera, does that make us any less serious?" Van Vicker had quizzed on Showbiz A-Z.
Lydia Forson stated that politicians only respect the power celebrities have and not the craft or the people.
Mr Logic, Kwesi Ernest and others called on the Minister to apologise to the industry and retract her statement.
However, Shirley Ayorkor Botchwey says the people are only twisting her words.
She stated that she has always had the industry at heart adding "I want to reassure members of this important industry of my respect and continued support."