Disney has unveiled plans for a major expansion of its Star Wars and Marvel franchises on its Disney+ subscription streaming service.
The company said that its upcoming films Peter Pan & Wendy and Tom Hanks' Pinocchio would be launched directly onto Disney+, skipping theatres.
But it also announced price increases from March next year.
Disney is the latest major studio to divert its focus from cinema to streaming.
Last week, Warner Brothers said all its 2021 releases would debut on HBO Max.
The coronavirus crisis has hit the film and entertainment industry hard, and cinemas are desperate for content to lure viewers back with new entertainment that can initially only be seen on their screens.
But content producers want to cater to audiences who may not be ready to go back to cinemas.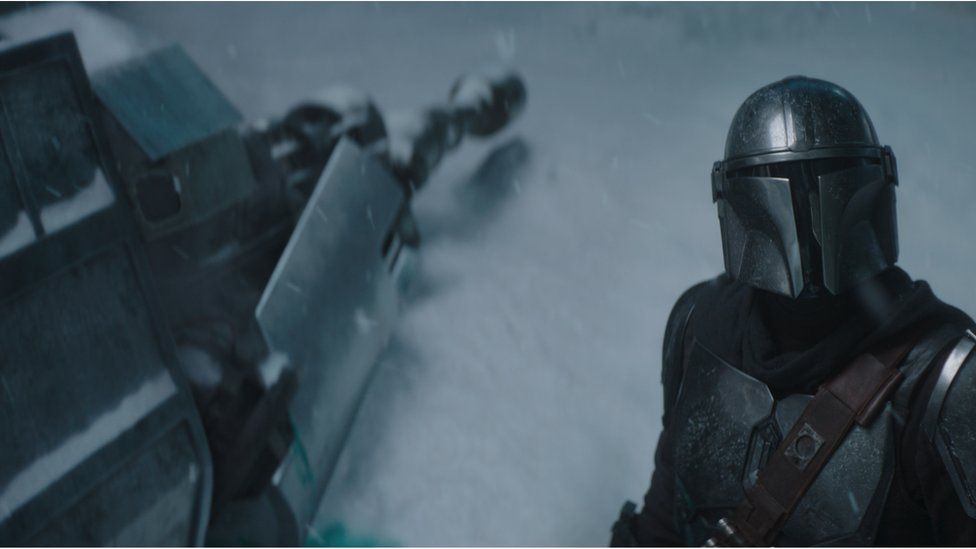 Disney plans
As part of the expansion, Disney is raising prices by $1 in the US, to $7.99 from 26 March 2021. In Eurozone countries, it will increase by €2 to €8.99.
UK price increases have not been announced, but are expected to be similar.
Disney said that it planned to offer 10 new TV series in its Marvel and Star Wars franchises over the next few years.
These include new series of Disney+'s biggest hit, The Mandalorian, featuring a Star Wars character who is the same species as Yoda.
Another Star Wars series, Andor, starring Diego Luna as the character he played in 2016's Rogue One film, was also announced.
More Star Wars animated series, The Bad Batch and A Droid Story are also in the works, the company said.
Another 15 live-action Disney Animation and Pixar shows and 15 Disney Animation and Pixar feature films will be available on the streaming service.
Executives said that customers should expect something new every week.
The news comes after Warner Bros said last week that it would debut all 17 of its 2021 movies on its HBO Max streaming service on the same day they are released in cinemas.
But not every announcement was exclusively focused on streaming.
Wonder Woman director Patty Jenkins will become the first woman to direct a Star Wars film, Rogue Squadron, which focuses on a fighter pilot team in the Star Wars universe. It is scheduled for December 2023.
Disney also announced a new streaming brand called Star, which will be part of Disney+ but stream shows from its other brands such as FX and 20th Century.
That includes a newly-announced TV series based on the Alien series of sci-fi films, but no date or plot details were given.
Streaming market
Disney+, which was launched just over a year ago, now has 86.8 million subscribers – a figure far exceeding its own predictions for customer growth.
Together with its Hulu and ESPN sports streaming services the company has about 137 million subscribers in total.
Disney+ is still well behind Netflix, which boasts nearly 200 million subscribers worldwide.
But the number of subscribers it has amassed, in such a short period of time, will have more established streaming services looking over their shoulders.
Disney shares rose during its annual investor presentation.