Domod Roof Limited as part of a Memorandum of Understanding (MOU) signed in May 2020 with Kwame Nkrumah University of Science and Technology (KNUST), awarded two 2nd year students of the Construction Technology and Management department for the 2019/20 academic year.
The presentation was attended by some staff of the University including the Provost of the College of Art and Built Environment, Professor John Tia Bugri and Dean of students for Department of Construction Technology Management (CTM), Prof. Bernard Baiden.
The students, Evans Boateng (Construction Technology and Management) and Annabel Markpokpor Ami Dompey (Quantity Surveying and Construction Economics) were presented with laptops for being the overall best students of the 2019/20 academic year.
The Managing Director for Domod Roof, Mr. Fred Kwofie who made the presentation on behalf of company expressed his gratitude for the partnership with the University.
He stated that the collaboration forms part of the company's Corporate Social Responsibility in promoting industry-academia partnership and hoped that the awardees would become ambassadors for the company.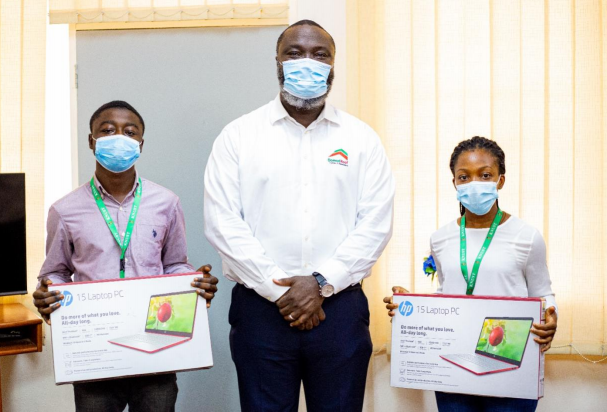 He added that the laptops presented to them would be beneficial for their research and online studies.
Provost of the College of Art and Built Environment (CABE), Professor John Tia Bugri thanked Domod Roof for the laptops given to the students and advised them to take good care of the computers and use them for its intended purpose.
Giving the background on the partnership, the Head of Department of CTM, Professor Bernard Baiden, said that, the Memorandum of Understanding (MOU) signed in 2020 provides a platform that will benefit the department with internship opportunities, national service for graduates, training and career development programmes for students.
The MoU signed with the University aims at providing internship for 3rd Year Students, Awards for 2nd Year Best Students and National Service opportunities for graduates.
Currently, three out of four graduates of the University who did their National Service with the Domod Roof Limited for the 2019/20 service year have been employed into various departments of the company.