More support keeps trickling in for the 'The Multimedia Group's #Up-To-Us Campaign' as the Ghana Association of Bankers  (GAB) has donated the biggest cash of GHS100,000 to rally help for displaced persons in northern Ghana.
The support is part of the association's desire and commitment to give back to communities in which it operates as well as shaping and influencing people positively.
The GAB has membership of 23 banks and the ARB Apex Bank which is a mini central bank for the rural and community banks. The members operate in every corner of the nation, providing support in the form of health, education, employment, amongst others to the communities.
Chief Executive Officer, John Awuah told Joy Business that the desire and belief to support the development of the country to make it a better place for every Ghanaian to live, significantly motivated his outfit to support The Multimedia Group's #Up-To-Us Campaign.
"Ghana is a beautiful country and we the people are one and love each other. When we go down, we do so together and when we win, we celebrate together…what affects someone, affects the other. With the spillage of the Bagre Dam and all the people who have been at the receiving end, we can't sit in Accra and fold our arms and think that things will be resolved by itself", Mr. Awuah emphasized.
"There must be some intervention, and as banks, we also believe that the health of the people who walk into our premises should be of importance to us. So what affects them, ultimately affects us", he noted.
Furthermore, the Chartered Accountant cum Banker said "so long as it's within our catchment area called Ghana, and as banks in Ghana we feel compelled that we must let our voices be heard. And that is why the Executive Council of the Ghana Association of Bankers in its wisdom, sat and said we must offer something.
"Though individuals have contributed directly to the fund, as a body we should also be heard and through that it will bring on board a lot more people, stakeholders, our partners, our staff, our customers to also contribute their widows might to the fund."
Mr. Awuah urged the general public, organizations and other corporate institutions to emulate GAB and their members to support the Multimedia project which will ultimately bring relief and put smiles on the many displaced people.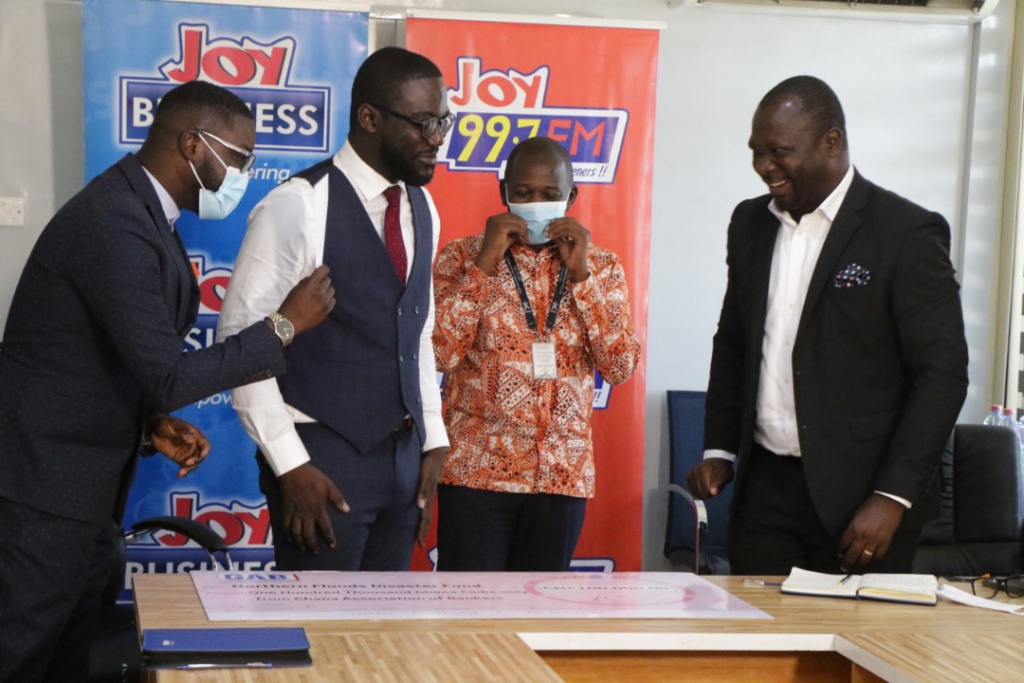 "This fund that we've contributed, we did it on behalf of the industry [banking]. So for those who have not done so directly, we take it that they've taken comfort in what they've contributed through the association for the association to execute the work on their behalf. But we are also calling on institutions, individuals to come to the aid of friends, our brothers, our sisters, our mothers, our fathers, our children who have been caught up through no fault of theirs in this unfortunate incident."
Host of the Morning Show, Kojo Yankson commended the Ghana Association of Bankers and its members for this unflinching support, saying, the existence of the Joy FM's brand is to influence and touch the lives of the people around.
"Even though there is a responsibility on our state to come to the aid of these people, we are constraint. Nevertheless, if don't step in, lives will be lost and the devastation will be impossible to quantify. So it is a huge relief not just to us here, but to the people who are waiting patiently for someone to come to their aid."
He however appealed to other corporate institutions and individuals who have not donated yet to do so as their donations will be highly appreciated.
Banks immensely supported the fight against COVID-19
During the outbreak of the covid-19, banks in the country contributed in equal amounts to the Ghana Association of Bankers COVID-19 Relief Fund which was instituted to provide humanitarian assistance and to assist front line institutions and professionals.
Three Hundred and Eighty Thousand ($380,000) was given to the Noguchi Memorial Institute to procure additional test kits, whilst GHS2 million was contributed to the Private Sector Fund towards the construction of the 100 bed infectious diseases treatment and isolation centre.
Also, GHs300,000 was set aside to provide hot meals to deprived people. This include over 7,000 food packs for deprived households, GHS200,000 to doctors in residence for Personal Protective Equipment (PPE) and GHS200,000 to the Community, Water and Sanitation for their public education in rural communities.