Zach Johnson may not have been many people's choice to win this longest of Open Championships yet, as the sun finally shone on the Old Course and the tears began to flow, he ended it as the humble champion that warmed many hearts.
Johnson stayed long into the evening to soak up the victory, circling the 18th fairway to share his glorious triumph with those spectators who, just minutes earlier, had been rooting for Louis Oosthuizen and Jordan Spieth.
By the end, his genuine humility, warmth and downright shock had won them over, a victor so bowled over by the achievement that, initially, he stared blankly into the distance.
In his mind, Johnson was reciting a Christian scripture when Oosthuizen's putt on the final play-off hole slipped by the cup to seal his second major title. He was so entwined in the moment that not even his caddie, Damon Green, could tempt him into a high five. The celebrations came eventually but, for a brief period, he appeared dumbstruck.
"I was standing there, honestly, I was reciting some scripture that I have in my book just to keep me in the moment," said Johnson, who is 39. "I was doing it all day, all week, and I was getting prepared for a tee shot on 18. You never want to see a tournament or a championship, specifically the Open, end on a miss.
"I don't particularly care to see that as a spectator, but fortunately I made a few shots prior to that which put me in that position, so I feel blessed."
Indeed, the denouement may not have been the dramatic one that this tournament deserved, but Johnson was undoubtedly a worthy winner.
Whether he can add further majors to his name and, potentially, go on to a career grand slam is a question for tomorrow.
For now, the Claret Jug can sit alongside his green jacket from 2007, pride of place among the 11 other Tour victories he has secured during a mightily impressive career. "I realise it's just a game," added Johnson.
"I'm just a guy from Iowa that has been blessed with a talent, and this game provides great opportunity. I think if you mentally look at it that way, it kind of takes the pressure off. I don't want to make it any bigger than what it should be.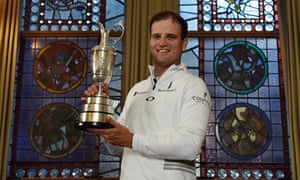 "This isn't going to define me or my career, at least I hope it doesn't. It's not my legacy. Granted, as a professional athlete and as a golfer I'm going to relish this. I'm going to savour this. I'm humbled by this. But my legacy should be my kids, my family, that kind of thing.
"The Open Championship: it's a feat to be invited and an honour to be invited to these tournaments, and to win at Augusta and to win the Open Championship at St Andrews, it's hard to put it into words, as a golfer, as an athlete, as a guy.
"I'm not rich in history, I can tell you that. I'm not a great historian. I know the little things that probably most know, but I do know that this is the birthplace of a great game and a place that has fantastic fans. It was a beautiful Scottish summer day and you all came out.
"The venue, for those that love the game, this needs to be on their bucket list and I love playing it. I've said it many, many, many times: this championship, it may sound corny because look what I'm holding, but it's probably my most fun golf tournament. I am a little bit in shock."
–
Follow Joy Sports on Twitter: @Joy997FM. Our hashtag is #JoySports
DISCLAIMER: The Views, Comments, Opinions, Contributions and Statements made by Readers and Contributors on this platform do not necessarily represent the views or policy of Multimedia Group Limited.