Famed for her role in West Side Story, Rita Moreno says the discrimination she faced in Hollywood stopped her from getting good parts in other films.
"Had it not been for the fact that I'm Hispanic, I would have had a different career," she says.
Now aged 91, Rita Moreno has overcome typecasting to become an elite performer known as an EGOT – the winner of Emmy, Grammy, Oscar and Tony awards – something only 17 artists have ever achieved.
"You sink or swim," she says, "and I just opted to swim."
When Moreno first came to New York from Puerto Rico, aged five, she was subjected to racist abuse.
"My mom left Puerto Rico and came by ship to America, New York City. Like many women from Puerto Rico she didn't know a word of English," says Moreno.
"It's obvious I got that kind of strength of character from her."
Moreno is one of the women featured on the BBC 100 Women list, which each year names 100 inspiring and influential women around the world. This year the list is honouring the progress that has been made since its inception 10 years ago.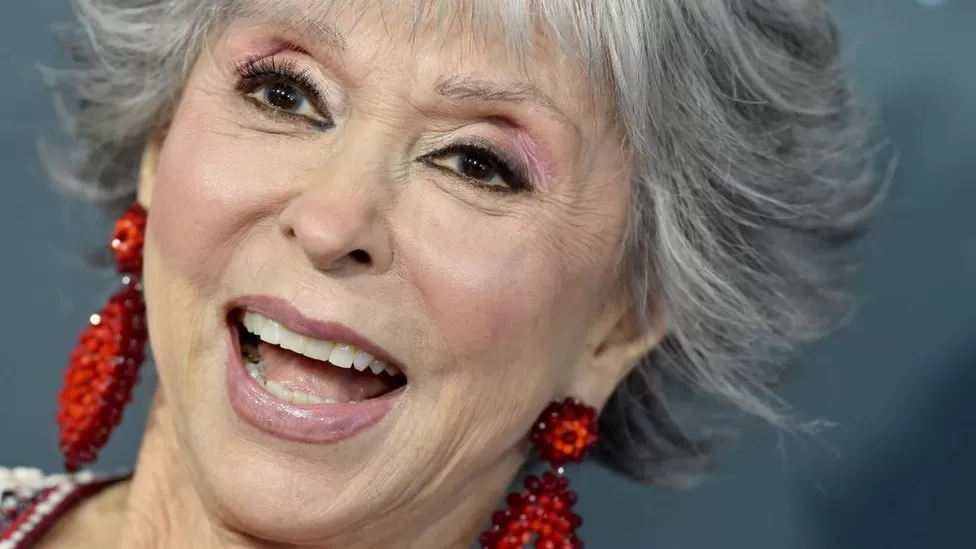 Moreno describes leaving Puerto Rico as a "reverse Wizard of Oz", going from the brightly coloured island of her birth to the grey, industrial island of Manhattan.
Aged just 18, she signed to MGM Studios. But in what would be her first clear experience of how little power she had in that era, the teenager known as Rosa Dolores Alverio was forced to change her name.
"They didn't know what to do with me because of my name," she says.
"I didn't like the name Rita but they chose it because I liked the actress Rita Hayworth. Moreno was my stepfather's last name so I took that."
There is no chance she would ever change it now, she says. "I wouldn't answer to it, I'm so used to Rita!"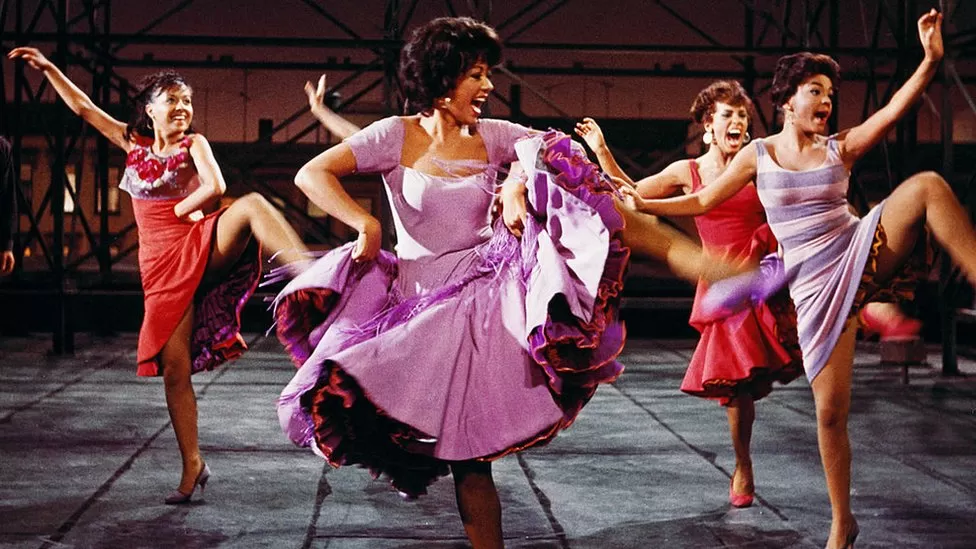 The path to Hollywood was painful. Even her Oscar-winning role in the 1961 film West Side Story had its troubles.
"One day in rehearsal I looked at the song we had to sing, America. And the lyrics were: 'Puerto Rico, you ugly island. Island of tropic diseases.'
"I thought, 'I cannot do this,'" she says.
The lyrics were changed but the film is still criticised for its crude stereotypes.
Moreno would come up against typecasting over and over again.
"You can't afford to say no!" she says.
"I made so many crappy movies and played more 'island girls' than you can imagine. Island girls don't have love scenes: island girls are raped or abused.
"I suppose the fear, especially when you're an ethnic minority woman in a very competitive industry, you don't want those opportunities to disappear if you keep saying no."
But there were notable appearances in The King And I, Carnal Knowledge and the TV show Jane the Virgin – as well as the role of flapper movie girl Zelda Zanders in Singin' in the Rain.
"Oh I loved that part so much, it was the best. So much fun," she says.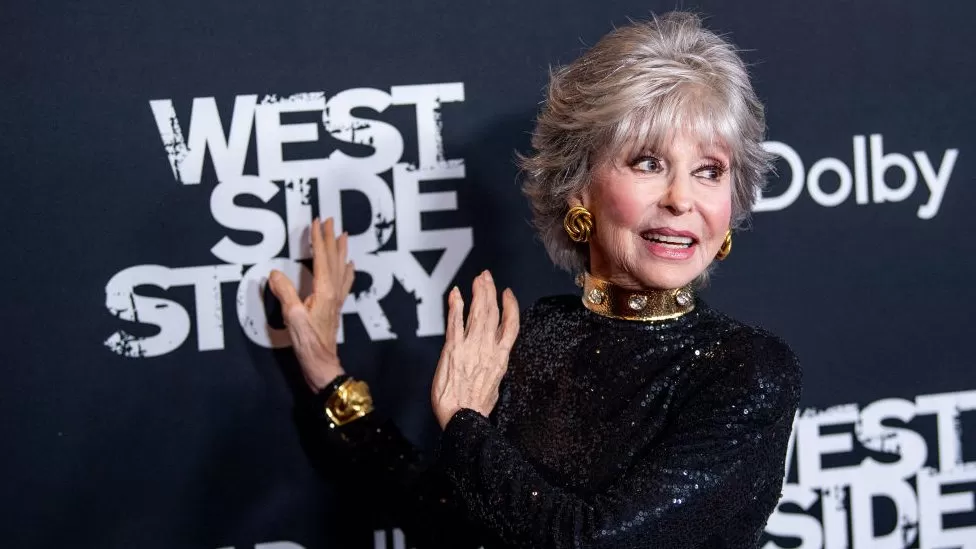 Her career has now come full circle, with a part in the Steven Spielberg 2021 remake of West Side Story.
"When we first met, I put on my most polite voice and said, 'Mr Spielberg, I'm really flattered. But I don't do cameos.'"
But he wasn't offering her a cameo, he was offering a full part, and – in a sign of the change in power dynamics – a role as an executive producer.
It was a stark contrast from one of her early setbacks.
Sixty years ago, West Side Story was breaking box office records and Moreno had become the first Latina to win an Oscar for Best Supporting Actress.
"I approached an agent, a very successful woman and asked, 'Do you suppose you would take me on as a client?'
"And she very quickly responded, 'No,'" says Moreno. "It's like the blood left my entire body in a pool around my ankles."
But it was her follow up remark that cut deepest: "Sweetheart, you don't have what it takes."
Having been a star during Hollywood's Golden Age, as well as the rock and roll era, it is unsurprising that Moreno has been romantically involved with some of the entertainment industry's most famous men.
"I had several dates with Elvis, who was quite beautiful by the way – he was gorgeous… very shy, very sweet, very beautiful," she says.
"And then he asked me out and we went out a couple of times, and that was a disaster because I was madly in love with Marlon."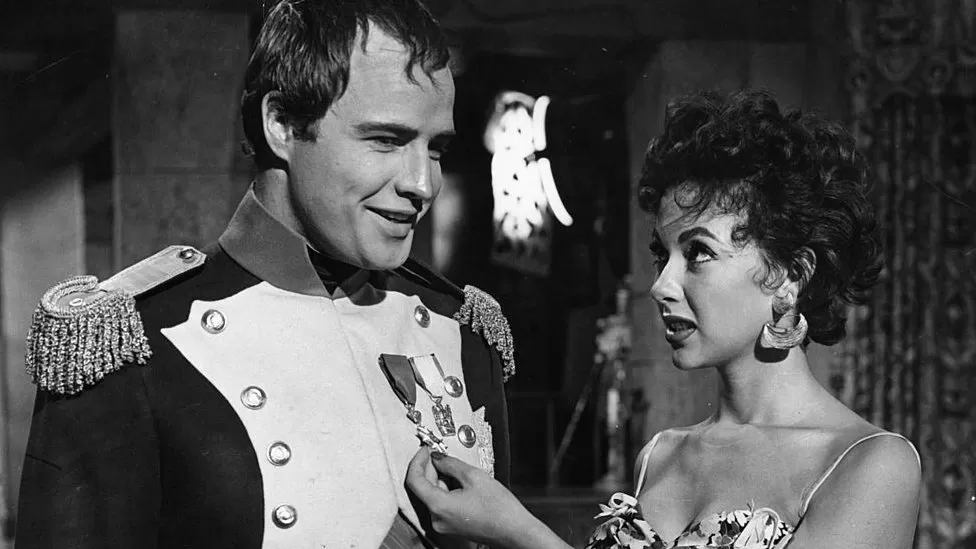 Her relationship with Marlon Brando was troubled. While she describes him as the "lust" of her life, their problems had a real impact on her mental health.
"I tried to end my life," she says. "I thought it was the only way I could end it. I was so obsessed with him, and he with me."
Moreno became pregnant at a time when abortion was still banned in the US. Brando paid for her to have an illegal procedure, but it went wrong and she had to be taken to hospital.
Moreno was particularly shocked when Roe v Wade was overturned earlier this year, effectively ending a constitutional right for millions of women in the US to access abortion.
"I wept," says Moreno.
"I couldn't believe it. I'm absolutely astonished because of what it does to very young women. It's always the poor people, the people who are struggling to survive who get the worst of this."
Politics and representation are important to Moreno and she cares deeply about how Hollywood portrays ethnic minorities.
Viola Davis, who is black, once said she had a career comparable to Meryl Streep's but wasn't paid or recognised in the same way as a white actress. Rita relates wholeheartedly.
"Oh, I would have been perceived on the same level if I was white, I honestly do. I could be dead wrong. We'll never know. But it does hurt."
Nevertheless she still loves acting and continues to work, including in the latest instalment of the Fast and Furious franchise.
She wants to live to see progress made where the world can name more than one Puerto Rican superstar.
"Jennifer Lopez is great, but why is she the only one that anyone thinks of when it comes to the Hispanic community?"
Interview by Nomia Iqbal, for BBC 100 Women
DISCLAIMER: The Views, Comments, Opinions, Contributions and Statements made by Readers and Contributors on this platform do not necessarily represent the views or policy of Multimedia Group Limited.