Actress turned musician Fella Makafui is on Twitter trends after the release of her first single 'Over'.
Prior to the release, many people thought the song was a response to Sister Derby's text to her husband rapper Medikal on his birthday.
Seriously, the beef exhibited in diss songs by Fella Makafui, Medikal and Sister Derby no dey hia kraa. 'After election no campaign'. You're married, she's married and you've eaten both women so what again? A psychologist has to organise an online therapy session for them. Haba!

— Dr. Sia Baa (@Cliq_info) April 15, 2020
However, for many hearing "over over over my name is Fella" they say that was just not the kind of music they wanted or expected from the actress.
Reacting after listening to the song, one Twitter user tweeted, "Please don't kill Gh music for as. You have done some is okay."
Please don't kill Gh music for as. You have done some is okay

— L U C I O U S (@ApoeyaLucious) April 15, 2020
"Please can we come together as a nation and forgive Fella Makafui? Oyale tooo much," another fan replied under a post.
I love you @fellamakafui_ more tracks I think album will be finalized soon bia

— Bashari jnr Arsenal (@BashariOzil) April 15, 2020
The release of Fella Makafui's song has also revived the name of actress turned singer Emelia Brobbey.
Many people said they would choose the Kumawood actress' songs over what Fella Makafui released.
But this life ankasa no fair oo aswear
By now some up and coming bi wants a beat to hop on it but no Dey get
By now dem email Unkle Beat but chairman no Dey reply
See how he dey waste nice beat on Fella Makafui just to punish our ears
What at all have we done to deserve this 😤

— Beno SarkCess 🤟💉🚀 (@BenopaOnyx1) April 15, 2020

However, the reviews were all not negative as some fans of the former Yolo actress say they have no problem with her song and are looking forward to her debut album.
@fellamakafui_ over. Haters want pull you down. Wifey do you thing. Haters can't write one line self dem want talk shit. Chairman please sign her up before @shattawalegh come call you ooo. @AmgMedikal love you bro.

— Bashari jnr Arsenal (@BashariOzil) April 15, 2020
Perhaps unfazed by the reviews, Fela also took to Twitter to announce that she would be releasing another single soon.
My second single #NOSIZE prod. by @Unkle_18 Drops today at exactly 6pm with visuals #PILOLOO Records 💥💥💥💥💥💥💥💥

— Mrs. Precious Frimpong (@fellamakafui_) April 15, 2020
In early part of 2020,sister Emelia Brobbey was still leading the race of most useless song since Archipalago had not released anything.

As it stands now Fella Makafui,just took the lead.
Nkwas…. nnwom paa nie

— WIRED (@agyemang_wiredu) April 15, 2020
Don't come and damage our hearing again ooo

— Mr. Ex President🇬🇭🇬🇭🇬🇭 (@koftownFlower) April 15, 2020
Fella Makafui's song be like sentence without comma, full stop, exclamation mark and question mark.

— Busta Dre🦅 (@RickStunna) April 15, 2020
Featuring Emelia Brobbey pic.twitter.com/LPvFr6Zi8Y

— Exodus_Movement👊🔥🇬🇭 (@Exodus_Chapta) April 15, 2020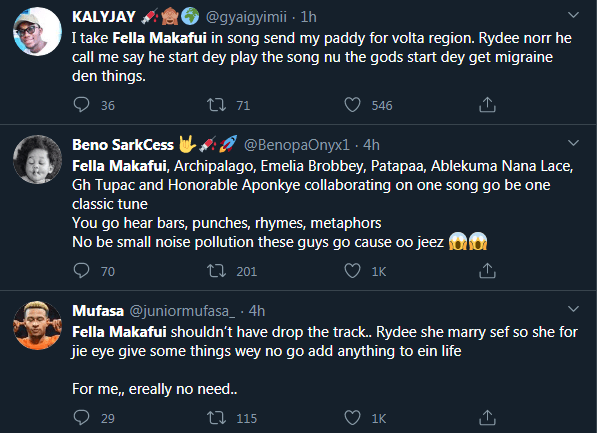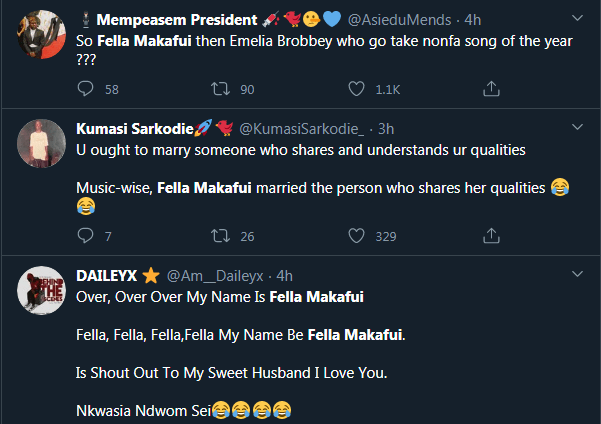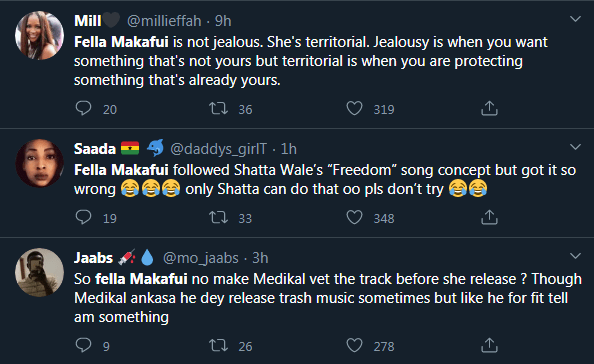 You sey weytin 😳
Wei de3 mama awu😩🤢💔💔😑😑🤣🤣💔

— Tiwaa🤭💝 (@urregularkind) April 15, 2020
Sister Aden …abeg let think abt corona virus bf we deal with dis virus song too wai

— DONREX. (@DONREX23951674) April 15, 2020
Medikal And Fella Makafui Dey Come Worry In This Country

I pray their pressure no go kill Derby 😅
AMG Issa Disturb Geng🔥

— 🖤Ayigbe Tall Boy🖤 (@Way_Gez) April 15, 2020
I just heard something like… Over my name is fella Makafui… Am still waiting for the track…

— Julius Yram (@juliusyram) April 15, 2020
U just came into the music industry and u are dropping bangers each and everyday, Mrs Frimpong woy3 guy

— ODK (@KwsiAtta) April 15, 2020
Music be calling not everybro can do music and be successful u should know.

— BUNMAN 🔌 (@Sammer_Rity) April 15, 2020
She thinks she's Ghana's Darkoo 😂😂😂sista go back to your acting eh.

— ghost (@JonesOfori14) April 15, 2020
Medikal are u serious, wat genre of music @fellamakafui_ dey do

— SHUGALINA❤ (@DemSugar5) April 15, 2020
Massa, so you guys listen through this borla before releasing this as a song? But emom #medikal dey hear things oo. Eeeei🤣🤣😂😂😂🤣🤣

— William L. Lamptey (@theniilantei) April 15, 2020
@fellamakafui_ @AmgMedikal why ?
Am disappointed pls come back better pic.twitter.com/qDbwkCFsJ3

— nayabingi (@BingiOnline) April 15, 2020
Now di3 it seems #fellamakafui and Emelia Brobbey dey fight over one title oo. Who wins the overall female version of patapaa title.

— William L. Lamptey (@theniilantei) April 15, 2020