Deputy NDC General Secretary declared yesterday with an air of finality that the 'door to become flagbearer is completely shut' to those who were interested but could not pick their nomination forms
But he may have left out the other truth that he does not keep the keys.
Apparently, the party's Council of Elders do or at least know where to find it.
And in response to a petition from 8 unhappy flagbearer aspirants, the door through which they can pass to pick up presidential nomination forms has been opened for two extra days.
It's a small victory for the likes Nurideen Iddrisu and Dr. Ekwow Spio Garbrah who dared the NDC National Executives to close nominations yesterday.
Frontrunner John Mahama had no problem receiving the forms and he is collecting signatures and endorsements according to the guidelines for the primaries.
Professor Joshua Alabi had problems with the filing fees and others but still picked anyway.
Mr. Stephen Atubiga, Sylvester Mensah had problems and wrote a petition about the problems to the Council of Elders but still picked up forms anyway perhaps believing in the adage better safe than sorry.
But Dr. Ekwow Spio-Garbrah, Alban Bagbin, Goosie Tanoh, Kojo Bonsu, Nurideen Iddrisu refused to pick up the forms and demanded a response from the Council of Elders.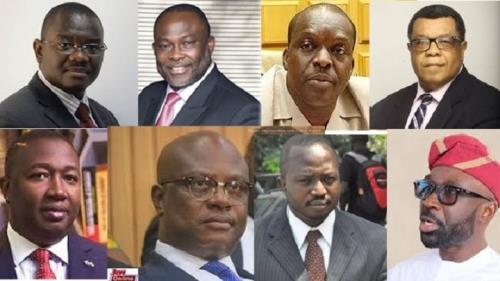 Photo: L-R (top): Sylvester Mensah, Ekwow Spio-Garbrah, Alban Bagbin and Goosie Tanoh; L-R (down): Elikplim Agbemava, Kojo Bonsu, Stephen Atubiga and Nurudeen Iddrisu
Finally, they have.
Beyond the extension in the nomination period, the date for the presidential primaries set for 19 January 2019 has been pushed.
Not to the March date proposed in the petition by the disgruntled eight aspirants but to January 26, 2019.
A small concession, a slight psychological victory for them over the NDC National Executives whom they have asked to recuse themselves.
Perhaps the stickiest issue – the ¢400,000 filing fee – is now ¢100,000 less.
With no official statement yet from the party's Council of Elders, there could be more concessions, Richard Quashigah, spokesperson for another aspirant Prof. Joshua Alabi told Joy FM's Top Story Wednesday.
He called the ¢100,000 reduction "some effort", "an effort" and then a "refreshing effort" and still held on the hope associated with Oliver Twist.
Mr. Quashigah who is Keta MP turned his attention on showering praises on the Council of Elders.
"They are very dignified" persons "full of wisdom", he said and felt he could perhaps do better with his descriptive adjectives.
And so continuing, he called them "very, very distinguished, honourable people" who will "always do what is right and proper".
The politician observed that his personal respect for his partisan elders has shot up by some important points.
Despite the Council responding after the close of nomination Tuesday, he described their intervention swift.
Prof. Alabi's man said the aspirants await a meeting with the Council for an official notification and further discussions.
The NDC, he predicts, will come out stronger than before following days of full-blown media attention on disagreements over the organization of the presidential primaries.
Within that time, their rivals, the governing NPP has called them names. Such as a party that is auctioning its flagbearer position to the highest bidder.
From this small victory, the 8 disgruntled aspirants would hope they are en route to a much, much more important victory – winning the flagbearer position.
That would not be determined by the council of elders but by 275,000 delegates.
DISCLAIMER: The Views, Comments, Opinions, Contributions and Statements made by Readers and Contributors on this platform do not necessarily represent the views or policy of Multimedia Group Limited.