Every street in the metropolis had an imposing billboard of Reverend Tom's upcoming crusade, and all the walls in the vicinity had two or more of his colourful crusade posters.
After leaving the Bible School three years ago, Tom had suddenly become a popular preacher, with his name on every tongue in the community.
He had a melodious singing voice, and whenever he stood to minister, his audience were wowed by his unique understanding of the scriptures.
But these were not the attributes that shot him to fame. What actually made him an iconic spectacle and a heavily discussed preacher was the unusual miracles he performed.
Through him, many sick and bedridden indigenes of the town got back on their feet.
Others who had been barren for years also heard the cry of babies in their homes and many more people experienced various forms of mind-boggling supernatural interventions.
Sitting in his chair at home, he could also foretell future events with surgical precision. Everything he said about the future came to pass and all his prophecies proved to be true.
As a Christian, one of the things I've realised about some prophets is that before they minister to someone, they usually ask the person a few questions to confirm the revelations they have.
But Reverend Tom was an exception to this. He didn't have to ask for clarity or seek confirmation from the people he prophesied to.
Once he came into contact with you, it was as if your entire life was before him like a mirror, and he could tell when you were born till your very last activity before meeting him.
This sharp revelatory ability also made him a friend to many business moguls, who sought his views before they embarked on their respective business and trade investments.
Tom made a fortune out of all his gifts and abilities, and within a short period of time, wealth was literally smelling on him.
Indeed, the blessing of the Lord they say maketh rich, and Tom was just another example. A rich and powerful minister he was!
It was therefore no surprise that his upcoming crusade received a lot of publicity and attention.
The local TV channels were filled with adverts about the crusade, and almost all the radio frequencies kept playing his crusade jingles over and over again.
In a way, it looked like God Himself was descending to the earth, and the enthusiasm of some of his followers gave the impression that Tom himself was God Almighty.
Everybody was earnestly looking forward to that auspicious moment and some people who lived outside Tom's community came in earlier to book hotels in order to catch the action. Something huge was definitely looming !
Meanwhile, Tom was also fervently preparing for the big day. His team of pastors had set some days aside, praying into the event and asking for God's blessings to take charge of the entire proceedings.
In all, Tom had eight other pastors with whom he worked; creating a circle of nine men and women of God. Three of these eight pastors were ladies, while the other five were men.
In addition to the big nine, Tom had a dedicated singer who always ministered ahead of his sermons. Her name was Joana, and whenever she took the microphone, it was as though the host of heaven had arrived.
Her choice of songs were clever and she had the ability to move the crowd with her sleek voice anytime she mounted the stage.
However, there was something else about Joan that was equally moving; and that was her physique. We're talking about Joana, a vessel of the Lord, but allow me discuss her figure a little. I hope I don't sin in the process.
The curves on Joan's hips were sharp, meandering all the way to her legs; with a fairly protruding back side. Her belly was placidly flat, with no traces of fat whatsoever.
Looking above her belly, one could not help but notice her firm breasts which in all made her the ideal package most men would opt for; especially because of her pretty face and cute diastema.
Reverend Tom, was one of such men who couldn't resist Joana either. As a result, the two of them had been having an affair on the blindside of the rest of the team members.
Joana spent most of her weekends in Reverend Tom's apartment, under the guise of receiving spiritual tutelage and instructions. Even though this was true, she was also being comforted by the man of God's rod and staff.
Their affair was a closely guarded secret no one knew or sensed.
At church, they behaved very professionally and it was difficult for anyone to suspect anything between the two.
Sometimes, Tom would actually rebuke Joana in the midst of the other pastors, creating an impression of an independent and unbiased leader. With these and other strong public gestures, it was difficult to presume that the two of them were lovers.
However, because nothing is hidden under the sun forever, their affair soon became public knowledge on the very day of the highly anticipated crusade.
Now during his ministrations and sermons, Reverend Tom preferred using lapels to hand-held microphones. According to him, the lapels gave him more room to move and operate, and therefore he became traditionally accustomed to them.
Almost all his pastors did same, including Joana, his minstrel. Subsequently, on the evening on the grand crusade, all his pastors, together with himself wore their lapels ahead of the start of the crusade.
It was a sea of attendees, who had come from all walks of life to witness the move of God at this crusade. The stage was huge, with colourful lights all over the place.
Reverend Tom himself was poised for action, ready to be used by God to touch lives. The cheers that greeted him when he was called to the podium was enough testimony of the euphoria that had engulfed the crusade grounds.
Responding to the cheers, he greeted his audience and formally welcomed them to the event in his usual warm and calm voice. Just before he could finish, Joana's voice took over the huge speakers, as she led the crowd in worship! It was truly a sight to behold.
Everyone was caught up in the spiritually induced atmosphere and the mood was simply electrifying. Within the crowd, people started recording strange healing testimonies and the place was already bursting with miracles.
Joana's session lasted for well over an hour, after which she finally left the stage for another pastor to conduct the service.
Her next stop was to move back stage, where Tom was fervently praying ahead of his actual ministration which was only a few minutes away.
"You did well, woman of God", Tom told Joana, opening his arms to give Joana a hug in the pastor's chamber backstage.
The harmless hug from an appreciative pastor to an excellent church worker suddenly turned into something else. Before long, the warm embrace sparked a sudden feeling between the two ministers of the gospel.
What they did not realise was that, their lapels were turned on when their bodies made contact with each other during their long embrace. The sounds from that point therefore found its way straight into the ears of the over 40,000 crowd gathered outside.
"I like this Joana, go ahead"; Tom said. Responding to Joana who was already kneeling before her spiritual father, holding his shaft in her mouth.
"Are you sure, love? I like it too", Joana retorted.
This and other lewd exchanges continued for a while, all playing loud in the speakers to an audience who were totally confused!
The other pastors on stage were confused as well, and didn't know what was happening. Then one of them, sensing where the sounds were coming from rushed to the pastor's chamber backstage to alert the two lovers.
Alas! The door was also locked. It took some minutes of banging on the door before Tom and Joana let go off each other, and realised what was happening! At this point, can you imagine what would have happened?
The whole crusade came to a halt!!! And the crowd, disappointed by the turn of events started dispersing in anger. It was a such a huge embarrassment and a grand scene of shame. A monumental scandal had occurred and it was visible for all to see.
Tom's ministry, as a result died right from there, as news of the shameful deed spread like wildfire. A great move of God had come to an end in a rather disgraceful and scandalous manner. Tom was over!
Indeed, the little character flaws we fail to address can become the reason for our fall on the stage. Tom was by all means a great man of God, except for an appetite he never cured.
Would you want to be a Reverend Tom or you'll move swiftly into dealing with your character defects right away? The Lord help us all. Till I come your way again next time, always know that God is interested in perfecting our imperfections.
All it takes is the sincerity to break down before him and ask for help. Remember, character is stronger than giftings. Adios.
The author of this fiction is a writer, a corporate MC and a broadcast journalist, currently with The Multimedia Group.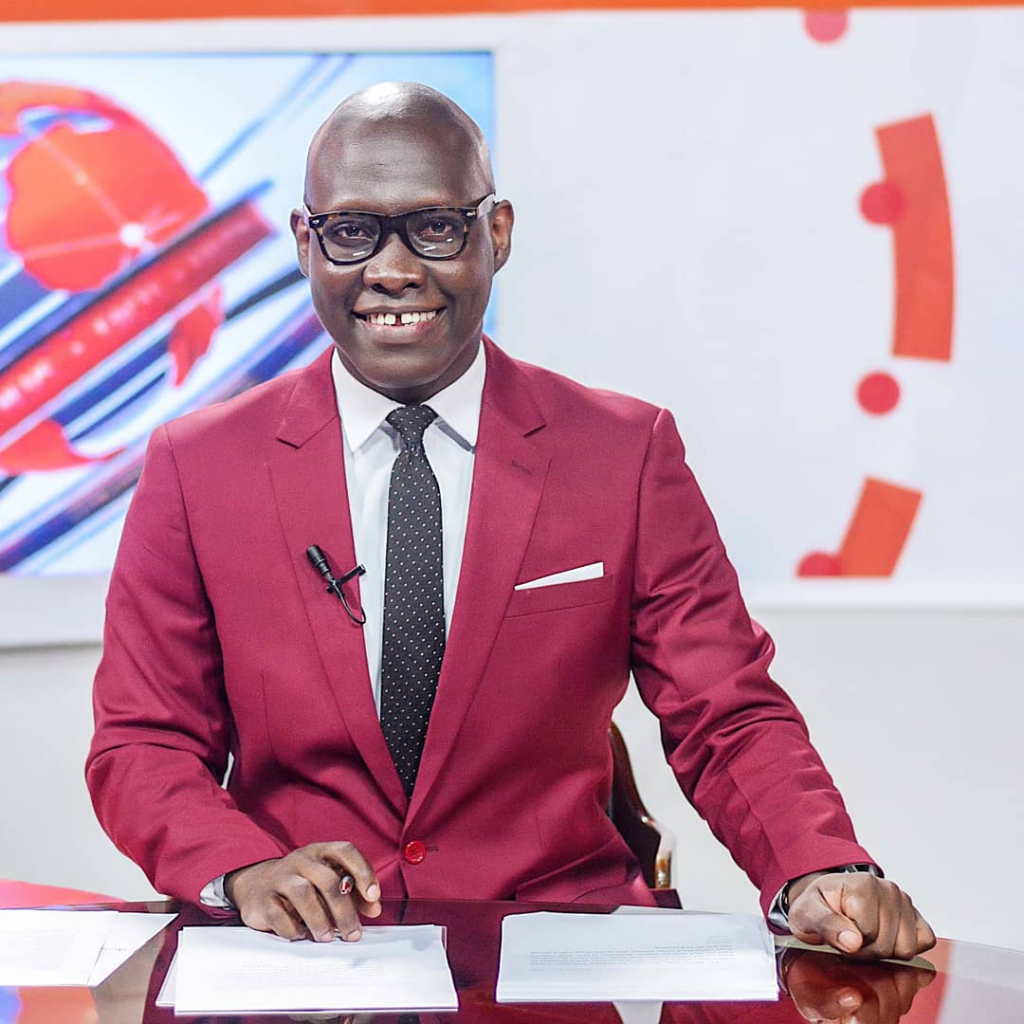 You can reach him on (+233) 273141821 or derrick.ayirebi-acquah@myjoyonline.com
DISCLAIMER: The Views, Comments, Opinions, Contributions and Statements made by Readers and Contributors on this platform do not necessarily represent the views or policy of Multimedia Group Limited.