Primetime Limited, producers of the National Science and Maths Quiz (NSMQ) has dispersed allegations by the Alumni of the Presbyterian Boys Senior High School.
The Alumni of Presec had claimed that the school was given "a raw deal" at the finals of this year's contest.
The organisers of the quiz in a statement dated December, 8, have described the comments as inaccurate.
"We would like to state categorically that this claim is totally false and only an attempt to detract attention from the Champions and the highly successful production of this year's NSMQ in Kumasi," they said.
The old students of Presbyterian Boys' Secondary School (Presec Legon) revealed that they will petition organisers of National Science and Maths Quiz (NSMQ), Primetime, over what they say is a "raw deal" during the competition's finals.
In a statement on Wednesday, December 1, the Global President of the Ɔdadeɛ Alumni and Mentorship Centre, Dr. Ernest Ofori Sarpong, said an investigation ought to be conducted to ascertain incidents that led to Presec being "given a raw deal".
The concern of the Alumni had to do with the 15 seconds extra granted contestants from Prempeh College during round 3 of the final contest.
During this round, also known as the Problem of the Day, the interactive screen used by the team from Prempeh College got locked for about 20 seconds to the end of the round.
The contestants tried to unlock their screen but were unsuccessful. Meanwhile their competitors, PRESEC and Keta SHTS, continued solving the question. The organisers therefore thought it wise to offer Prempeh College 15 seconds extra to enable them complete the task.
Primetime, in response, has therefore explained that "the competition offers an equal playing field to all schools, without discrimination, or favouritism.
"Indeed, Primetime has no interest in which team wins, or loses a particular contest, and the Championship for that matter," they said.
They, thus, entreated "the dissatisfied old students of PRESEC and others who have taken to social media channels to insult and vilify Primetime, the NSMQ brand, and the Quiz Mistress to put an immediate end to it.
"We would urge the team from PRESEC to learn to lose graciously and conduct themselves with honour, worthy of the only six-time champions of the National Science & Maths Quiz," they said.
The 2021 NSMQ final was held on Friday, November 26, at the Kwame Nkrumah University of Science and Technology (KNUST) in Kumasi and was won by Prempeh College.
Right from the beginning, the race saw a keen and stiff competition by all the three schools as they locked horns neck to neck for a lead.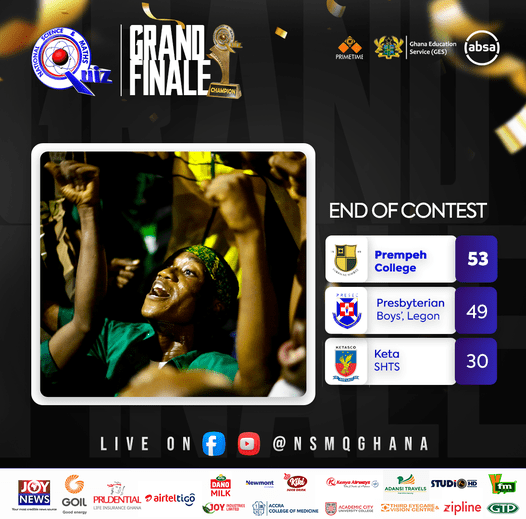 The 'Amanfuor', nonetheless, emerged victorious after attaining a four-point lead, the 'Ɔdadeɛs'.
However, some Presec Legon alumni believe that the quiz was tipped in favour of the 2021 victors.
As such, the Global Executive further assured the old students that "much is being done to address their concerns raised after the finals."