RAPIDWASH, a member of The Type Group of companies is expected to change the face of laundry after launching Ghana's first mobile self-service laundry.  
The service currently being piloted will see customers accessing fast and convenient service at a much cheaper cost.
Disclosing this in an interview with Joy Business after launching the service with Vivo Energy Ghana at the Community 18 Shell station in Tema, Chief Executive Officer of RAPIDWASH, Coby Asmah said "for every business to thrive you need to pilot. We will monitor this for six months, work out the cash flow, learn a few lessons, evaluate our processes and our plan," he said.
The newly launched equipment has two washers; 18kg and 8kg as well as 18 kg dryer.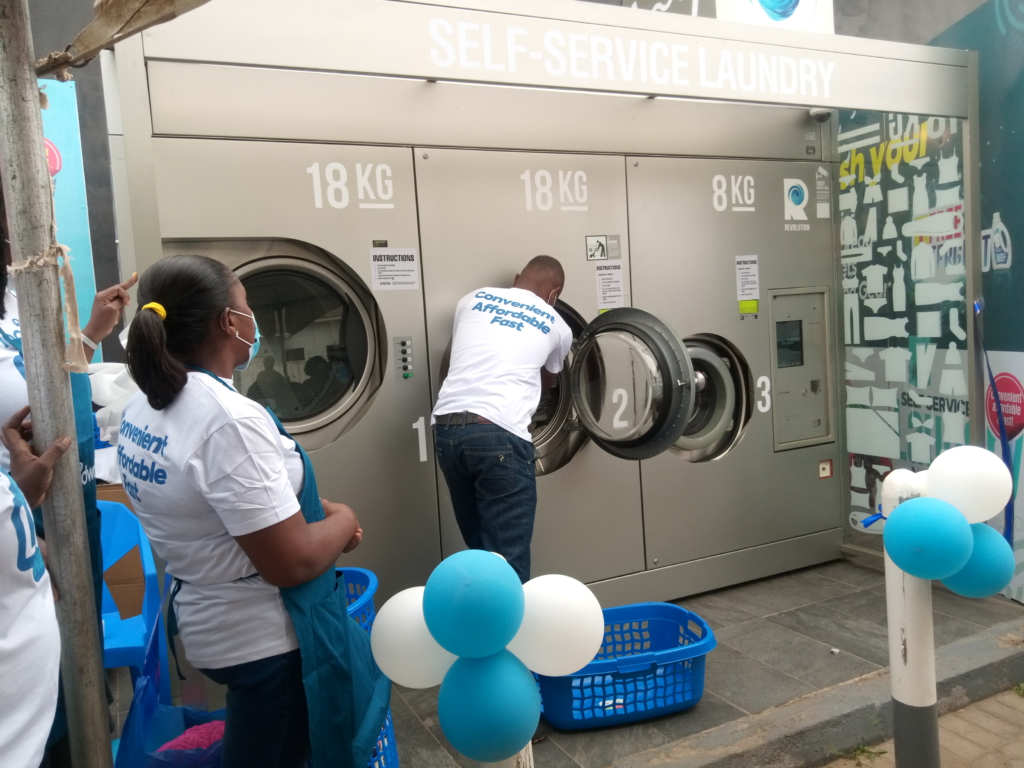 Beyond convenience, Mr. Asmah said his outfit is very particular about the cost involved in getting one's items washed and dried.
"For instance, the 8kg machine takes up to 20 shirts which cost ¢40.00 to enjoy this service. This means one is paying ¢2.00 for washing and drying each shirt," he added.
He hinted of a rollout of another five of the equipment within Accra, but will establish about 20 of this outside Accra including Cape Coast, Kumasi, Sunyani and Winneba, targeting tertiary institutions.
Revolution brand is said to be the biggest self-service laundry operator in Europe with more than 5,000 installations all around the world.
In Ghana, RAPIDWASH is the accredited operator of Revolution laundry equipment which is fully integrated with high-capacity washers, dryer and a complete payment terminal.
The company finds the launch as an intervention considering years of bad experiences of some people at the hands of some laundries.
The service is also expected to bring relief to large families apart from schools, hostels, factories, hospitals and apartments which would have dedicated installation at their premises.
Demonstrating the use of the machines, it was made clear that the equipment is programmed to accept tokens, but the company will accept VISA cards; debit and credit, mobile money and bank notes as time goes by.
According to Mr. Asmah, the company is ready to cooperate with existing laundries.
A team member of marketing at TYPE, Nana Ama Mensah indicated that the company has a plan to train people with interest in laundry under what is considered a social entrepreneurship programme.
Head of Convenience and Non-Fuel Retail of Vivo Energy Ghana, Samuel Buah-Kwofie said the partnership with RAPIDWASH brings home convenience mostly experienced in Europe and the Americas.
" So our customers in and around Sakumono, Lashibi, Spintex and its environs, we invite you to visit the Tema Comm.18 Shell to enjoy the best in class customer service experience and offerings," he urged.
Meanwhile, Chief Executive Officer of Cleaning Solutions Ltd, Rev. Kofi Ankama-Asamoah said the company which has over two decades of expertise in manufacturing cleaning chemicals in the country will partner RAPIDWASH.
He further assured customers of getting the best detergents for their items once they experience the services of RAPIDWASH.
There were questions about efficiency of the machines being outdoors, but Coby Asmah assured participants that the machines are built to survive harsh weather conditions.
The company is offering 25% discount for the month of March 2022, as part of launching the maiden mobile service.
DISCLAIMER: The Views, Comments, Opinions, Contributions and Statements made by Readers and Contributors on this platform do not necessarily represent the views or policy of Multimedia Group Limited.