The Management of the Koforidua Technical University has received a cheque for Gh¢50,000 from the Koforidua Chapter of the Technical University Teachers Association of Ghana (TUTAG) to support the construction of a University Hospital.
The gesture, according to the local chairman of TUTAG, Dr. Anthony Ayarkwa will bring health care delivery to the doorstep of teaching and non teaching staff, students as well as the general public.
According to him, the Association recognises the need for the University to have a standard health facility, hence the support.
Dr Ayarkwa said, "as a union and stakeholders of the university, this is our widow's mite, so we decided to come together and contribute money to support the Vice-Chancellor of the University to realize his vision of constructing a standard hospital for the benefit of students and all staff as well as residents of neighbouring communities."
"When the facility is completed, it will have a Male and Female wards, Consulting Rooms, Pharmacy, Out-Patient Department (OPD), X-ray unit, VIP Wards and Dispensary among others."
The overall cost of the hospital has been estimated at GH¢2million.
The Vice Chancellor of the University, Professor, David Essumang appreciated the gesture by the university teachers.
He called on other groups, both in and outside of the institution to make the construction of the hospital a reality by donating cash and building materials.
Sharing the reason behind his call for an equipped health facility, Prof Essumang said, "when I came to KTU, I was told that the university has all facilities including a health facility. I was comfortable to come."
"But, three days after I reported, my daughter was not feeling well at around 1:00 am. I asked where the health facility is located and I was told there was no hospital on campus. Hence my decision to construct a hospital which will befit this great institution."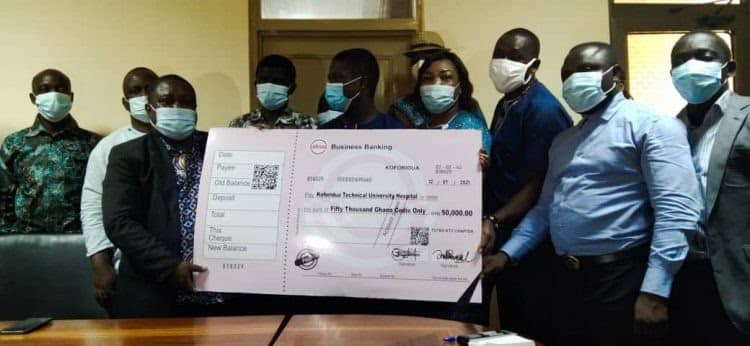 Prof Essumang revealed that the university hospital will be well-equipped with modern equipment. He added that, "I want to use this opportunity to call on non-governmental organizations (NGOs) and other philanthropists to come and support the university, to put up this befitting hospital for the students, faculty, and residents in and around Koforidua."
Prof Essumang said the school has already received donations from some institutions including, GHACEM and Republic Bank.
"We pray that the rest will come to join because this is a project, which is not being funded by government or our IGF, what we do is to go round and beg for people to support," he stated.
The hospital, when completed will have all facilities and Human Resource every standard hospital needs, to aid in the delivery of healthcare.
DISCLAIMER: The Views, Comments, Opinions, Contributions and Statements made by Readers and Contributors on this platform do not necessarily represent the views or policy of Multimedia Group Limited.