A six-year-old boy has been airlifted to hospital after witnesses said he fell from a theme park ride.
The boy is believed to have fallen from the Twister rollercoaster at Lightwater Valley, near Ripon, in North Yorkshire.
Witnesses reported hearing screams and seeing the boy "hanging backwards" from the carriage.
Police said his condition was not believed to be life-threatening, and the park said the ride was closed and health and safety experts were on site.
It added: "We take the health and safety of our visitors very seriously and are committed to providing support to the affected family.
"We will continue working closely with the Health and Safety Executive and emergency services."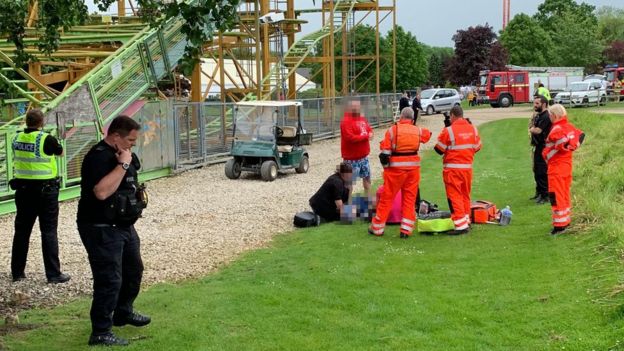 Image caption: Police said the boy was conscious after the fall from the ride
North Yorkshire Police said it was called to reports of a "medical incident" at 11:30 BST and the boy was being treated in Leeds General Infirmary.
Lara-Susan James, who was in the queue for the Twister, said: "We could hear a girl screaming, and I mean screaming.
"I thought she was just scared of being on the ride, but she was hysterical. They were part of a bigger party of people visiting the park, and they were on the ground just ahead of us."
She added: "They started shouting to the operator to stop the ride. It was at that moment I realised something was wrong.
"I saw the operator apply the emergency stop and my husband pointed to the fallen kid on the ground saying they had fallen out."
Mark Charnley, another guest at the park, said the boy was "hanging backwards outside the actual carriage".
"Everybody started shouting to get the attention of the guy running the machine," he added.
In June 2001, 20-year-old Gemma Savage died when two cars collided on the same ride at the park.
Miss Savage, from Wath-upon-Dearne, South Yorkshire, was on a day out with friends from Durham University, where she was studying medical sciences, when the accident happened.
The theme park's owner, the manufacturers of the ride and an electrician were all later fined for health and safety breaches.
According to the theme park's website, Lightwater Valley started life as a pig farm located approximately five miles from Ripon.
The park as it is known today was born after the purchase and creation of the Rat Rollercoaster in 1987, which at the time became the world's first and only subterranean rollercoaster.