One has to die in order to be afforded the opportunity of rebirth, an indication of a fresh start into a realm of greater things to come. This was Worlasi's justification for yet another enthralling entrance on Saturday.
We're still waiting for a day when the versatile artiste, born Raphael Worlasi Langani, will walk onto a stage like every other 'normal' musical performer would do.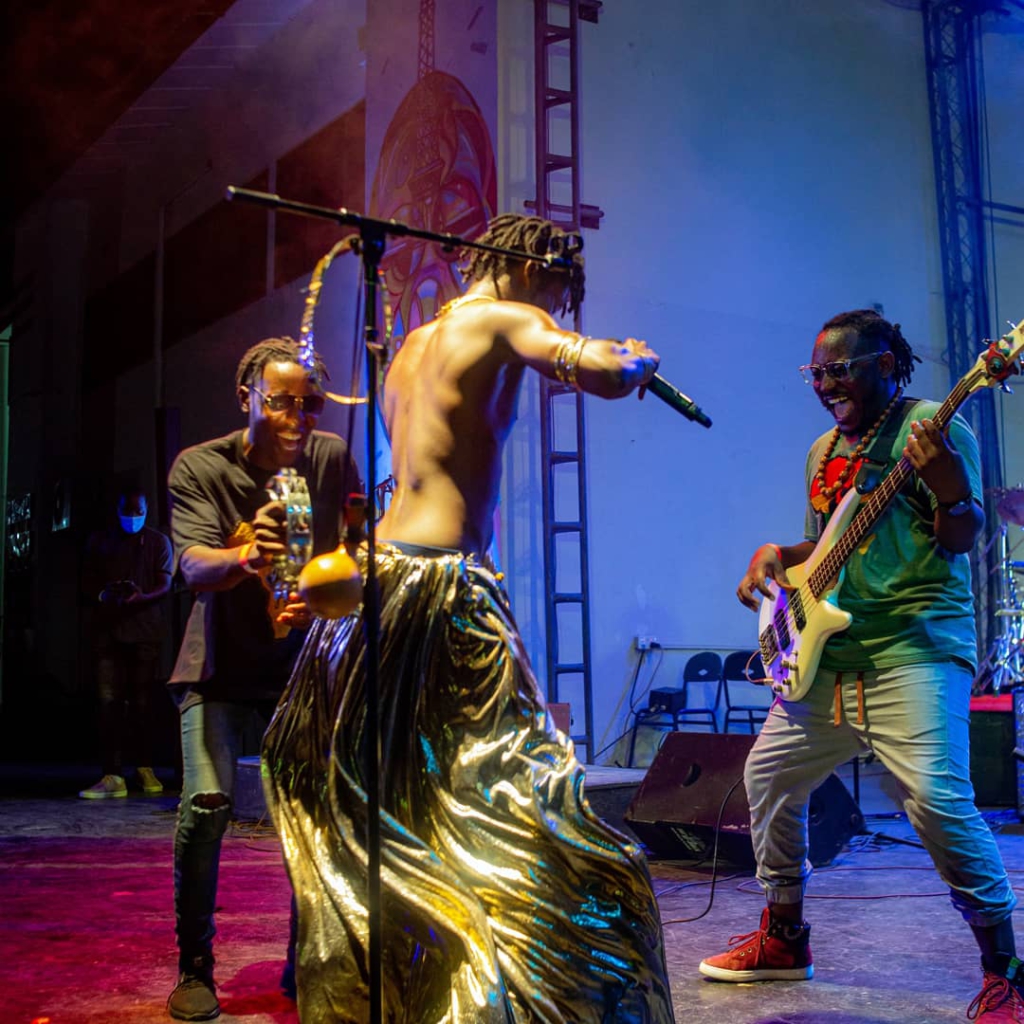 Imagine being ushered into the venue in an enclosed microphone-shaped casket by traditional pall bearers chanting in a dark ambience to the awe of a dazzled crowd at Worlafest 2020.
@worlasigh you swerve we plus the dragon but DEAD crazy with that Microphone coffin entrance breduh #WORLAFEST2020 #DIOS 💥💥🔥🔥 pic.twitter.com/Y7UCi9dxuM

— DIOS#endSARS (@Drvmroll) November 7, 2020
This is the prop that set the tone for a night that turned out to be nothing short of electrifying performance backed by instrumentals from Senku Live at Alliance Française in Accra.
#Worlafest20 🔥🔥🔥 @worlasigh be fire bro! pic.twitter.com/wBop5rjh0T

— Kenneth .A. Darko (@TheKennethDarko) November 7, 2020
After Worlasi emerged from the coffin in the glare of a cheering audience, there was no looking back as he performed back-to-back songs that resonated deeply with his fans spanning 'Nuse', 'Worla: The man and the god,' among other collections.
The event was graced by award-winning musician, M.anifest.
Had to do it lol#Worlafest pic.twitter.com/PirvliRLTh

— M.anifest (@manifestive) November 8, 2020
Songstress Adomaa, Reynolds the Gentleman and Shaker among other A-listers also performed.
@adomaa_music is here#WorlaFest#WorlaFest20
Cc: @SenkuLive @worlasigh @worlafestgh pic.twitter.com/cxPtlSPSS1

— Bra Joel🇬🇭 (@jay_faculty) November 7, 2020
Marince Mario, Asi, Kwakwa were among the bloc of fast-rising personalities who made a case for the future of Ghana music through their display of vibrant variety that characterised the night.
Trap 🔪 https://t.co/Kz91tvWzqR

— Zotto (@zottogod) November 8, 2020
@asi_renie #comotforworlafest 🎉❤️ pic.twitter.com/WPzNyzzNwy

— Larry (@abeekuacquah) November 7, 2020
The concert came 24 hours after the release of Worlasi's Extended Play (EP).
The project which was released on November 6 titled, 'Dios' is a collaboration between Worlasi and music producer, Drvmroll.
Worlasi also presented awards to personalities who he says have contributed to the his development throughout his six-year professional music career.
Meanwhile, patrons of the show could not get enough of the energy-packed performances that walked the audience through what one fan described as a well-needed night off a somewhat tormentuous 2020.
#worlafest2020#comotforworlafest#Worlafest@worlasigh pic.twitter.com/tx8C5tLaRs

— ✨ZeuS☣️ (@Bonsu_ib) November 7, 2020
As a year that has seen a myriad of unanticipated happenings, it was only fair for Worlafest 2020 to execute a delivery that goes down as one of the memorable spectacles to crown the list of firsts.
A celebration of art & music! Lock in on https://t.co/a83BFTswug to catch the live stream of performances. #Worlafest20 pic.twitter.com/cmLaY8OKvx

— Worlafest20 (@worlafestgh) November 7, 2020
After entering with his traditional costume in a morbid introduction, he signed off with his recent single 'Comot' in an all-white costume signifying victory over that trials that have characterised the year of lockdowns and unrivaled restrictions.
After all, the resolve of the man who rode in on a horse at last year's edition, was not starved as he risked it all and came out strong.