President Jacob Zuma will not have to repay state money spent to upgrade his private home in Nkandla, South Africa's police minister has said.
Nathi Nhleko said that the upgrades, including a pool costing almost 4m rand ($328,000; £215,000) were in fact security features.
Last year an independent inquiry found the president had "unduly benefited" from the upgrades.
The president has been heavily criticised over the issue.
In February the Nkandla controversy prompted chaotic scenes in parliament as leftist MPs scuffled with security.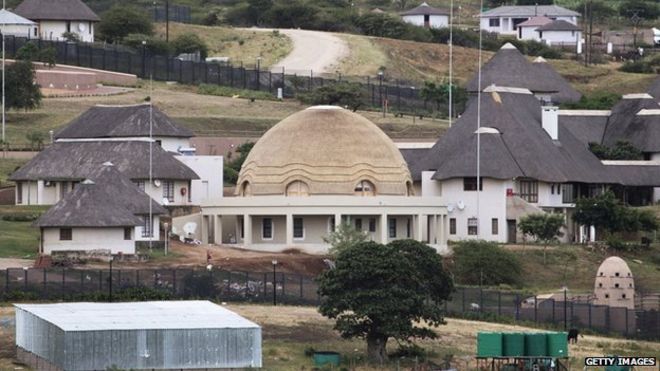 Mr Zuma has previously said that he did not request the upgrades to the property.
They had been interrupting a key annual speech by Mr Zuma and demanding answers over the row.
A report last year by South Africa's anti-corruption watchdog found Mr Zuma had "unduly benefitted" from the renovations and recommended he pay back some of the money.
However Mr Zuma has maintained he would only pay money back if ordered to do so by Mr Nhleko, the police minister.
At a news conference Mr Nhleko justified his decision not to make Mr Zuma pay back any of the money by saying the upgrades were security features.
For example, Mr Nhleko explained the pool was in fact intended for use in fighting fires, and he even had a video of four policemen demonstrating how this security feature worked.
A chicken run, a cow enclosure, an amphitheatre and visitors centre were also all classed as security features by Mr Nhleko.