Including Robert Pattinson's first outing as The Batman, a sci-fi action movie about multiverses and the latest Pixar animation, these are this month's unmissable films.
Paris, 13th District
Jacques Audiard is best known for such violent, politically-charged dramas as A Prophet and the Palme d'Or-winning Dheepan. But Paris, 13th District (or Les Olympiades, to use its French title) is something different. Adapted from a graphic novel by Adrian Tomine, and co-written by Céline Sciamma (Portrait of a Lady on Fire, Petite Maman), this is a fizzy ensemble comedy, shot in lustrous black and white, that intertwines several 21st-Century tales of sex and the city.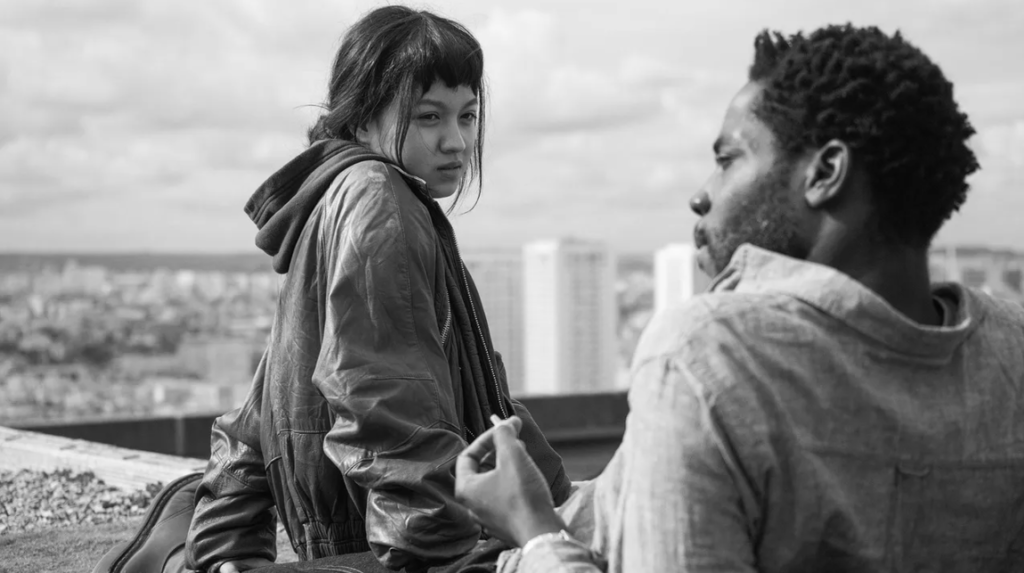 Noémie Merlant, Lucie Zhang, Makita Samba and Jehnny Beth are its four young, free and sometimes single protagonists.
"If you're looking for a couple of hours of sexy Parisians hooking up, falling out and finding their feet again," says Phil de Semlyen at Time Out, "all set to pulsing electro and with a baked-in romanticism that makes a built-up corner of Paris feel like Casablanca, Audiard and his co-writers have made the perfect film."
Released on 4 March in Ireland and Spain, 18 March in the UK, and 15 April in the US.
The Batman
The world isn't exactly short of Batman films, but this one, directed by Matt Reeves (Cloverfield, Dawn of the Planet of the Apes), is grungy and gritty enough to distinguish it from the others.
The Batman introduces a prosthetics-covered Colin Farrell as a gangland Penguin, Zoë Kravitz as a drug-dealing Catwoman, and Paul Dano as the Riddler, once a sub-Joker goofball, now a sadistic psycho modelled on the Zodiac-Killer. Most importantly, Robert Pattinson is in the title role, playing a seriously screwed-up Dark Knight.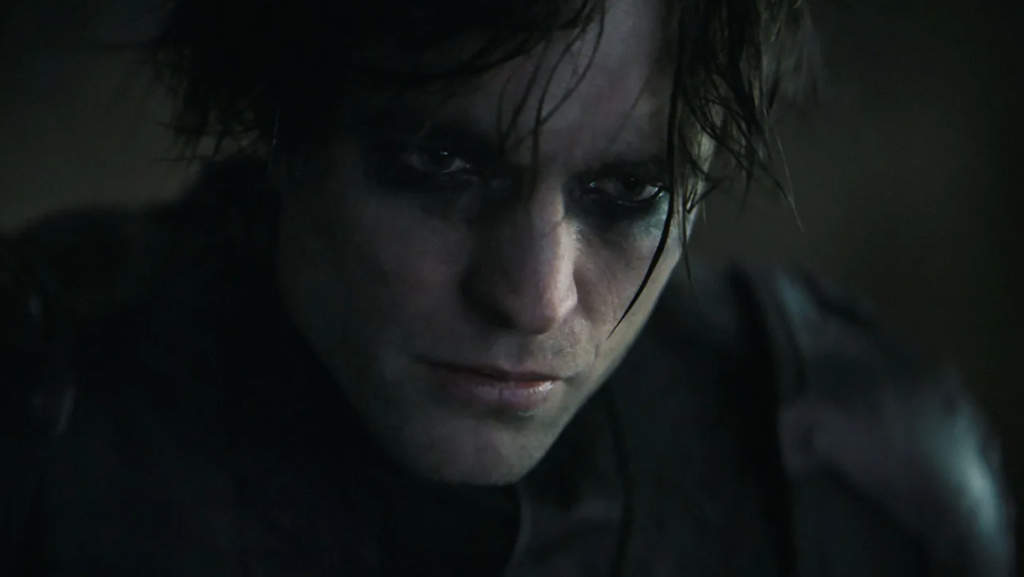 As Reeves told Esquire: "I started thinking, 'What if some tragedy happened and this guy becomes so reclusive, we don't know what he's doing? Is this guy some kind of wayward, reckless drug addict?' And the truth is that he is a kind of drug addict. His drug is his addiction to this drive for revenge."
Released internationally on 4 March.
Lucy and Desi
Aaron Sorkin's Oscar-nominated Being The Ricardos told the story of Lucille Ball (Nicole Kidman) and Desi Arnaz (Javier Bardem), the married stars of one of America's favourite sitcoms, I Love Lucy.
If it left you wanting to know more about Ball and Arnaz, then look no further than Lucy and Desi, a documentary directed by another sitcom star, Amy Poehler.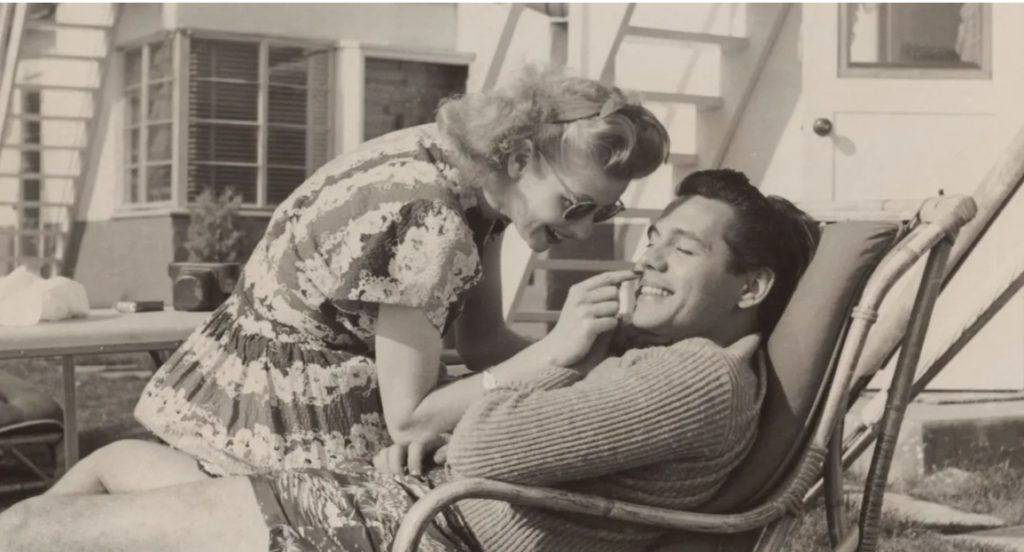 This is "a hugely enjoyable romp through Ball's career," says Fionnuala Halligan at Screen Daily. It chronicles her years as a chorus girl and supporting actress, her partnership with Arnaz, a Cuban bandleader, and the creation of their own Hollywood studio.
"Poehler has a strong sense of the couple's contribution to the entertainment industry," writes Halligan, "and nobody watching her documentary will emerge anything less than convinced of how outstanding that was."
On Prime Video from 4 March.
The Lost City
In a similar vein to the 1984 classic Romancing The Stone, The Lost City stars Sandra Bullock as Loretta, a best-selling romance author, and Channing Tatum as Alan, the hunky model who poses for the covers of her novels.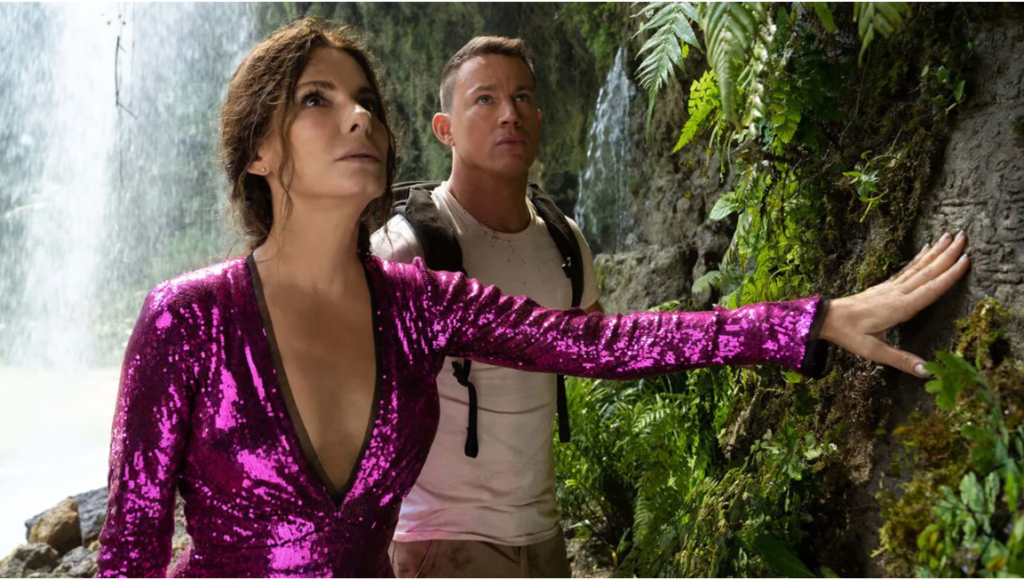 When a madcap billionaire (Daniel Radcliffe) kidnaps Loretta and whisks her off to the jungle, Alan decides to rescue her, despite having no relevant experience or abilities whatsoever. This kind of swashbuckling adventure movie is currently back in fashion – see also Jungle Cruise, Uncharted, and the forthcoming Indiana Jones 5 – but The Lost City promises to take itself less seriously than its competitors.
One key scene, for instance, has Loretta picking leeches off Alan's naked behind. "We didn't have any live leeches on set," Tatum told Variety. "We had a man gluing rubber leeches to my butt."
Released on 25 March US, Canada and France.
Turning Red
Turning Red is the first Pixar animation to be directed solely by a woman, the first to be set in Canada, and the first to revolve around a heroine from an Asian family: the heroine in question is Mei Lee (Rosalie Chiang), who turns into a huge, shaggy red panda whenever she is stressed.
Another thing that sets Turning Red apart from previous Pixar films is its visual style. The director, Domee Shi, was inspired by the Japanese cartoons she watched when she was Mei's age in the early 2000s.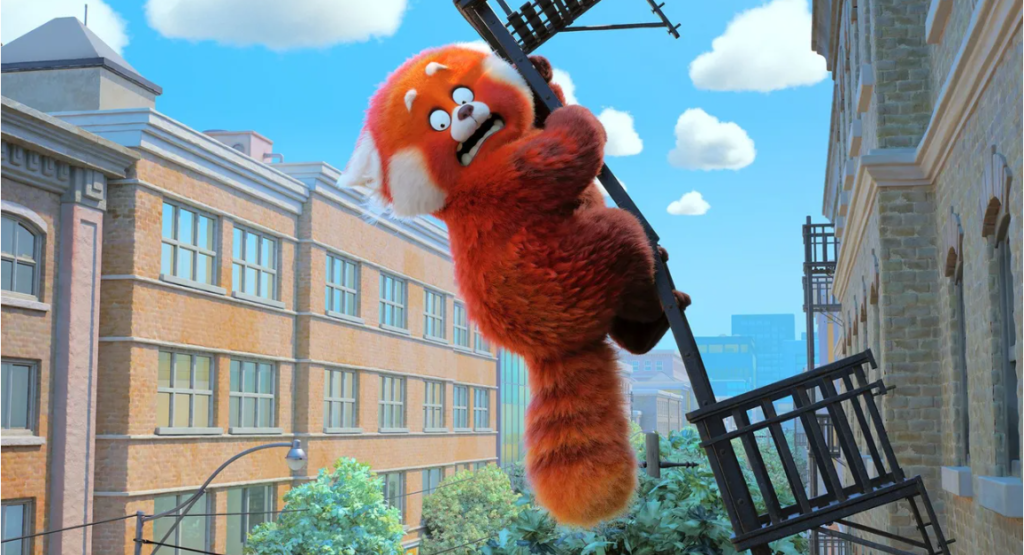 "Mei Lee is this bubbly, excited, confident but super-dorky 13-year-old Asian kid in Canada," Shi told The Wrap, "and what does that look like? What does her world look like? We drew a lot from anime – Sailor Moon, Ranma 1/2 – and the super colourful soft pastels of those shows, and really feeling like that captures the spirit of Mei. We really wanted the audience to feel what Mei's feeling."
On Disney + from 11 March
X
The Texas Chain Saw Massacre meets Boogie Nights in the riotous new horror drama from A24, the studio behind Hereditary and Midsommar. A tribute to the slasher movies of the 1970s, X is set in 1979, when a vanful of would-be film-makers (Mia Goth, Jenna Ortega, Brittany Snow, Scott Mescudi) drives to a secluded farm in Texas.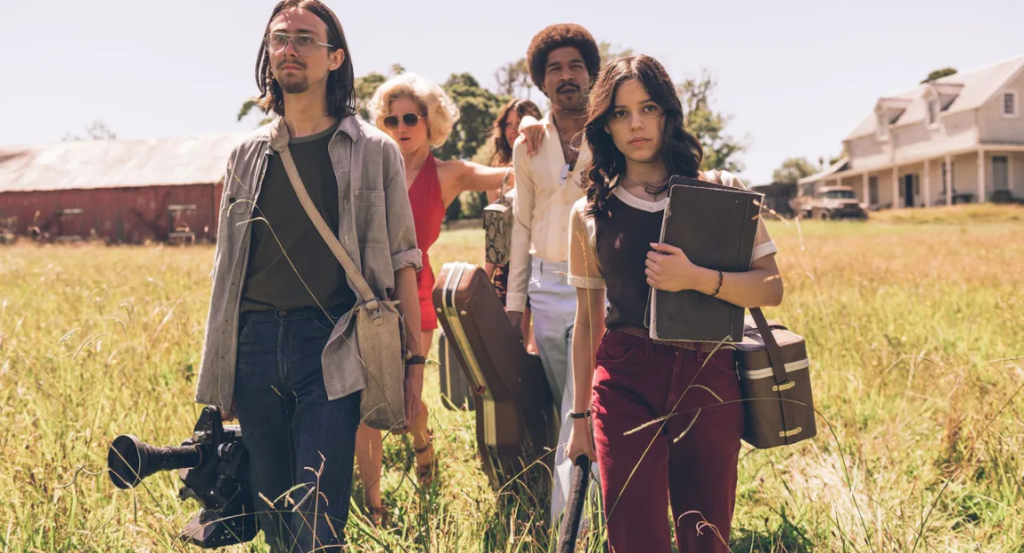 They plan to shoot an adult movie in the barn without telling the farmer, but the farmer's elderly wife is unhealthily fascinated by what they're getting up to.
Ti West (The Innkeepers), the writer-director of X, told Interview Magazine about the similarities he sees between pornography and horror, so you can expect some postmodern commentary in among the blood and guts.
Released on 18 March in the UK, Ireland, the US and Canada.
Great Freedom
At the end of World War Two, Hans (Franz Rogowski) is finally freed after years of suffering in a concentration camp, only to be sent to prison almost immediately afterwards.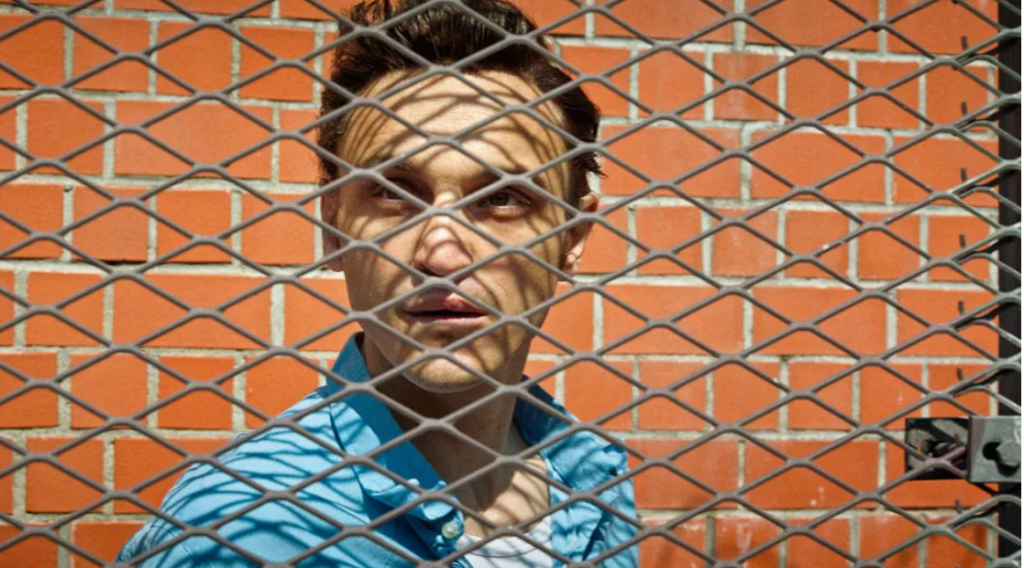 Under a 19th-Century German penal code, Paragraph 175, any homosexual activity was deemed a crime, so the defiant Hans is arrested and imprisoned again and again through the years. Great Freedom follows him from 1945 to 1968 – more than enough time for him to befriend a convicted murderer (Georg Friedrich) he meets in jail.
Gary M Kramer in Salon calls Sebastian Meise's poignant, prize-winning drama "a complex, multi-layered portrait of a man who is subversively operating within the rules of a restrictive system to achieve his desires... buoyed by Rogowski's impeccable performance."
Released on 4 March in the US.
The Outfit
Picture a gangster in any American film, and you're bound to think of someone in an immaculately tailored suit. But who does the immaculate tailoring? In The Outfit, the man with the tape measure and scissors is Leonard (Mark Rylance), a soft-spoken "cutter" from London who moves to Chicago in the 1950s.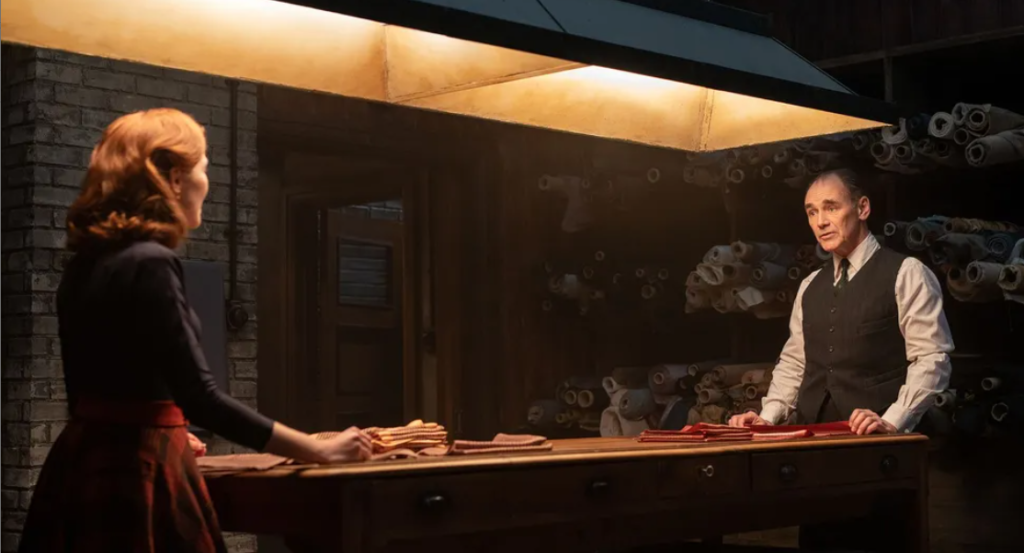 His best customers are gangsters (Simon Russell Beale, Johnny Flynn, Dylan O'Brien) who value his tailoring almost as much as they value his shop as a handy place to stash illicit packages. Leonard might pay a high price for their custom, though, when his quiet establishment is invaded by rival gangsters, an FBI mole and a hoodlum who needs emergency surgery.
Leslie Felperin at the Hollywood Reporter writes, "The film is flatteringly and economically cut from fine cloth, cleverly constructed, and... the performances across the board are exemplary studies in screen-acting subtlety."
Released on 18 March in the US and Canada, and 8 April in the UK and Ireland.
Nitram
Nitram was controversial in Australia. Directed by Justin Kurzel (Snowton, True History of the Kelly Gang), the film is a bleak biopic of the man who killed 35 people and wounded 23 others in Port Arthur in Tasmania in 1996.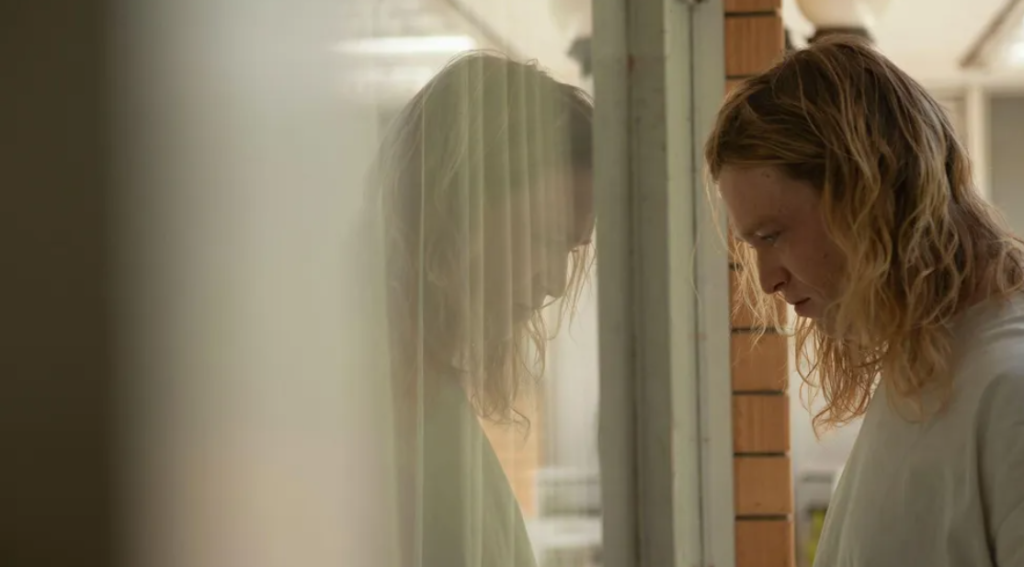 Nitram won eight major prizes at Australia's Academy Awards, including those for film, director, screenplay and all four acting categories: Judy Davis, Anthony LaPaglia and Essie Davis star alongside Caleb Landry Jones in the lead role. Australian critics praised the film, too. "Kurzel has a special talent for the dark corners of Australian culture," wrote Paul Bynes at The Sydney Morning Herald.
"Snowtown was a lesson in how to film the unfilmable. Nitram might be termed a lesson in knowing the unknowable. It doesn't explain the shooter; it simply suggests how such a character might have evolved"
Released on 30 March in the US.
Everything Everywhere All At Once
Multiverses feel like the flavour of the season. Two months ahead of Doctor Strange in the Multiverse of Madness, here's another science-fiction action film set in numerous alternate realities. Written and directed by Daniel Kwan and Daniel Scheinert (known collectively as "Daniels"), Everything Everywhere All At Once stars Michelle Yeoh as Evelyn, "an exhausted Chinese American woman who can't seem to finish her taxes," according to the promotional write-up.
She then discovers that she has bigger problems. She can access the memories and skills of an infinite number of Evelyns from infinite different universes – and she must use that power to save all of those universes from the forces of evil. Judging by Daniels' previous indie curio, Swiss Army Man, this one should be a lot stranger than Doctor Strange.
Released on 24 March in the US and Canada.
DISCLAIMER: The Views, Comments, Opinions, Contributions and Statements made by Readers and Contributors on this platform do not necessarily represent the views or policy of Multimedia Group Limited.