Ghanaian owned Parables Animation Studios in collaboration with Animation Africa in their new exciting epic film have recreated parts of Ghana's history through art.
The animated film '28th The Crossroads' is set in the footprints of the February 28,1948, shooting incident.
This film illustration re-creates the memorable Christiansburg Crossroad shooting incident where the three World War II veterans were shot in cold blood.
The feature film is mainly woven around the key architects of the Crossroads event, Seargent Adjetey, Corporal Attipoe and Private Odartey Lamptey.
These heroes had returned home after fighting for the British Empire, with dashed hopes and promises. The British, after making lots of promises to resettle them in dignity, however, failed them.
This illustrative piece retraces their attempts at re-integrating into the society they left behind and their frustrations.
Seargent Adjetey stands tall as that rallying figure who spearheads the peaceful march to Osu Christiansburg Castle, to draw attention to their plight.
Unfortunately, the event turns violent, as the British Police Superintendent, Emery, after failing to convince them to retreat, fires directly at them, killing the three heroes and leaving scores of others wounded. The sad incident left a dent on the image of the Gold Coast.
'28th The Crossroad', is a 55-minute long creative feature put together over a period of 37-month. The lead voice actor in the film is Adjetey Anang.
The film is expected to be premiered at the SilverBird Cinemas at the Accra Mall and West Hills Mall in Weija on February 28, 2022. The film will show at 7 and 8 pm. Tickets are selling for GHS50 each.
The premier is a commemorative event meant to mark the 74th Anniversary of the historical crossroad shooting incident.
Curator and Producer, Cycil Jones Abban, and his collaborators employed the two-dimensional animation technique to drive home the message.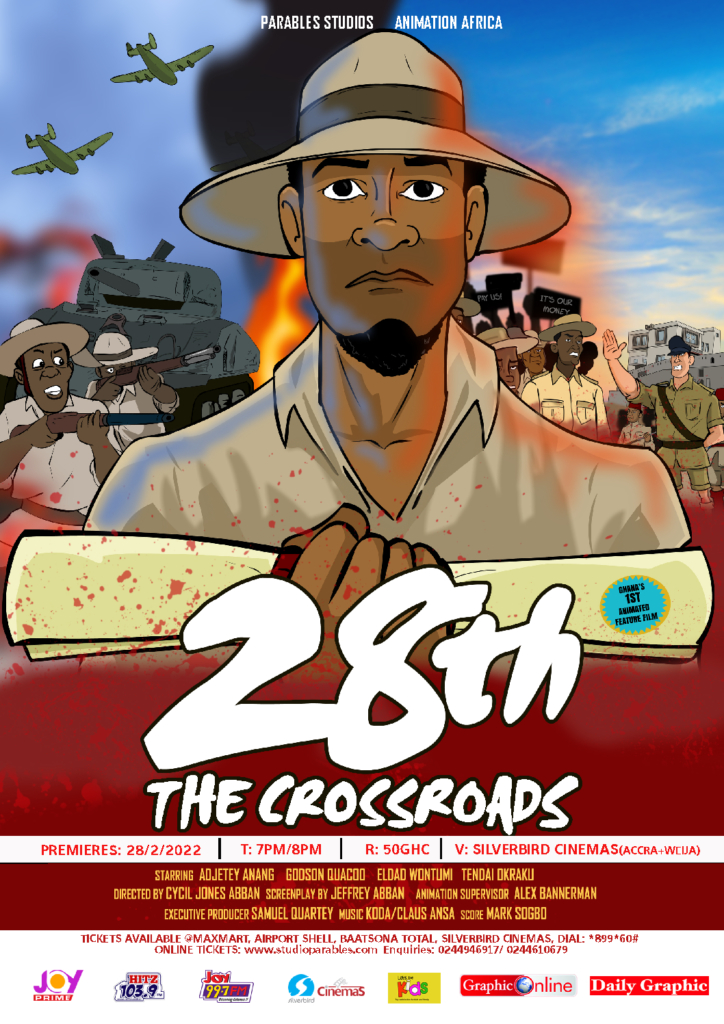 The production draws largely on references from rich archival materials at the time of the fateful incident as well as interviews.
With this upcoming premier, Parables Studios seeks to deepen the use of animation as a creative medium to promote the development and learning of history and civics among pupils in our schools.
The studio also seeks to employ animation to extensively promote affordable experiential learning among young learners and children.
Parable Studios hopes 28th, The Crossroads goes a long way to simplify abstract information and boost the retentive abilities of learners.