Despite recording a decline in infections, the Ashanti Region has seen its Covid-19 fatalities shoot up in the last three weeks, with 47 new deaths.
The number of deaths continues to be on the rise, increasing from 297 in July 25 to 344 cumulative deaths in August 16, 2021.
Speaking during a weekly Covid-19 media briefing in Kumasi, the Regional Health Director, Dr. Emmanuel  Kojo Tinkorang described the situation as worrying.
According to him, the public also needs to be wary of the dangers of Covid-19, especially when disregarding the safety  protocols.
The Ashanti Region has seen its daily Covid-19 infections drop from 783 in July 25 to 392 in August 15, 2021.

But despite the decline, the region has seen an upsurge in fatalities. Among the new deaths is a health worker who failed to get vaccinated.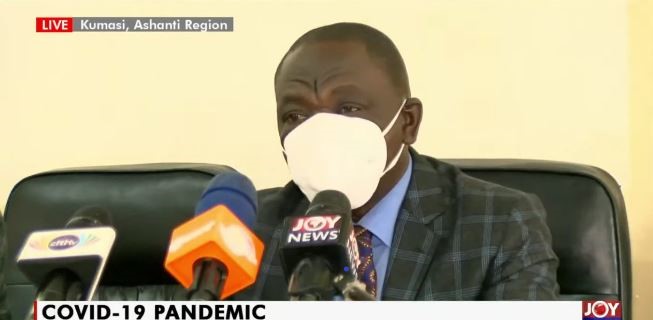 Ashanti Regional Director of Health, Dr. Emmanuel Kojo Tinkorang, said although none of those killed was vaccinated, the death toll tells of the reality of Covid-19.
"Covid kills and a lot of people because they are not seeing the deaths in their homes, they think that the Covid can't kill.
"But the situation in our hospitals is quite different from what the public are seeing. When you come to our hospitals, we get cases of Covid all the time and unfortunately, we lose some of them and those we've lost are those that have not been vaccinated.
"As at the second wave, our death was 297. Now we've shot up to 344. It means that Covid kills."  
The upsurge comes at a time when health authorities in the region have received 50,400 doses of the Johnson and Johnson vaccines.
Four districts earmarked as Covid-19 hotspots are taking part in the exercise which has seen 11,000 people vaccinated as at August 15, 2021.
Dr. Tinkorang is encouraging residents in the affected districts to take advantage of the ongoing vaccination exercise in 36 designated centers, as health authorities strengthen contact tracing and testing.
"If you are not vaccinated, you don't adhere to the protocols and you get Covid-19, it can kill you," Dr. Tinkorang warned.
Meanwhile, there is an ongoing public sensitization campaign for persons who received the first jab of AstraZaneca vaccine to stay away from the Johnson and Johnson vaccines.
But some people continue to patronize the centers with the hope of being vaccinated. Dr. Tinkorang is therefore urging such people to desist from such practice.