A youth development and advocacy group, Youth Bridge Foundation is unhappy about what it sees as a potential constitutional breach in the upcoming parliamentary by-election in Assin North.
The foundation emphasised that holding the election on June 27, without the inclusion of youth who turned 18 after the 2020 election would violate constitutional rights.
The Electoral Commission (EC) has not conducted any fresh or continuous voter registration exercise since the nationwide registration held from June to August 2020.
Since then, a significant number of young individuals have come of legal voting age, and it would be a dereliction of duty if the Electoral Commission fails to enfranchise these voters.
The concern raised by the Youth Bridge Foundation aligns with Article 42 of the 1992 constitution, which states the right to vote: "Every citizen of Ghana of eighteen years of age or above and of sound mind has the right to vote and is entitled to be registered as a voter for the purposes of public elections and referenda."
The foundation expresses worry that another constitutional breach may occur, following the recent Supreme Court ruling nullifying the Assin North election and removing the MP's name from parliamentary proceedings. This is not the first time the foundation has called for attention to youth rights, as similar calls were made in 2012, 2016, and 2020, highlighting the recurring issue of neglecting the rights of young people.
In past by-elections, such as Kumawu and the infamous 2019 Ayawaso West Wuogon by-election, eligible young voters were denied their constitutional rights as no exercises were conducted to register them on the electoral roll. This concerning trend should not be allowed to persist.
The Youth Bridge Foundation commended the Electoral Commission in April 2022 for its resolute decision to use district offices for the 2020 limited voter registration, which reduced costs and had the potential to facilitate continuous voter registration. The foundation firmly believes that the Electoral Commission should prioritize continuous registration to include first-time voters.
Read the full statement below: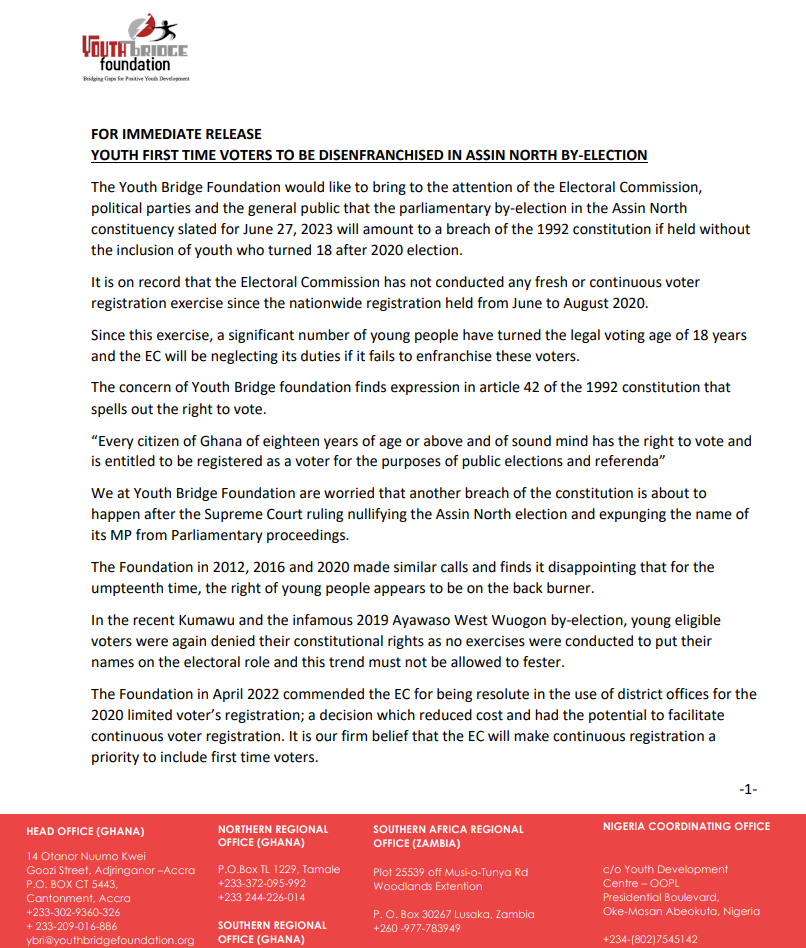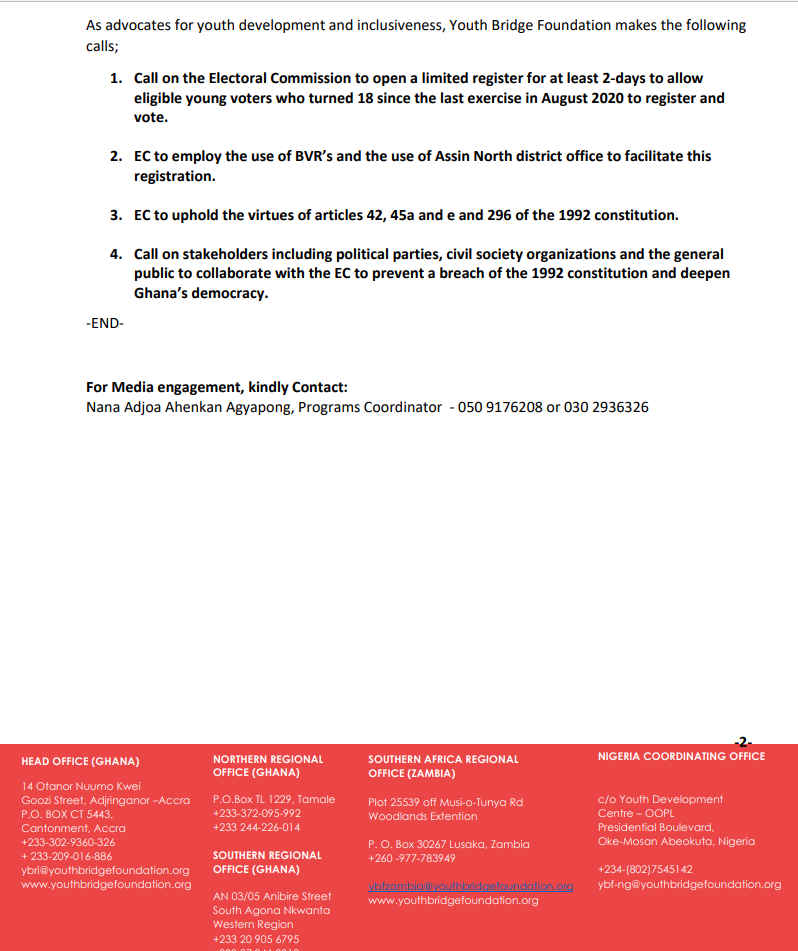 DISCLAIMER: The Views, Comments, Opinions, Contributions and Statements made by Readers and Contributors on this platform do not necessarily represent the views or policy of Multimedia Group Limited.