Bayern Munich could clinch their 24th Bundesliga title in record time this Tuesday when they head to Hertha Berlin knowing a win would be enough to start celebrating.
A draw would be enough to seal the title should Borussia Dortmund lose to Schalke, while they will also be crowned champions in the event of their first defeat of the season if the Revierderby in Dortmund ends all square.
"We're really looking forward to it," said Bayern full-back David Alaba. "We know that we've not done it yet, so we'll continue to work seriously, but we want to get the trophy as soon as possible."
There is little doubt that Bayern will successfully defend the title they won in record-breaking fashion under Jupp Heynckes last season and, after winning a record 18 games in a row, it seems more records will be broken between now and the end of the season, no matter when they are officially crowned champions.
Behind Bayern, Dortmund and Schalke are jostling for second spot with Bayer Leverkusen dropping further behind at the weekend.
The pressure is growing on Leverkusen coach Sami Hyypia, whose side have gone nine games without a win and could be dislodged from fourth place on Wednesday if they fail to win at in-form Augsburg.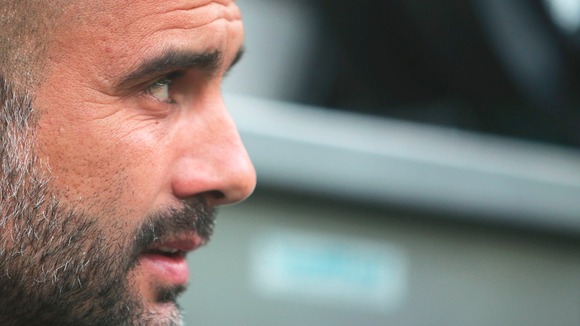 Guardiola has yet to taste defeat in the Bundesliga. Credit: PA
"With each passing game that they have failed to win, their self-confidence levels have dropped even further," said former Dortmund and Bayern coach Ottmar Hitzfeld to Sky television.
"I rate (coach) Sami Hyypia highly because he's always very relaxed and because he has improved the team tactically, but this is a real test for him now.
"He's never experienced this as a coach and he's going to be put to the test psychologically."
After winning their last two games to end their own crisis, Borussia Monchengladbach could dislodge Leverkusen with a win in Frankfurt while Wolfsburg have the chance to draw level on points on Tuesday night when they travel to Werder Bremen.
Mainz could also move into a share of fourth, albeit with a far inferior goal difference, when they travel to Eintracht Braunschweig, also on Tuesday night.
The battle at the bottom of the table comes under the spotlight on Wednesday with key games in Nurnberg and Hamburg.
Fresh from a 5-2 defeat at home to Frankfurt, Nurnberg host Stuttgart, who won their first game of 2014 at the weekend, a scrappy 1-0 triumph over Hamburg, who host Freiburg.
The four clubs are packed within just two points, Freiburg and Stuttgart above the drop zone, Hamburg and Nurnberg in it.
Finally, Hoffenheim and Hannover complete the midweek action with their mid-table battle.