US pop star Britney Spears has spoken out against her conservatorship at a hearing in Los Angeles.
In a rare public testimony, the singer told a court her father controlled her "100,000%" and she wanted the arrangement to end.
"I am traumatised," she said, speaking remotely. "I just want my life back."
Jamie Spears was granted control over his daughter's personal and business affairs in a court-ordered conservatorship in 2008.
The order was originally granted after the star was hospitalised amid concerns over her mental health.
There has been speculation for years about how Spears, 39, felt about the arrangement, with fans eagerly combing her social media output for clues.
"I want to end this conservatorship without being evaluated," she told the court decisively in an emotional 20-minute address, calling the arrangement "abusive".
"I deserve to have a life, I've worked my whole life. I deserve to have a two to three-year break," she said.
Spears said she wants to marry her boyfriend and have a baby, but the conservatorship will not allow her to. She claimed her conservator has stopped her from having a contraceptive intrauterine device (IUD) removed so she could get pregnant.
She also said she had been forced to take lithium – a common medicine for bipolar disorders – to the point where she felt drunk and unable to converse.
"This conservatorship is doing me way more harm than good," she said.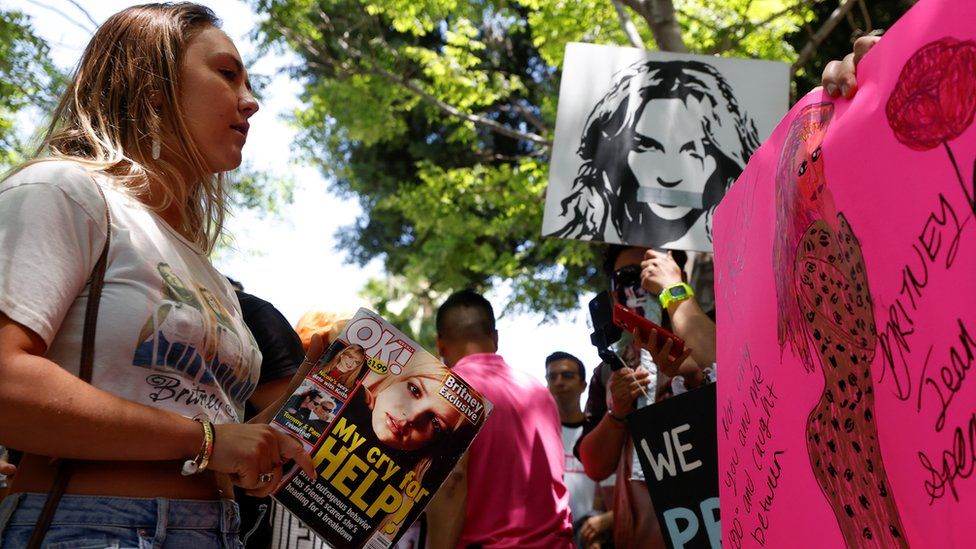 Specifics of the conservatorship have never been made public.
Jamie Spears stepped down temporarily as his daughter's personal conservator in 2019 because of health reasons – and the pop star has requested for this to be made permanent.
She is seeking to permanently install Jodi Montgomery, a care professional, into the role instead of reinstating her father.
Jamie Spears was troubled by the singer's allegations in court, according to his lawyer.
"He is sorry to see his daughter suffering and in so much pain," the representative said in a statement read out in court. "Mr Spears loves his daughter, and he misses her very much."
Jamie Spears' legal team has previously insisted he has done a good job of managing his daughter's finances.
Dozens of fans from the so-called #FreeBritney movement gathered outside the court, holding signs reading "Free Britney now!" and "Get out of Britney's life!"
"Everything she said was absolutely heartbreaking and it was actually even worse than I really thought it was," Megan Radford, one of the movement's founders, told the BBC.
"But I'm so thankful that her truth is out there and it cannot be denied anymore."

Inside the courtroom
David Willis, BBC News, Los Angeles
Britney Spears unleashed on a stunned courtroom the equivalent of 13 years of pent-up frustration – a torrent of accusation, anger and regret, all delivered in such a breathless monologue that at times the judge had to ask her to slow down.
She came across as isolated, lost and lonely; a superstar that has been relentlessly manipulated. We knew that she had asked to put her case directly to the judge, but few could have predicted such an anguished tirade.
It amounted to a withering critique of the conservatorship process here, and the motives of many – members of her family chief among them – who were supposed to have been caring for her mental anguish.

What is the conservatorship?
A conservatorship is granted by a court for individuals who are unable to make their own decisions, like those with dementia or other mental illnesses.
Spears' conservatorship is split into two parts – one is for her estate and financial affairs, the other is for her as a person.
Under this legal agreement, Spears has not controlled her finances since 2008. That's around the time she began to behave erratically amid her divorce from Kevin Federline and a custody battle over their two children.
The star made headlines in a series of public incidents, including shaving her head, and she was twice admitted to hospital.
DISCLAIMER: The Views, Comments, Opinions, Contributions and Statements made by Readers and Contributors on this platform do not necessarily represent the views or policy of Multimedia Group Limited.