Residents of Effutu in Cape Coast are protesting over the selection of Effutu Senior High School as an isolation centre for the treatment of Covid-19 cases.
The school is among the institutions in the Central Region selected to host suspected cases as the region records its first case of the novel coronavirus.
The Ghana Health Service (GHS) and the Ministry of Health have supervised the designation of facilities across the country, as areas of isolation and quarantine as the cases arise.
But residents of Effutu will have none of that.
Dozens of indigenes on Thursday blocked the roads to prevent authorities from getting the school for fear that the citing of the facility in the community may cause its further spread.
They placed tyres, logs and rocks on the stretch amid chants of rejection against the directive.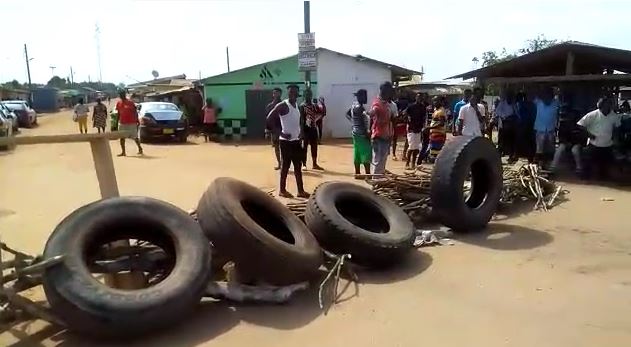 The police are also at the scene to restore calm to the area, Central Regional Correspondent, Richard Kwadwo Nyarko reports.
Meanwhile, staff of St. Augustine's College in the Central Region are also kicking against the idea of using the school as an isolation centre as health authorities arrive to prepare the grounds for the move.
According to them, they still live on campus and cannot share the facilities with suspected patients adding that their lives are at risk.
Ghana currently has 313 confirmed cases of the virus with 6 deaths.
The regional distribution of the cases are as follows: Greater Accra Region has most cases (274) followed by the Ashanti Region (25), Northern Region (10), Upper West Region (1), Eastern Region (1), Upper East Region (1) and Central Region (1).