Efia Odo stunned Ghanaians with her outfit when she showed up at Kwesi Arthur's Son of Jacob album launch.
The actress born Andrea Owusu graced the event in a black sheer top with a black wrap showing her breasts and her thighs.
She was seen with a date and later spotted taking pictures and videos with the man of the hour Kwesi Arthur.
And although people are sharing their thoughts on the album, Efia Odo has also grabbed the attention of a section of the people.
Toxic 💜 pic.twitter.com/9ymJDvBxqD

— EFIAODO (@Efiaodo1) April 22, 2022
Some people were unimpressed with her outfit, stating that she did not have bare her breast for the world to see.
Others also believe she the actress should be allowed to wear what she loves and feels comfortable in.
Some social media users are also calling people who praise Efia for being bold in her outfit for condemning the young girl who was spotted at the 2022 3Music Awards show wearing a similar sheer dress exposing her breasts.
See comments below:
So now nudity is acceptable in public places? As y'all dey praise Efia Odo for here, I hope y'all will encourage your sisters to ignore morality and dress freely.

— Ashanti Borgà 🇬🇭 MBE (@OwoaheneCastro) April 22, 2022
You will do this & years later to say I'm now a better person, those things in my past were wrong & I was depressed .
After causing so much harm to a generation.
That day would come & some of us would pay for the public to lambast you . All we pray is life Efia odo !!!

— Mr. Bril (@briljoseph1) April 22, 2022
Efia Odo this , Efia Odo that nanso you dey love what you dey see mmoa 😂 😂

— Ibrahim Champ Bwoy (@RealChampBwoy1) April 22, 2022
I understand Efia Odo entertain de boys for here , some kraa dey take randoms as gifts den things but Charley , imagine this outfit start dey trend wey your sisto wear am.. weiii

— Yaw Blackson 🇬🇭 (@YawBlackson) April 22, 2022
Efia Odo you dress like you got no parents, no home training, not cultured and uncivilized. Sometimes I wonder if they born you or they shit you. I don't blame you, ghana 🇬🇭 if you are ashawooo then you become a celebrity.

— Cornelius (@Corneli01961290) April 22, 2022
Efia Odo ein shada, me be the 4th person wey see but sakof eno dey concern me so I shut up. But you see those wey brush dema teeth this morning nu, eheer ibi them them go open dema mouth yakataaa then talk about ein boobs

— Kobby (@EngKobby) April 22, 2022
Efia odo ein dressing de3 she be bad bitch but make wendy shay dress like that make she take perform for stage like you guys will call her all sort of names, you guys have positive energies for your fav but cant say same for others u dont favour

— Eddyblay (@relax_and_type) April 22, 2022
Efia Odo dey live the best of en life, if you no get life live just find some corner then tap or find some church and go give yourself to Christ.

— Ego Reach You (@Ny_cliq) April 22, 2022
Aah!!! Efia Odo why😭😭😭.
You're very beautiful you don't need to show your breast before people will know your beautiful. Please my humble advice don't do this again please 🙏🙏.

— Boye Frederick (@frederick_boye) April 22, 2022
Eii Efia Odo, me y3m koraa ahye me. Badder than bad. 🥺😂

— FrimpsDeliveryService🇬🇭🤍🇺🇸🕊 (@JrPhrimpong) April 22, 2022
Y'all Dey slander Efia Odo for wearing that dress. Buh lowkey u dey zoom her mpokua to the maximum point, p3t3😭😅

— CORROSIVE  RULE 👿🇬🇭 (@yawdevil_) April 22, 2022
Is my pussy shaved or hairy? https://t.co/UhsQntsJoZ

— EFIAODO (@Efiaodo1) April 22, 2022
If Efia Odo wear kaba and slit too ahhh like you go talk

— Post No Bill🃏 (@post_nobill) April 22, 2022
Y'all should stop talking shit about Efia Odo. That girl is herself and will be herself. What you Dey talk dier ebi air give am

— Post No Bill🃏 (@post_nobill) April 22, 2022
Efia Odo has pulled up a big strategy for promoting the Son Of Jacob album

Kwesi Arthur should double her salary tbh

— mufasa. (@mufasajr_) April 22, 2022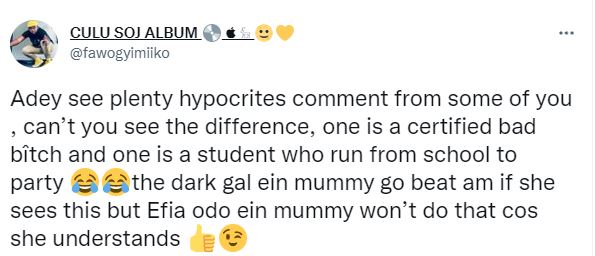 .