Fairtrade Africa West Africa Network has held its regional convention and congress in both Ghana and Cote d'Ivoire.
This year's event focused on learnings and best practices from Fairtrade certified producer organisations on value addition and income diversification to remain resilient and viable farmer cooperatives.
The Fairtrade Africa Board Chair, Benjamin Kouame, in his address focused on trade Africa's strategic vision on product and market development for Fairtrade certified producers.
He emphasised the need for engaging stakeholders on policy, financing and market linkages that support and promote trade.
In his opening remarks, Executive Director of Fairtrade Africa, Isaac Tongola emphasised the role of Fairtrade Africa in empowering its producers to become more resilient and transformed organisations, in order to ensure sustainable livelihoods.
"The opportunities that market linkages from the AfCFTA element present are critical to helping producers step- up on their efforts at adding value to their commodities in order to promote intra-African trade.
"Fairtrade is committed to helping producers address the challenges that climate change poses to agriculture and farmer livelihoods. Despite the changing climate conditions, we continue to support our producers to be resilient in adaptation and mitigation approaches by focusing on new areas and project interventions that enable value addition and income diversification," he added.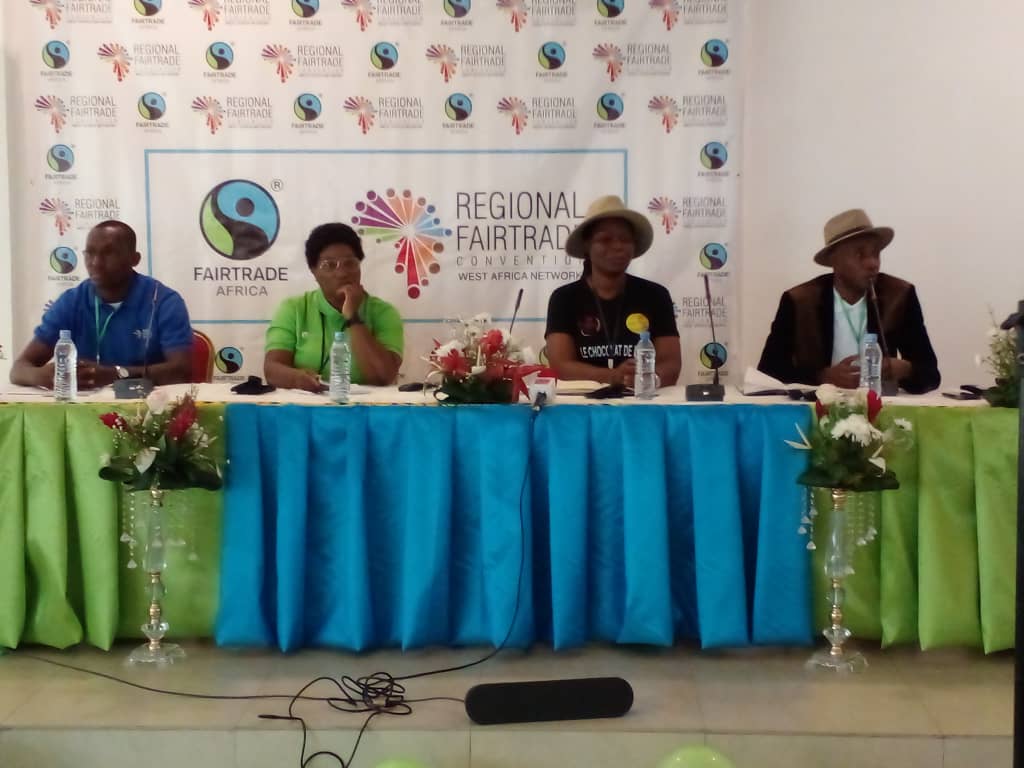 Head of Region for Fairtrade Africa West Africa Region, Edward Akapire, reiterated the commitment of Fairtrade to strengthen its member producer organisations.
"The West Africa Fairtrade Network has over the period mobilised its members to access the capacity building on various topics relevant to our operations as Farmers and Workers, supported in the area of fundraising and engaged policymakers in an attempt to achieve favourable terms for producers."
In Cote d'Ivoire, Fairtrade introduced the Farmer Business School under the Recover Africa Project.
The Farmer Agribusiness Resilience School (FARS), pursues the ambitions of Phase 1 by improving the resilience of producers due to the Covid-19 pandemic.
This phase aims at the one hand to maintain and diversify relationships within supply chains. On the other hand, it aims to guarantee the continuity of food security and income generation activities around the school farms.
The purpose is to strengthen local food security through the availability of quality agro-pastoral products on local markets; improve the economic resilience of producers by creating and maintaining income-generating activities.
Through the project, it is expected that school farms are functional and generate agro-pastoral products on local markets.
It is also expected that producers through the training received from school farms will carry out income-generating activities.
In Ghana, organisations like Bia West Cooperative is partnering with Fairtrade on a Mondelez Cocoa Life project, focused on crop diversification.
Producers have ventured into other crops apart from cocoa. These include rice farming, and maize farming among others.
In its efforts to ensure sustainability in production, Fairtrade Africa has been implementing projects aimed at ensuring adaptation and mitigation efforts to address the challenges of climate change, price volatility, the effects of the pandemic and an increasing global inflation in the supply chain, in with line with the new 2021-2025 global strategy that puts the producer at the heart of all transformation and that focuses on digitalisation, impact data, transparency and traceability that is needed to drive agricultural growth.
DISCLAIMER: The Views, Comments, Opinions, Contributions and Statements made by Readers and Contributors on this platform do not necessarily represent the views or policy of Multimedia Group Limited.