Growing up as a young Ga, I heard of a statement to the effect that, "Gam3i, w) waaa w)he," to wit, "Gas don't help each other."
I doubted it initially, but later events made me believe this belief of some of my Ga compatriots. I observed with keen interest how one person of a certain extraction in Ghana, will rent your one bedroom apartment, then suddenly, five people will be occupying the room.
When you complain, you are told, "they are on a short visit. They will leave soon". Soon becomes one month and soon, one year is over. Then, the next thing you hear is, they are renting around the neighbourhood. One year of rent saved through self-help to accumulate enough funds for rent advance elsewhere-hmm!.
Somewhere in the year 2000, the grace of God took me to New York. There, I observed how an individual of a certain ethnic group had managed to sponsor a whole lineage to migrate to the Big Apple, to pursue the American dream. Grandparents, nieces and nephews were all there.
The same could however not be said of the Gas I met there. One person feels good being there alone and sending crumbs every month down here, so, s/he is hailed within the family.
A Ga-Taxi-driver I had a chat with in The Bronx, told me that his wife and children were in Ghana. His reason, "Ghana yei3, k3 ok3 am3 ba bi33, am3 baana shika fe bo. K3k33, am3 buubo d)))n"- "As for Ghanaian women, when you bring them here, they become richer than you are, they then disrespect you. Utter selfishness. He had no consideration whatsoever, for the other side of the coin. Which is, the possibility of the woman helping him financially to enable him support his siblings and other family members in need.
But Dr Daniel Nii Nshia McKorley, Arguably the most successful businessmen in Ghana, has succeeded in changing my perception.
My attention was first drawn to him, when I heard a promo of a programme he had introduced, "The McDan Entrepreneurship Challenge".
The promo run like this, "…the reality TV show will see the ultimate winner walk away with funding and mentoring support of up to $100,000.00."
Wow!! Was my reflex. A Ga, not just helping a fellow Ga, but any Ghanaian entrepreneur with innovative startups and ideas for solving, not Ghana, but Africa's problems. How selfless?
I watched a few episodes during the period the show aired on TV. At the end of the caboodle, Alhassan Hamza Akoligo, a young entrepreneur who established Alkoh Shea Butter at Gambaga in the North East Region, took home that enviable amount of American Dollars from a generous Ga heart, in Season One of the competition.
And on the occasion of his 50th birthday, June 16, 2021, he has adopted 50 more children to bring the total number of adopted children, to 300.
What kind of Ga man is this? I wondered. Since then, I have occasionally monitored his interactions with the youth on LinkedIn. Great job he does with them.
Speaking with Joy News' Ayisha Ibrahim on PM Express Personality Profile, on Friday, June 18, Nii Nshia opened up on his life, business and pastime.
Humble personal beginnings
A native of La (badi) through and through. He grew up in the Accra suburb, thus, definitely must have heard about that perception of Gas not being each other's helper.
I say so because I can glean from his narration on the Show, that he set out to help himself right from the word go. "I attended Syto (Public School), carried my own desk to school and went to school bare-footed. So, I worked as a drivers mate (Accra-Madina-Accra he demonstrated on the Show), sold corn/maize, 'toogb3i' (Doughnut) and Kerosene, to buy my first sandals," he revealed.
Like many young Ga boys, myself not an exception, Danny had his stints on the beach as well. "I'm an 'Nshoonaa' boy (frequented the beach), you know!!
Obviously, to help pull fishing nets in exchange for fish. Usually, we used this fish for 'akl)'- boiled fish with hot pepper, eaten with K)mi- Kenkey or we sell to fishmongers. This was part of his answer to a question on how life was, for him, growing up.
He disclosed that life was so challenging growing up because Mum, was a house wife and Dad, a carpenter.
The future McDan boss was therefore in a hurry to start making money to support himself and family. Nine siblings in tow.
"I was in a hurry to make money," he disclosed. "Between Aquinas Secondary School and Social Advance Institute, I chose the latter because I needed to do something commercial. When I finished, I enrolled in the University of Ghana but dropped out because I could not pay the fees." To Accra Poly he went.
"You had to survive" was how Nii Nshia summed up life growing up.
Humble career beginnings
The 'small-small' mentality continued after school. "My career started as a messenger in the port. I worked as a labourer, digging foundations and all. I started my company with one staff," the CEO/Chairman of McDan Group, in the making, divulged.
Because his vision, from the onset, was to make money in order to extricate himself from the poverty he endured as a child, Dr McKorley believed in engaging in multiple streams of income. He proceeded accordingly.
Cliché though it is, let me use it- by dint of perseverance and hard work, he started the McDan Shipping Company in November 1999, with one staff and headquarters in Accra.
Vision accomplished
Steeped in the poco a poco mindset, branches were established gradually in Tema and Takoradi. Currently, the company is present in over 2,000 major air and sea ports across the world. Thanks to a business partnership with Universal Freight Organization, Cross Trades and World Cargo Alliance (WCA).
So today, Nii Nshia, the 'toogb3its3, 'abelets3', 'kerosenets3', 'aplanke', 'paa-o-paa' and 'wol3inyo', is introduced in public as, "a commercially astute executive with a wealth of experience gained within the freight forwarding, haulage, logistics and private security industry, both locally & internationally.
Has proven record of radically improving clearance & delivery times in the transport, haulage & logistic fields, whilst managing high value asset investments and adding value to customer's overall experience. A Business Leader with diverse interests in education, youth development, philanthropy and sports."
And his response is, "I am here to serve".
Clearly, this is an attestation to the saying, "if you dream it, believe it and you will achieve it". Currently, the man who could not pay his fees at Legon, so attained a degree 15 years later, holds a chain of degrees:
Executive Masters in Business Administration (EMBA), GIMPA.
Certificate and Degree in Entrepreneurship, GIMPA.
Diploma in Leadership and Transport & Logistics.
Honorary Doctorate Degree from Commonwealth University, London Business School, UK.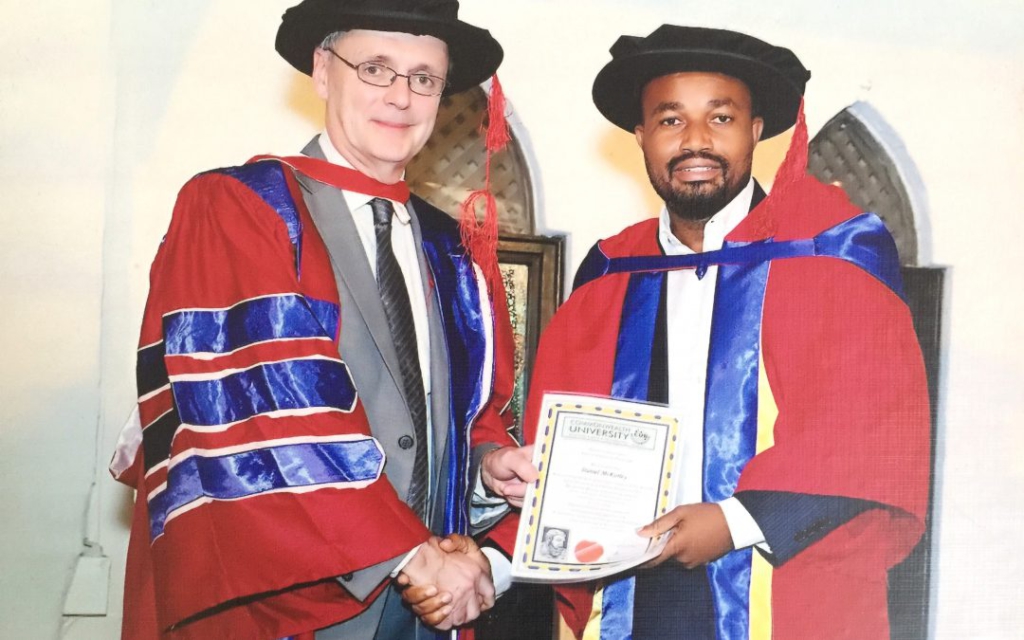 Honours and recognitions
His exploits, have been acknowledged:
The achievers Award by West Africa Regional magazine
Ernst & Young entrepreneur of West Africa Nominee – 2015
The Entrepreneur of the year – 2016 at the Ghana Aviation Awards
Freight Forwarding and entrepreneur of the year – 2013
CIMG Marketing Man of the Year 2017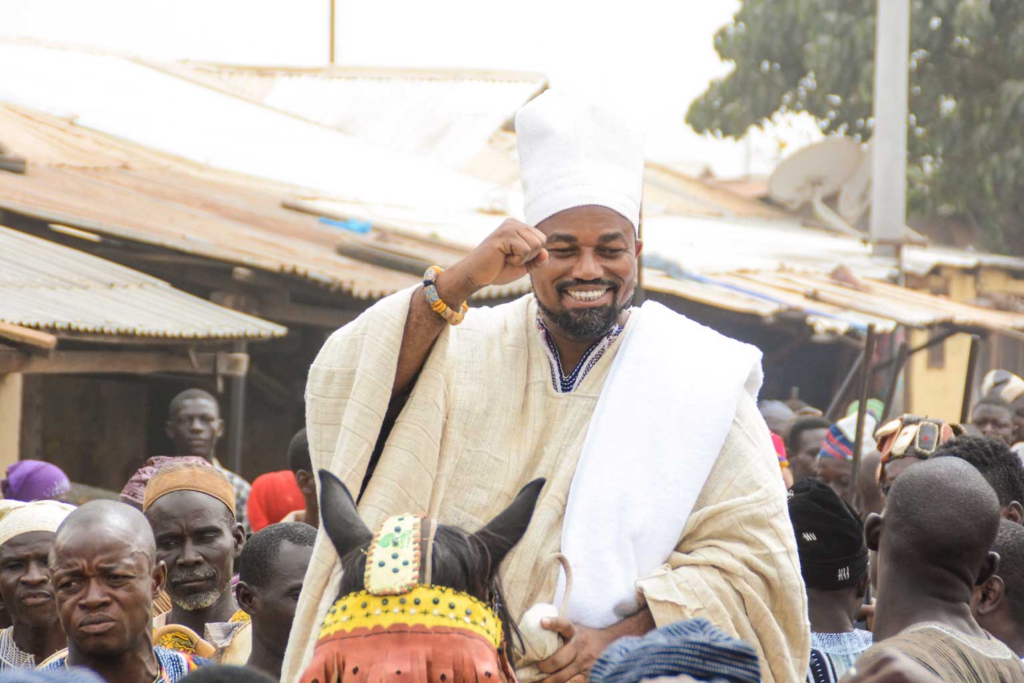 Philanthropy
I am awed by the numerous donations he has made to individuals, communities and organisations, through the McDan Foundation.
I have, therefore, in my capacity as a Journalist, decided to coin a word for these activities, to be used by the Foundation-'Danation'. Meaning, anything that is given out for the purpose of charity by the McDan Foundation.
With retrospective effect, I recap some of the activities carried out so far:
Danation of air-conditioned Benz Bus (Sprinter) to the Ghana Tennis Federation at the McDan Tennis Open West African Championship at the Accra Stadium in May 2017.
Danation of an amount of GHC10,000 to the Sports Writers Association of Ghana (SWAG) in support of the 2017 SWAG Awards Night at the Banquet Hall of the State House.
Danation of Artificial football parks to some communities
Danation of exercise books to to La Presby school
Danation of exercise books to 16 schools in Ada
The list is a tall one. But I have received feedback that my articles, interesting as they are, are somewhat lengthy, so I end it here.
50th birthday celebrations
The Golden Age is the envy of many individuals- men and women alike. You get there having been through so much, either fulfilled or empty-filled. The health troubles are better experienced, not told in writing. Bodily pain is a unique feature. So if you can afford, you have a blast, when you attain age 50.
A very close lady-friend of mine came down, all the way from America, recently, with son and daughter. The purpose of visit? To have her 50th birthday bash in GH- "M3ni afi)), abaa gbo oo!"- Life is too short, live it.
Consequently, One would have thought that after all the struggles that Nii Nshia has been through, and all the wealth that he now supervises, he would set the record of the biggest birthday party ever held in Ghanaian history at the Independence Square, Covid-19 restrictions notwithstanding. After all, we all saw Sir John's funeral on TV?
Better still, display the different kind of cars he owns on the streets of La (Badi) for his kinsmen and the entirety of Ghanaians, to see that he and poverty are no longer bedfellows. But No!
Dr McKorley chose an Honorific Public Lecture. Why? Because, as stated on his Facebook page, he and his McDan Group, (I will tell you why I used, 'he and his', shortly), "believe in a world where everyone has a chance to succeed, contribute to the global economy and improve their communities.
In furtherance of this, he liaised with the authorities of the University for Professional Studies, Accra (UPSA) and on Friday, June 18, the lecture was held to mark his Golden Jubilee anniversary.
The theme chosen for the public discourse was, "creating the next generation of Entrepreneurs through the Africa Continental Free Trade Agreement (AfCFTA)."
Because of the feedback regarding the length of articles, I wanted to proceed without explaining what AfCFTA, but what if the one reading this piece doesn't know about it? so here we go.
The fifty-five member states of the Africa Union (AU) are established AfCFTA to create a single continent-wide market for goods and services and to promote the movement of capital and natural persons.
The objective of the Honorific Public Lecture was therefore, to create an ecosystem with the McDan Entrepreneurship Challenge, where young entrepreneurs, using their energy, expertise, initiative and sense of responsibility, create products to explore opportunities created by AfCFTA.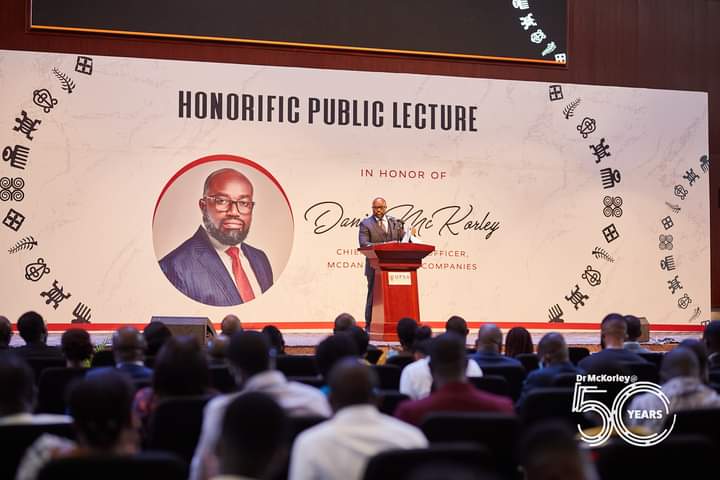 At the end of this lecture, he crowned it with a 'Danation' of a bus to the university. Ei!!
According to him, other activities lined up to celebrate the 50th milestone are; launch of an autobiography and the next season of the 'McDan Entrepreneurship Challenge', this week.
"Nii, ohi3 egbele. Ots)) ak3, k3 onukpai k33, ashino kpakpa egb333, an)kwale trodoo ni"- You are enlightened. You've demonstrated that if our elders say, good beads don't rattle, it is true.
"I am not McDan, I am McKorley. Immediately you are bigger than your business then, you are in trouble." That is how he distinguished himself from the empire, he 'suo moto', envisioned, when Ayisha asked him how he manages the huge conglomerate he had created.
Note that the 'Mc', is part of his surname and Dan, is the short form of Daniel, his first name-McDan. Such, humility from a business mogul. Very uncharacteristic of what we know in GH, won't you say?
And the CEO of McDan Group of Companies says, all this, "is only 30% of what I want to achieve", yoo!
He wishes that he has more time to do more. "My Biggest challenge is time", he answered Ayisha when she asked.
Nuclear family
And oooh! The man has been busy. He took a leaf from his father having ten of them. Two wives, ten children form his familial backbone. Five girls, five boys. What a balance! Ayisha exclaimed on hearing the gender balance.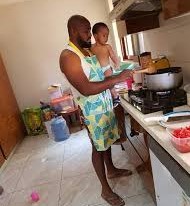 I, am interested in the two wives bit. Ei! Musician Kidi on my mind- I go kill you with enjoyment-enjoyment, enjoyment….
Pastime
Danny really enjoys himself. He has a music studio in his house and DJs himself as a pastime.
He loves sports. Plays Tennis and watches fish in his aquarium to de-stress.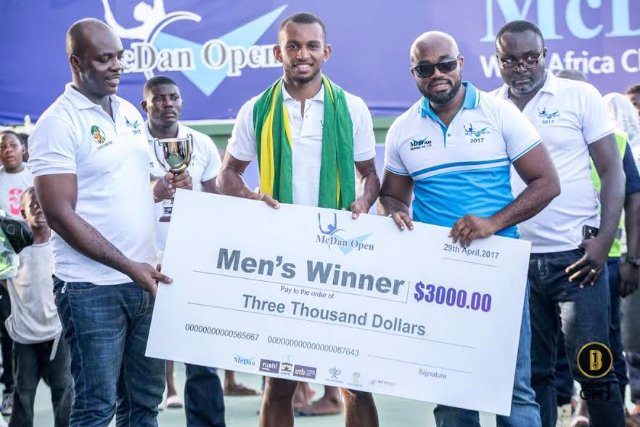 My key take away from the interview? Somebody stole the sandal that he struggled so much to buy as a child. Hmmm!
Lesson? No matter how you are, someone wishes to be like you. So, don't be in a rush to be like Dr Daniel Nii Nshia McKorley- the man I describe as a PHENOMENON– a remarkable person or thing
Take your time, go gingerly, work at it, your time will come.
In singing mode once again- Kofi Kinataaa!…. "obinya wo aay3o, obinidi so sen wo di, mese obi nya wo aye. Wofie ware den, kai d3 obinidzi wo wodzi no ekyi…..! – Someone wishes to be like you. Don't beat yourself too much, no matter your situation.
W) s33 otsi hu, w) baakpe ekonn- That's Ga for goodbye.
Happy Birthday Nii.
Let God Lead.
The writer works with Myjoyonline.com. Email- eric.mensah-ayettey@myjoyonline.com Tel: 0244679575