Management of the Ghana Institute of Journalist (GIJ) has directed students who failed to meet the deadline for registration and payment of fees to defer their courses.
Authorities in a statement said it decided at a meeting on March 22 "that students who paid their fees after the registration deadline should defer their programme."
Adding that "all affected students are to take note of this directive and act accordingly."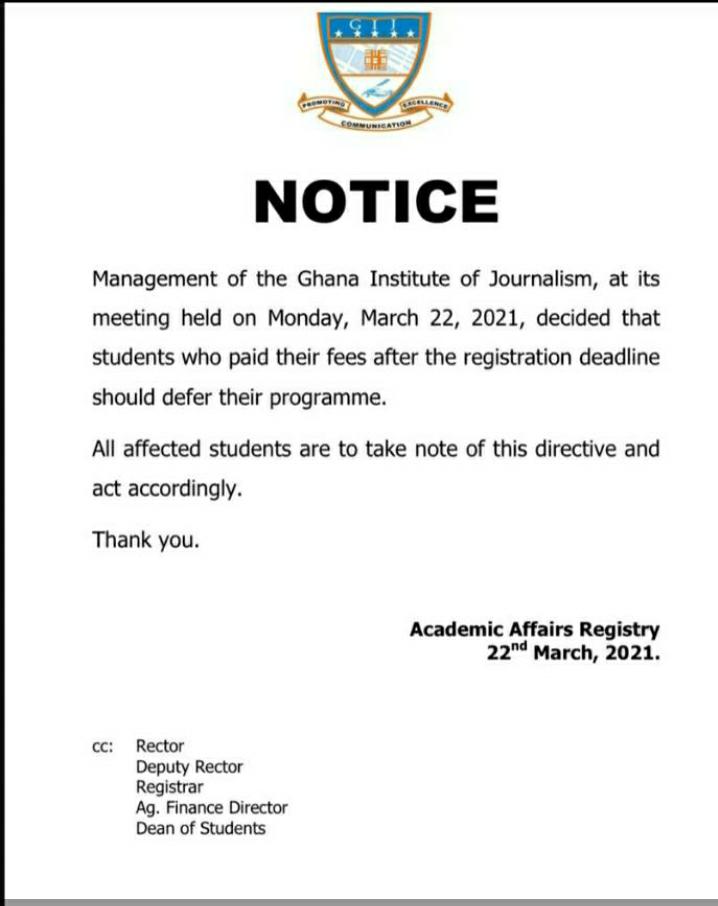 The directive, however, has been met with great opposition from the student body.
How can students go through sweat to pay the increased fees then the school is closed after a couple of weeks but students are not provided with data for online calls, all for management to come out with that directive? #JusticeforGIJStudents https://t.co/FhJUqrijeO

— Fati White (@FatiWhite2) March 23, 2021
#justiceforgijstudentS#occupythecampus

This is just plain cruel 💔 pic.twitter.com/p78Nxaxx98

— Akua Afriyie Ntra (@ANuerllah) March 23, 2021
So after paying the fees, we bought our own bundle for online classes too, the number of assignments we've done😩 and one week to exams management is saying this😠 heerh💔 #justiceforgijstudents pic.twitter.com/XyOlVtsqwb

— Efe Diamond 💎 (@EfeDiamond3) March 23, 2021
This follows an unapproved 5% increment in fees for students, ahead of the 2020/2021 academic year.
Prior to the increment of the fees, students opposed the decision and further issued various pleas, contesting the it, however, the pleas were not taken into consideration by management.
The fees for regular students pursuing the Institute's Bachelor in Communication Studies programme which initially was GH¢2,400 was subsequently increased to GH¢2,520.00.
Those pursuing a Diploma in Communication Studies (Regular and Weekend) were required to pay GH¢2,310.00 as academic fees while level 300 Top-up fresh students (Weekend), currently pay GH¢3,100 whereas their colleagues in level 400's fees have been increased to GH¢2,730.00.
The fee for first-year Diploma in Communication Studies (evening) students is now GH¢2,660.00 whilst their colleagues in the weekend class pay GH¢2,900.00.
Meanwhile, per the Fees and Charges Act, all fees and charges must receive parliamentary ratification before coming into effect.
DISCLAIMER: The Views, Comments, Opinions, Contributions and Statements made by Readers and Contributors on this platform do not necessarily represent the views or policy of Multimedia Group Limited.