The Ghana Health Service has urged the public to go back to wearing face masks.
Addressing the media on Wednesday, the Director-General, Ghana Health Service, Dr. Patrick Kumah Aboagye recommended the wearing of face masks in schools, churches and other enclosed areas as means to curtail the spread of the virus.
This call comes after the emergence of new strains of the Covid-19 Omicron variant in circulation across the country.
The Omicron variant of Covid-19 was the main driver of the country's fourth wave, peaking at more than a thousand new cases daily.
As the infections begin to rise again, scientists at the West African Centre for Cell Biology of Infectious Pathogens (WACCBIP) say they've detected two new strains which are resistant to the vaccines in the country.
According to the Ghana Health Service portal, the number of active cases stands at 452.
In the Greater Accra Region, statistics of the first quarter of the year from January to June 7 shows that the average daily cases of Covid-19 recorded in GAR has increased from 1.3 in April to 13.3 cases in May to 44 cases per day in June 2022.
The total number of confirmed cases from January to June 7 is 7,868 with 50.1 average number recorded per day.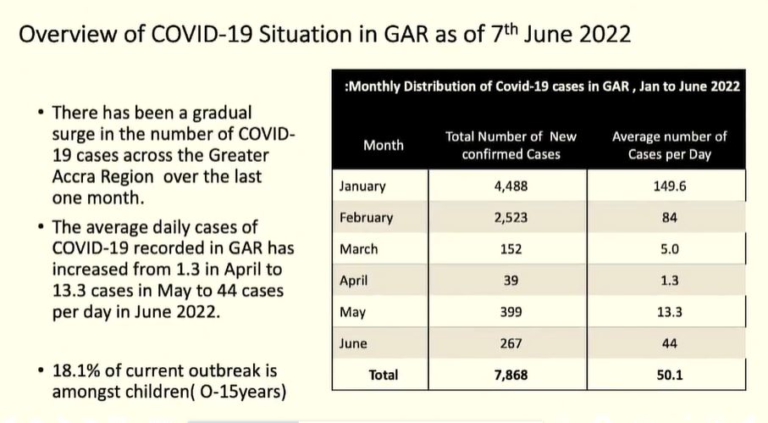 Speaking on the development, the Founding Director of WACCBIP, Professor Gordon Awandare, said "it is interesting to note that we have now detected BA4 and BA5 in Ghana for the first time."
According to him, this "probably explains the increasing number of cases we are seeing and it means that we have to get back to some of the protocols that we have relaxed, because these two variants – the protection from previous exposure to the Omicron, BA1 AND BA 2 does not protect adequately against these two variants if you are not fully vaccinated."
Dr. Yaw Bediako, a research fellow at WACCBIP, also emphasised the importance of adhering to the established protocols.
"I think if we look at the data we cannot say that Covid has skipped Africa. Zero prevalence rate, zero positivity of over 70 close to 80 percent means 8 out of 10 people have been within the past 6 months exposed to the virus, so we cannot say that the outbreak is over," he said.
Meanwhile, five cases of monkeypox have been confirmed in the Eastern, Bono and Greater Accra regions, the Ghana Health Service (GHS) says.
One of the cases was recorded in a Ghanaian who travelled to the United States of America from Ghana.
According to the Director-General of the Service, Dr Patrick Kuma-Aboagye, the cases were identified through the testing of 12 suspected cases, including one case that was reported from the Western Region.
While health officials work to contain the Monkeypox virus, Covid-19 infections are on the rise, with more cases of the 'Influenza A virus being reported at health facilities.