January 7, 2021, will go down in history as one of the most eventful moments of the Fourth Republic.
Out of the many events that characterized the election of the Speaker of Parliament, the name Carlos Ahenkora will stand tall in the minds of Ghanaians.
Some Ghanaians were shocked to see the MP for Tema West, Carlos Kingsley Ahenkorah snatch ballot papers from the hands of a Parliamentary official on Thursday morning.
In an attempt to disrupt the election process for the new Speaker of Parliament, Mr Ahenkora, with lightning-fast speed, snatched some of the ballot papers on the blindside of the Parliamentary officials as the ballot was being counted.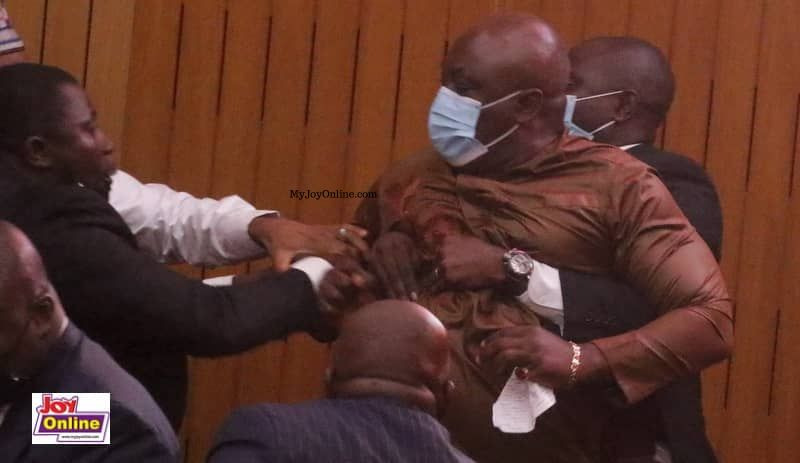 His dash across the floor of Parliament towards the nearest exit was, however, met with stiff resistance from his colleagues with the help of some security officials.
The ballot papers were retrieved, but only after he had suffered a few jabs from his colleagues.
As usual, social media reactions have taken the incident in Parliament on another tangent, creating memes of the legislator.
One Ghanaian in an attempt to explain the events, created some memes that detailed the moments Asawase MP tried to stop his colleague from running away with the ballot.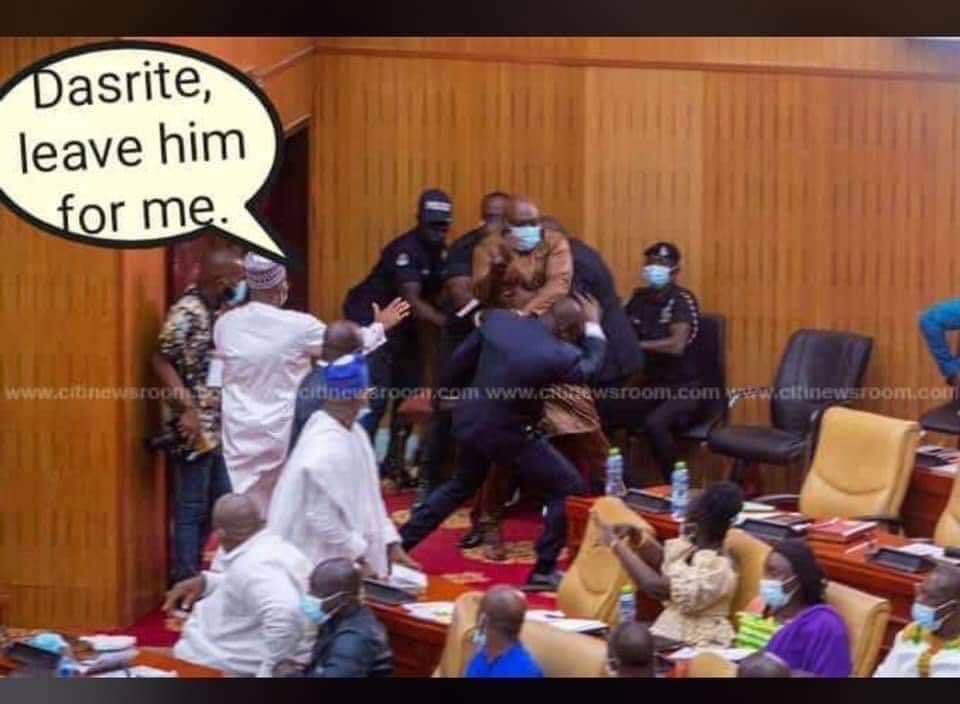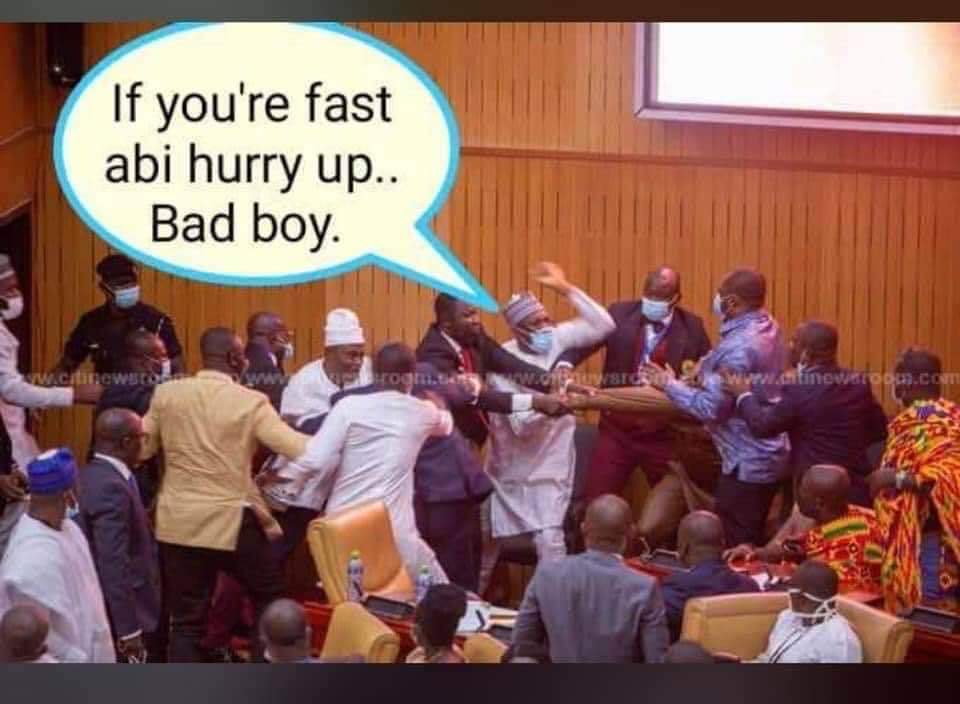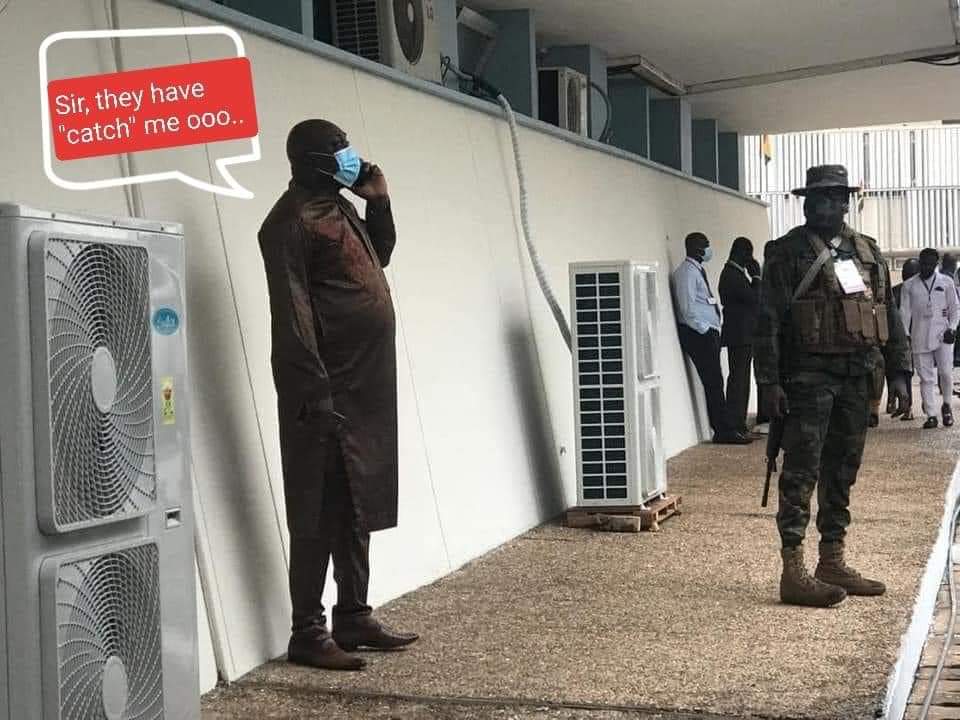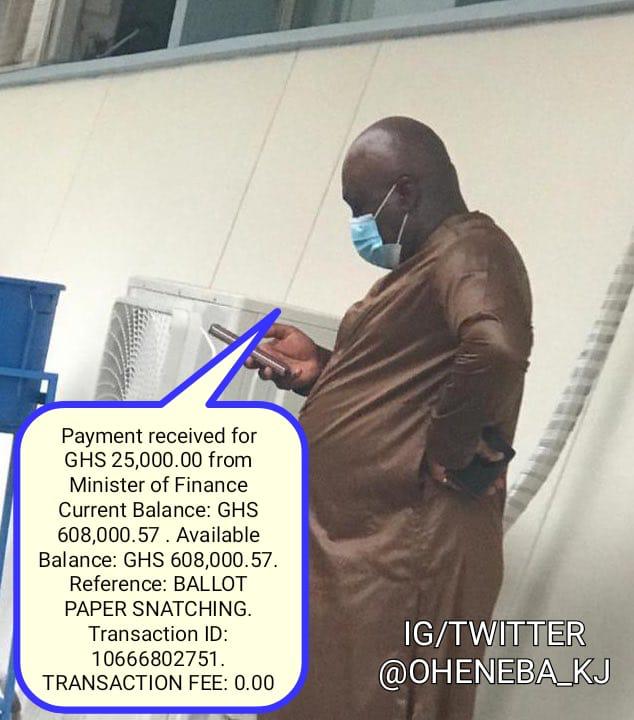 Others took to their social media handle to scold the MP and make fun of his actions.
I'll tell my kids Carlos Ahenkorah was The Flash of our time 😂 pic.twitter.com/9f0gU7CqaU

— Don Sarkcess 🃏 (@Kwesi_Picasso) January 7, 2021
Carlos Ahenkorah drank RUN ENERGY drink before coming to the Parliament House 🤣🤣😂😃

— Push👑 Kid 👑PONO👑(PRINCE OF NEW ORIGIN) (@PushPono) January 7, 2021
Carlos Ahenkorah reminded me of those days we used to play Zanzama

I can imagine the number of knocks he chopped

— Teekay 🇬🇭🇳🇬 (@comedianteekay) January 7, 2021
The speed Carlos Ahenkorah dey take run di3 ei pass Sarkodie in kasahare raps koraa 😂🤣

.
Formena MP
THE NDC#7thTo8thParliament #7thTo8thParliament pic.twitter.com/bhy75sC0jX

— Kofi Lamborghini (@KofiLamborghini) January 7, 2021
What sarkodie said about we throwing the "Honourable" title anyhow was in reference to what Carlos Ahenkorah did and sark is not lying

Honourable doing shameful and disgracing stuff on #InaugurationDay2021 at parliament🤦

Agenda and Kwashey MPs with inbuilt flash features..tueh

— Nsawam Michael Scofield (@OkwasiaBiNti) January 7, 2021
"Carlos Ahenkorah" ein mood when he got touched a little 😂 😂
"Kennedy Agyapong" pic.twitter.com/sa352Nrtpy

— DeRy K_Godfred😎♉ (@godfredcharis16) January 7, 2021
Ghanaians: We want peace !
Carlos Ahenkorah: pic.twitter.com/L34W5AXLua

— Anas Not Ananse 🕗 (@AmafBlack) January 7, 2021
Carlos Ahenkorah must be an old student of Real Amass

Charlie Opana Dey run pass Usain Bolt😂😂😂

— speaker of Parliament (@Ankwanoma1) January 7, 2021
What Carlos Ahenkorah did nu err na he wont go anywhere ooo he wanted to distract the system so they will call for re voting buh it seem things didn't go as planned 😂😂😂😂😂💔💔💔💔

— AVO 🔥🔌⌛ (@kwamheBhad08_) January 7, 2021
I'm highly disappointed and surprised to hear Mr Carlos Ahenkorah to say he's enjoying the trends for what he did. Some MPs doesn't deserve to be called honourables. Disgusting!!!! #7thTo8thParliament #InaugurationDay

— Dep. Min. Energy 🇬🇭 (@shikome_1) January 7, 2021
Stop 🛑 I don't like it https://t.co/siDizwxVpq

— Carlos Ahenkorah (@RheBirth3) January 7, 2021
Ah carlos Ahenkorah 🤣 https://t.co/oZc9s0HM6D

— Heisty Twit 👺🇬🇭🇳🇬…..🧢🌴🌊☀️ (@onlijay1) January 7, 2021
So Carlos Ahenkorah's behavior nu was it a Covid-19 side effect or? Cos up till now I still do not understand why he did that oo😂😂😂 Muntaka too turn footballer dey kick box eii Ghana😂😂

— GHANA TROSKI🇬🇭🇪🇸 (@ale_reinaa) January 7, 2021
jokes aside Carlos Ahenkorah no set a good example as a leader at all.This is something we've been preaching against in Elections and to see an MP doing it in parliament with the entire World watching is very embarrassing and uncalled for.This is unacceptable.#7thTo8thParliament

— Nana Yaw🇬🇭 (@NPazzini_29) January 7, 2021
Is like Carlos Ahenkorah was influenced by someone to do what he did oo. Watch the video closely 😂😂😂 pic.twitter.com/cTaGsneQeL

— SARKBA🥰💕 (@wooda_10) January 7, 2021
Apocalypto 2021 version is out now!! Grab your copy from Parliament House now! #carlosAhenkorah pic.twitter.com/T5MjobnBNp

— Duke Of Damongo⚜️🀄️ (@raphaelnkabe) January 7, 2021
Carlos Ahenkorah!
That's the tweet
😂 pic.twitter.com/5NiRIySUep

— Z O N G O – B O Y (@MrMuftyy) January 7, 2021
Muntaka Mubarak to Carlos Ahenkorah😂 pic.twitter.com/0jnAaIHyXQ

— Jordan_1 (@Yarojordan_) January 7, 2021
#carlosAhenkorah The slap tho😭😂😂 pic.twitter.com/23KT7KBgN0

— Ohemaa_Adwoa (@OhemaaAdwoa_) January 7, 2021
I am still disappointed at how the military were swift to intervene. They should have allowed an extra 15mins to see if Carlos Ahenkorah and which MPs can defend their constituency😂.

— Robert Mugabe (@MugabeQuotes_) January 7, 2021
Hon. Carlos Ahenkorah should be training Ghanaian Athletics for Olympics games 😂😂😂

— William Kwakye Appiah (@wikkyappiah) January 7, 2021
When Kwabena Mintah Akandoh was enjoying buttocks, Carlos Ahenkorah was planning on how to snatch ballot papers. SMH. This life never balance ampa 🤣🤣🤣

— MannyTee Ayenu (@Realitee) January 7, 2021
Imagine Carlos Ahenkorah asking alban Bagbin to allow him speak on the floor😂😂,😂😂 he'll say Mr speaker saaaaaa…,. pic.twitter.com/xSDAkyIgzd

— Saviour_EK⚪ (@SaviourKetti) January 7, 2021
See, it's still just funny to me. I can't stop laughing.😂😂😂😂😂
What Carlos Ahenkorah did was so unnecessary. Ah! The question i'm still asking myself is, where was he even taking those papers to? Herh, Panyin paa a ɔre dwane te sε akwadaa w'ahwim obi nam. 😂😂

— ♠ (@moodyman__) January 7, 2021
If "X"is Mutaka and"Y" is Carlos Ahenkorah. Calculate "Y" speed per second from "X"😂

— Gerald Cobby (@GeraldCobby) January 7, 2021
So u are still not convinced Carlos Ahenkorah will dirty Usain bolt next Olympics eh? Okaay 3ndi3 nbs Jon u be!! 😂😂😂🤣🤣🤣🤣 Herh kwashey wey dey run lidat 😂😂😂

— One Garzy😋🇬🇭 (@garzy_one) January 7, 2021
With all due respect, I think the Honourable member of Parliament bfor Tema west Constituency, Mr. Carlos Ahenkorah should resign from politics and join the Ghana rugby team😎😎🔥💃😤😤anaa mose den?????

— Mr Oldstories (@MOldstories) January 7, 2021
Ah, But Carlos Ahenkorah Paa, what was he thinking 🤔

Was he goin to burn them? Did he thought the other members will just watch him? Did he ask a colleague before taking this decision?

He be Hard guy moom 😃

LivingLegend , Honorable, 6 miludu for there, Gye wo two.

— Eyiram Nice (@eyiramnice) January 7, 2021
So will this same parliamentarians ( Carlos Ahenkorah n Co ) come to us and say we should stop demonstrating in our various Universities

Anka de way we go beat them no ong
If is Fomena MP de3aa we go barb #7thTo8thParliament

— Kay 💧 (@NanakayMayor) January 7, 2021
"The ballot snatcher." 📽️ Out in cinemas Jan 7th. A Ghanaian lawmakers production. ©️ Democracy 2021

— M.anifest (@manifestive) January 7, 2021
nobody:#7thTo8thParliament : pic.twitter.com/1H2RpqQUHQ

— Fupa President. (@eltonjay_) January 7, 2021
.