Rapper Eno Barony has said she felt her colleague Medikal was immature when he called her a corpse in a tweet.
The 'Rap Goddess' recently threw shots at a ghostwriter for Sista Afia in a diss song titled 'Argument Done'.
But Medikal felt disrespected by the jabs in the song, and lambasted her in a series of tweets.
He called her a corpse, adding that he will not "waste [his] time" engaging in a feud with a female rapper.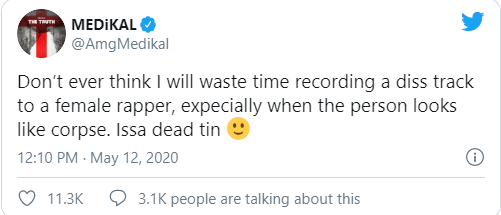 On Showbiz A-Z on Joy 99.7 FM, Eno Barony was asked how she felt about the rapper's comments and she said, "I felt like he's not matured. I'm not dead, I don't look like a corpse, I'm very pretty so it won't get to me. It can only get to me when I feel like I'm a corpse."
When asked by the host Goerge Quaye when was the last time she communicated with the rapper, she stated that Medikal was not someone she communicates with frequently.
"I think the last time I saw him, we were driving and he parked and I also parked and went into his car and said yo what's up. We talked and that was all but he's not my friend. We're just colleagues so when we meet, it's just hi and hi."