Japanese technology company, Sysmex, has handed over a Urinalysis Analyser to the Komfo Anokye Teaching Hospital (KATH).
The analyser can be used in the diagnosis of non-communicable diseases, including diabetes, kidney and infectious diseases.
Use of the machine is less time-consuming and improves testing capacity and quality to stabilise the current urinalysis workflow.  
The equipment was donated through a collaborative programme for the dissemination of Japanese technology for automated urinalysis diagnosis in Ghana. 
In August 2018, Sysmex Corporation launched a Public-Private Partnership project with Japan International Cooperation Agency (JICA) at the Komfo Anokye Teaching Hospital under the Ministry of Health. 
The partnership is themed "Collaboration Programme with Private Sector for Disseminating Japanese Technology for Automated Urinalysis Diagnosis".
Chief Executive Officer of Komfo Anokye Teaching Hospital (KATH), Dr Oheneba Owusu Danso, explained the JICA project will provide operational efficiency and also assist in research work.
"KATH moved from manual analysis to fully-automated urinalysis technology with the introduction of the Sysmex UN-Series.
"Turn Around Time (TAT) for Urine Routine examination has been reduced from 2 hours to 30 minutes.
"It has led to early detection and treatment of NCDs. It has improved the workflow for sediment analysis.
"It is expected that this facility will also leverage more reliable and readily available data for research into NCDs," he said.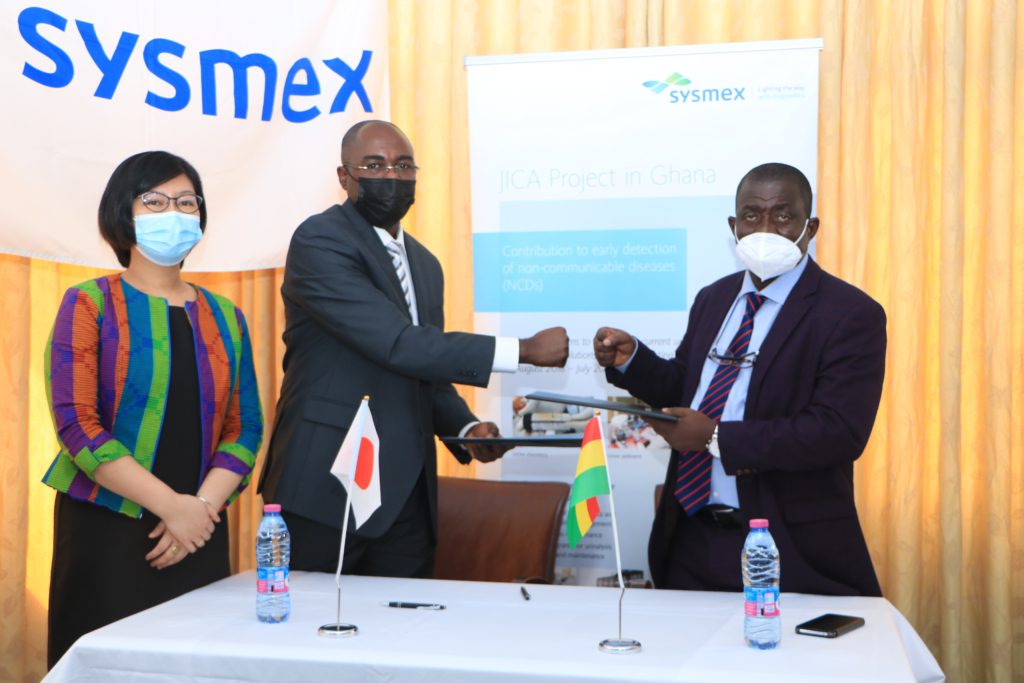 Managing Director of Sysmex West and Central Africa (SWCA), Eric Osei, said that the project is less time-wasting, has expanded access, and ensured public safety.
"The main objective of this project is to transform Komfo Anokye from manual urine testing to automated urine testing. This helps reduce the turnaround time for the patients to get their test results, prescriptions and eventual cure," he said.
Ozawa Maki, the Senior Representative of JICA Ghana, explained that the deed by the company will promote the government's health agenda.
She asserted that the equipment will reduce deaths caused by Non-communicable Diseases. 
"The new technology will also provide new diagnosis parameters. With this, Ghana stands a strong chance to reduce 43% of deaths caused by NCDs as estimated by the World Health Organisation. 
"The JICA hopes to make arrangements to provide quality equipment to health facilities including the all-important 'Agenda 111' programme and 'Ghana Beyond Aid' agenda," she said.