90' South Africa have been pushed out. The referee whistles to end the game. Two moments of efficiency with the ball drowns out long spells of woeful crosses,set pieces and uninspiring attacks. But Ghana are through. Close shave with elimination. Ghana lives to fight another day!!!!!
89' Andre Ayew puts his body on the line to block a shot. He is up chasing the ball, releases it in the midfield but the pass to the final attacker on the right is blocked.
The last timeJohn Boye scored he did so against his own team in Brazil World Cup last year
.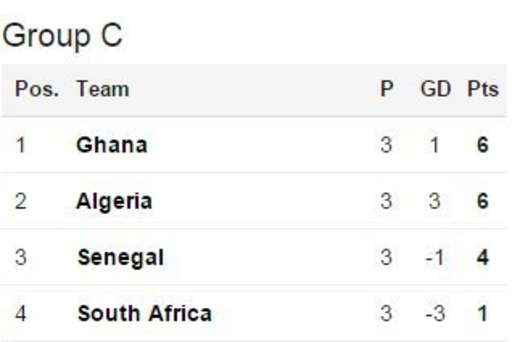 89' Yellow card for time-wasting by razak Brimah the goal keeper. Not typical Ghana football.
83' Goaaaaall!!!!!!!!! It had to be him!!!! Andre Ayew gives Ghana new life using his head to connect a Baba Rahman freekick on the left side. Great cross!!!!! Finally some good technique on the set pieces. One good one just paid off!!!
82' John Boye easily dispossess an attacker on the right flank. South Africa trying to wake up to construct an attack.
75' Some excitement after the equaliser. Ghana's strategy is simple. Long balls into the box to try and find Gyan. He will know what to do right?
74' Two chances for Ghana as Kwesi Appiah lets off a nice low shot after Asamoah Gyan struggles to lay off a pass to him. Well saved by Nhlanhla Khuzwayo at the near post.
John Boye kisses his dollars in the Brazil World Cup disaster last June.
72' Surprise goal for dollar-kissing John Boye!!! He stops a woeful shot across goal from Andre Ayew and takes time enough to crash the net on the far post for the equaliser.
69' Substitution for Ghana. Jordan coming off for Kwesi Appiah. Agyemang Badu on for Afriyie Acquah. Jordan has not looked hungry enough. Maybe it is his style. All Ghana substitution exhausted.
68' Too dull a game at the moment. Ghana doesn't look like they want to equalise. South Africa will be happy to drag Ghana out of the competition. Long balls, fifty-fifty balls all falling for Bafana Bafana. Ghana trying to find Gyan with these long balls like Wakaso found him in that late goal against Algeria.
63' Jordan holds on to the ball for too long on the right after three opponents curve an arch around him. He releases it but it is little too strong for his teamate – it rolls out of play
62' Andre Ayew may as well stop getting fouls for Ghana. Too wasteful on the set pieces. Another dead ball situation for Ghana as Wakaso hits the ball. Poor attempt. Does anybody practice freekicks in this team?
Substitution for Bafana Bafana.
56' Nice technique by Jordan to control a lopped pass from his brother. He brings down the ball with his feet and loses his marker. A neat cross at the right edge is punched out.
55' Ghana is wasting set pieces !!!! It is becoming too many. Wakaso corner is of no use. Algeria would score from one of those.
49' Brimah comes out to whip out the ball in a one-on-one situation. The Bafana Banfana player won the ball after a struggle with a defender
47' Mansango throws his legs up too high across Atsu's face after he races to get to the end of a Gyan long ball from the left. Freekick for Ghana.
45' Asamoah Gyan's 20-yard's freekick was close as it curls over the bar.
Game resumes. Can there be a twist in the plot?
HT
42' Not an exciting game from a Ghana perspective. Half chances for Ghana despite dominating. Rare freekick for South Africa. Good delivery eludes every one straight for the far post. Bafana Bafana first touch is poor and the ball rolls out for a goal kick.
38' A snap header from Ndulula at the near post almost beats Brimah. Punched away reflexively. Neat cross floated into the box from the right.
38' Bafana Bafana are deep in their half already.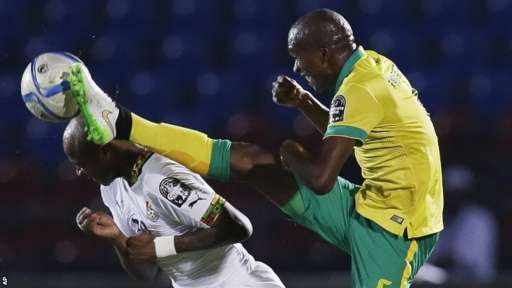 37' Yellow card for Ngcongca after he kicks Andre Ayew from behind while trying to close him down. Quite unintentional.
35' Early substitution after injured Daniel Amartey comes off for dollar-kissing John Boye.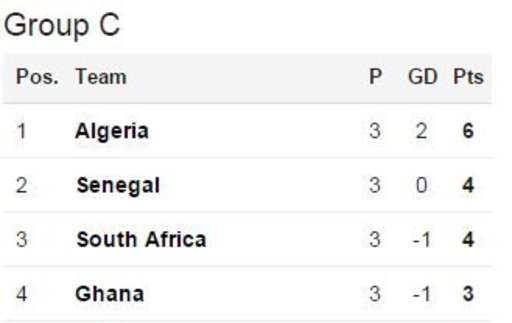 30' Andre Ayew is a source of freekicks for Ghana. Wakaso will take that one. It is booted out by Bafana Bafana but Baba Rahman meets it to drive a beautiful shot in. Punched out by Khuzawayo.
27' South Africa keeper Khuzwayo is calling for treatment on the pitch. He is in pain. Not sure what happened. It is his first start for South Africa at the tournament.
27' Christian Atsu cross didn't profit much. Quite a number of fouls going Ghana's away. Andre Ayew some seconds ago and now Wakaso.
24' Corner for Ghana. Wakaso dips the cross, it is headed towards the goal area. But Bafana Bafana keeper comes out to punch it forcefully. He will protect this crucial lead with everything.
23' Was Gyan denied a penalty. He looks to have been shoved off the ball while in his favourite position – in between defenders.
18' What a goal!!!!!!! South Africa take the lead. Goal of the tournament material!!! Mandla Masango let off a screamer after Ghana defender heads the ball back into the path of the South African. He loops a spectacular volley. It's a type of James Rodriguez World Cup goal
11' Amartey is back on his feet after he was taken off the injury. He took a hit in his thigh.
09' The first chance for South Africa after a teasing cross whistle across the post begging for a connection but two South African heads miss it.
05' Very lame effort by Jordan Ayew so close inside the box. What a chance. A very listless shot. Is he concentrating well enough? Andre Ayew his brother just missed the target after a nice header goes wide.
03' Handball against South Africa.
Four changes to the South African line-up. It's a 4-4-2 formation. Ghana responding with a 4-1-3-2. Not a popular formation. But Avram Grant believes it will be effective. Why should he?
The emotional national anthem of South Africa has been played. Ghana will hope it is not inspiring enough. This match is the last stand for either teams. A win is the only safety in this group of death.
You are welcome to match day 11 of the ongoing AFCON 2015 tournament in Equatorial Guinea. In two hours Group C contenders – Ghana, Senegal, South Africa and Algeria will battle for places in the last eight of the tournament.Line up for both sides
South Africa XI
South Africa XI vs Ghana: 1-Brilliant Khuzwayo (GK), 6-Anele Ngcongca, 11-Thabo Matlaba, 2-Rivaldo Coetzee, 3-Eric Mathoho, 15-Dean Furman (C), 5-Andile Jali, 7-Mandla Masango, 18-Thuso Phala, 23-Tokelo Rantie, 9-Bongani Ndulula
Ghana XI
Razak Braimah, Harrison Afful, Baba Abdul Rahman, Daniel Amartey, Jonathan Mensah, Afriyie Acquah, Mubarak Wakaso, Andre Ayew, Christian Atsu, Asamoah Gyan, Jordan Ayew
Fans took to social media to during the match.
You are welcome to match day 11 of the ongoing AFCON 2015 tournament in Equatorial Guinea. In two hours Group C contenders – Ghana, Senegal, South Africa and Algeria will battle for places in the last eight of the tournament. Only two places are available but all four teams are in contention. For Ghanaians, the match of interest will be the one at the Estadio De Mongomo between the Black Stars and the Bafana Bafana of South Africa. They will however keep a close eye on events in the Algeria, Senegal game which will be played simultaneously. Myjoyonline.com will bring you live coverage of the two matches.