By the wee hours of May 17, 1996, news had gone around that Ghana had successfully received its first share of IMF bailout, one that lasted a year was the first of many times Ghana would access the credit facility.
In recent times, Ghana has been hailed as one of sub-Saharan Africa's success stories. It was the first to free itself from colonial rule, in 1957. It built a stable democracy in the 1990s, overcoming decades of political upheaval. A thriving economy fueled by exports of cocoa, gold, and — more recently — oil, helped cut the poverty rate from 53 percent in 1991 to 21 percent in 2012.
It's early July 2022 and news has broken that Ghana is heading back to the IMF, cup in hand for financial assistance.
Well, this is supposed to be Ghana's 17th time of seeking assistance from the International Monetary Fund.
What really is the issue?
How did we get here?
Is the country's economic fortunes damaged beyond repairs?
These and many more are the questions I asked myself while on an STC bus traveling from Accra to Kumasi.
From the experts, this is down to frugal spending by our leaders on consumption instead of production, almost always exceeding budget since 2015.
Plus, most of the past IMF grants have only gone into servicing loans that were taken years ago but couldn't be serviced because we almost always fail at meeting our revenue-generating targets. It's simple that this is down to prudence especially when Government's spending has been inspired by a bid to win elections and not economic viability, this was always bound to happen.  
Impact on Sports
As a sports pundit, I'm worried about how going to the IMF may affect an already struggling sector of the economy and what really the chances are going forward.
Ghana's top flight league has already endured some hard times in the last few years, from the Anas exposé to truncating the league due to the outbreak of Covid-19.
The Ghana Premier League (GPL) currently lacks a headline sponsor and there have been different cases and allegations of match-fixing in the league which have been blamed on the lack of proper remuneration.
Player exodus to less attractive and competitive leagues abroad after a year or two, have also been the norm as the average player doesn't earn more than GHs 1,500 monthly while playing here.
Let's now take a look at low stadium attendance in the league.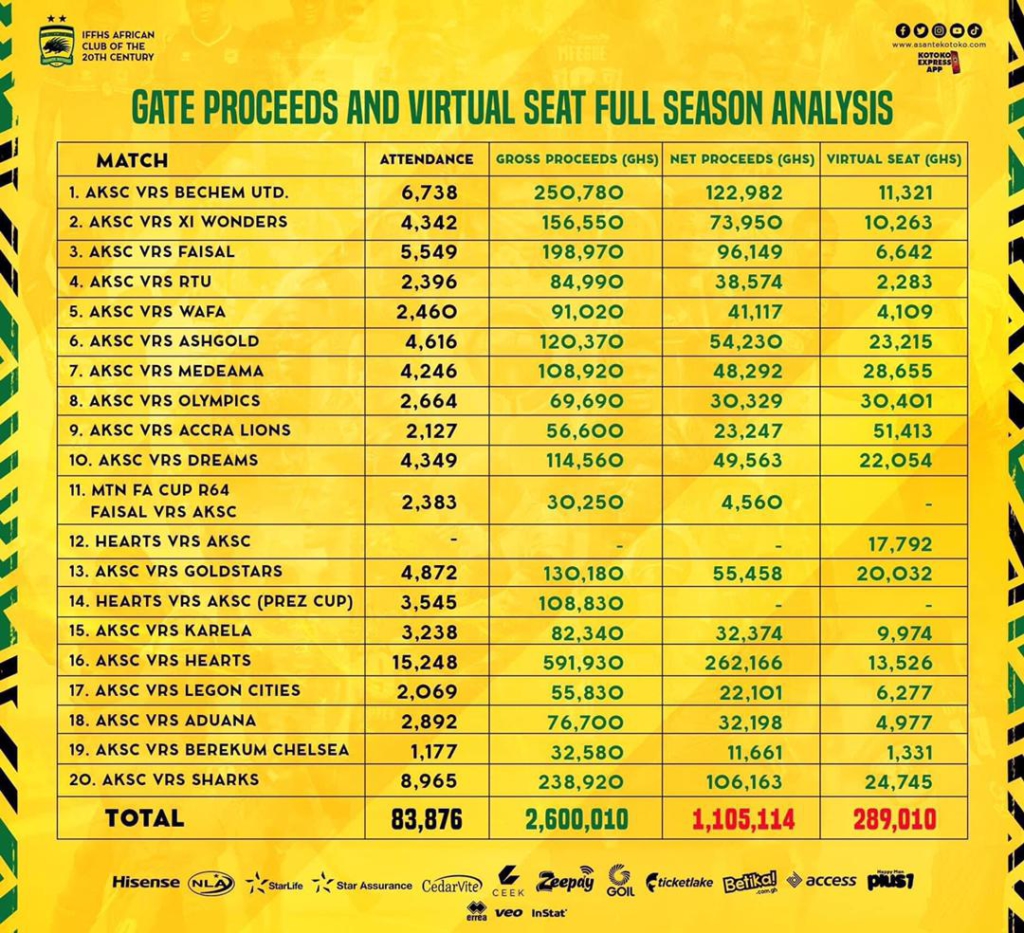 Case Study – Kumasi Asante Kotoko
Kumasi Asante Kotoko is arguably Ghana's biggest club and one that filled the Baba Yara Stadium easily in the early 2000s.
Today, the club struggles to even get half the stadium's capacity each match day. Mind you, this is Ghana's club with the biggest fan base.
Kotoko's biggest home game attendance came at their GPL match day 14 game against bitter rivals Accra Hearts of Oak – a game that had an attendance of 15,248, approximately 38.57 per cent of the stadium's total capacity.
This is definitely not good and of course you can attribute the lack of attendance in our stadia to the harsh economic situations the Ghanaian people are facing. What makes this more worrying is that the only source of income for most of these clubs come from gate proceeds.
Ghana has endured some not so good performances in both the Senior National team (Black Stars) and youth football. This could be partly due to lack of proper sports infrastructure to develop the myriad young talent at our disposal.
With sports being one of the sectors giving the lowest budgetary allocation from national budget readings year-on-year in parliament, there is the need to increase sports funding and infrastructure if we want to harness and develop the many sporting talents in the nation.
But with the IMF, the country is sure to see a further reduction in budget allocation on sports and a freeze in funds to invest in sporting infrastructure.
There is definitely the need for football clubs and even other sporting disciplines with little to no government funding to brace themselves for what is to come because the signs on the wall are not favorable.
Most players are likely to leave the country in search of better-paying teams in the Middle East or Eastern Europe without being fully developed here.
With the imminent IMF bailout, it's unlikely that the Ghana Premier League (GPL) will get a titled sponsor anytime soon and that will affect clubs a lot more.
Stadium attendance will surely be affected in the current circumstances and what makes it worse is that this is the only consistent means by which clubs raise revenue.
Finally, while it is not a foregone conclusion that an IMF bailout will sink our sports sector, it is important to note that sport is amongst the sectors that will suffer most if current circumstances do not change for the better.
The writer is a Sports Pundits with Nhyira FM and Luv FM in Kumasi @thefiifiManfred
DISCLAIMER: The Views, Comments, Opinions, Contributions and Statements made by Readers and Contributors on this platform do not necessarily represent the views or policy of Multimedia Group Limited.