Mental health experts in Ashanti Region say they are seeing increasing anxiety disorders and depression especially in young adults linked to the fear of Covid-19 as Ghana continues to see a surge in cases.
They reveal many of young patients have conditions stemming from fear of contracting the virus and losing their livelihoods.
Meet 24-year old Freda Agyei, a national service person in Kumasi.
"My name is Freda Agyei. I am 24 years old and I live in Kumasi. I am a service personnel.
Recently there is this Covid-19 issue. It's very, very scary. Even the name causes panic to me."
'It's very, very scary'
She is among many young people whose social lives have been affected by the fear of contracting Covid-19.
"It has affected my personal life, social life and even work-life to the extent that I can't even sleep," she told JoyNews.
Unlike many others who are seeking psychological care, Freda is not. She hopes to wake up one day to see Covid-19 disappear.
"Right now we are all hoping for cure. If there's a cure, we know that there's hope.
If not, I don't really know what to do," worried Freda lamented.
Ghana has as at Wednesday June 3, 2020 recorded 5, 378 Covid-19 positive cases with 38 deaths.
Ashanti region has seen its cases rise in recent days to 1,342 with 17 deaths.
Out of the number, about 1000 of the infected are between 10 and 39-years.
Doctors say the trend is inspiring fear which is affecting the mental health of many young people like Freda.
" When we recorded our first two cases, I was really scared. That day, I didn't come t work.
I was sleepless," Freda revealed.
"Those who do not already have mental health issues have started having mental health issues-just the direct effect of the Covid-19.
The majority of them come with anxiety issues", confirms Dr. Ruth Owusu-Antwi, head of the Psychiatric Unit at Komfo Anokye Teaching Hospital.
"We are honestly overwhelmed"
At the Specialist Psychiatric Unit of the Komfo Anokye Teaching Hospital, doctors say they are seeing more Covid-19 mental-health-related cases.
Daily reported cases have shot up from 10 to about 30 compared to same period last year.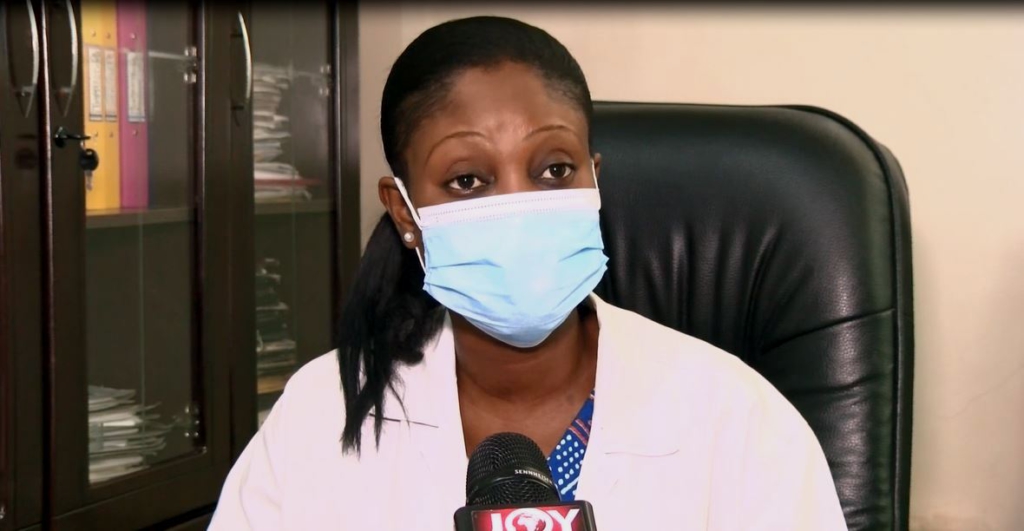 Head of the Unit, Dr. Ruth Owusu-Antwi gives a worrying account of the situation.
" Those who already have diagnosis most of them are already relapsing and for various reasons, some of them are afraid to come to the hospital setting to even come for their regular reviews because they believe that the hospital is the frontline. It is where the Covid-19 cases are – where the virus is so they don't want to come."
They wait at home until they have run out of their medications so our old clients are relapsing; some are coming with co-morbidities.
Somebody that we treating with depression will now come with full blown anxiety disorder and some of them have had businesses breaking down and going down so they begin to think so somebody you were managing for schizophrenia will now come with depression so our mental health issues have been on the rise. Both new and old cases and especially new cases. We are getting a lot of new cases all together especially in this pandemic era."
The surge in cases is placing a strain on already over-stretched facilities and staff.
Dr Owusu-Antwi sums up the frustration of care givers.
"We are honestly overwhelmed. As mental health workers, we know our limit and so we put ourselves into teams but when you come on duty, you realize that it's really overwhelming."
"If it has not tripled, may be quadrupled because we now have to deal with not just patients who have tested positive and have suddenly become anxious -you have to deal with their relatives, you have to deal with the healthcare provider that attended to him. So if one person tests positive for Covid, there are about four others who suddenly start to developing anxiety symptoms that you have to tackle immediately."
At the regional level, the Mental Health Directorate says mental health cases including generalised anxiety has gone up. Depression which did not show in the first five cases in 2019 now sits 3rd in psychiatric cases recorded in the first quarter of 2020.
Ashanti Regional Mental Health Coordinator, Faustina Nuako confirmed the increasing number of new cases.
"If you look at the figures as compared to 2019, you can see that the cases are increasing because in 2019 from January-June, we had 5,180 cases, that is, new cases of mental illness.
Then in 2020 from January-April, we have 4,022 new cases. So you can see that we have two more months to end the half-year but if you compare the figure to the 2019 January-June, you can see that this figure is a bit higher."
Experts warn the number of Covid-19-related mental illness could quadruple in the coming months.
"I know that after the post-covid, we will have more cases [of mental illness] because of the stigma."
The situation calls for immediate attention.