As Nigeria prepares for the 25 February general election, its commercial hub Lagos offers a snapshot of the opposing forces seeking to shape the country's future – those seemingly content with the status quo and those who aspire for more.
The state has the largest number of registered voters – seven million – and has emerged as a key battleground in a contest where each side is backed by an army of young people, mostly drawn from the third of Nigerians who can't find a job or are performing roles below their qualification.
"He's created jobs before and he will do it again," said Jimoh Adesina, 40, a driver with the public bus scheme in Lagos who is backing Bola Tinubu of the ruling All Progressives Congress (APC).
While driving a public bus is a decent job, it is not what you would expect someone with a degree from a polytechnic to be doing, but Mr Adesina is happy just to be in work.
Unemployment and the economy are key concerns for voters in the elections. Despite being Africa's largest economy and oil producer, four out of 10 Nigerians live below the poverty line, according to the World Bank.
Mr Tinubu has based his presidential campaign on his two tenures as governor of Lagos state, and the achievements of the party he helped bring to power in 2015. These are best seen through the windows of the Bus Rapid Transit (BRT) he introduced that eased the city's notorious traffic jams.
A modern bus terminal has replaced chaotic scenes at the popular Oshodi interchange, while test runs are under way for a new electric light railway which runs past a refurbished National Theatre.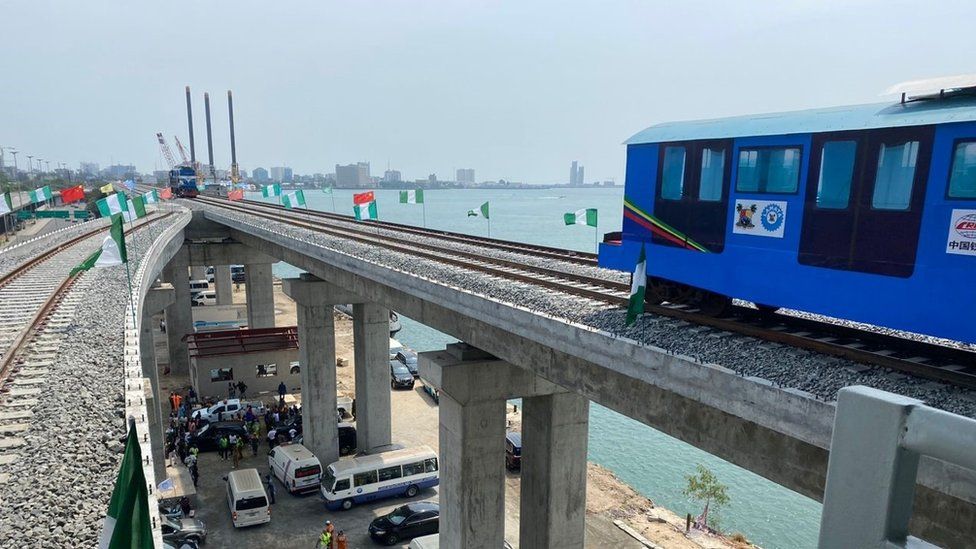 On the other side of the lagoon is a new national rail line connecting Lagos with the city of Ibadan via a stop in Abeokuta, and a landmark bridge now leads to the upmarket Lekki Peninsula where upwardly mobile young Nigerians in the tech sector live in swanky apartments.
Africa's richest man, Aliko Dangote, is building an oil refinery in a free trade zone partly owned by the government, nearby a new port built by the Chinese is now operational and there is talk of a fourth bridge to link the working-class mainland to the business districts on the Island.
All these have transformed Lagos from the chaotic city it was before 1999.
Most of modern Lagos is Mr Tinubu's creation or has been implemented by his proteges who have succeeded him since 2007, including a new city of luxury apartments on the Atlantic coast, where he boasts that he tamed the oceans.
"He is my father," said Mr Adesina, whose life is intertwined with the man he said paid his exam fees and those of others in public schools in 2001, and also gave him this job as a driver.
He is one of many across Nigeria whose lives have been touched by Mr Tinubu's benevolence, either through state resources or his personal wealth. The list includes football stars, musicians, politicians whose campaigns he sponsored and businesses he bailed out during tough times.
That is why his slogan for the election, Emi Lokan, which loosely translates to It Is My Turn, is basically a rallying call for favours to be repaid in support of his presidential bid.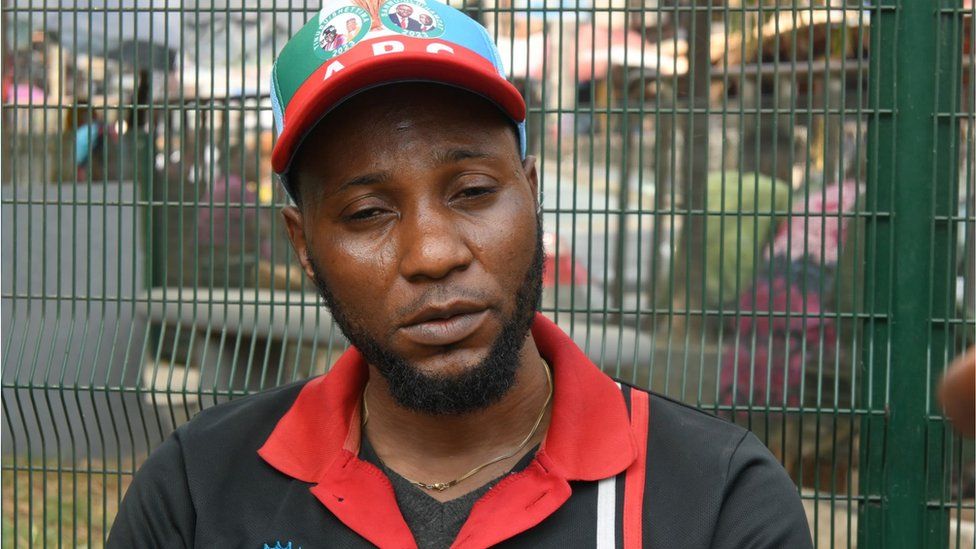 The kingmaker now wants to be king.
Although his party has lost some support after eight years in power, its nationwide machinery is also an advantage and Mr Tinubu plans to visit all the states in Nigeria.
"Those he meets never remain the same, he impacts people's live either directly or indirectly," said Adekanye Adetutu, an ardent supporter whose fees were also paid as a secondary school student.
But opponents say Mr Tinubu has used such benevolence to entrench a patronage system to create a support base of loyal followers, build a political empire and keep hold of state resources.
"Tinubu should get his foot off our necks," said Daniella Brodie-Mends, a 25-year-old first-time voter with dyed blonde hair at an old colonial square in Lagos where thousands gathered at the final rally of the Labour Party, whose candidate Peter Obi is popular with urban voters.
The crowd at the Tafawa Balewa Square was similar to those that gathered at the Lekki tollgate during the 2020 EndSars protests, which campaigned against police brutality and then morphed into demands for better governance in Africa's most populous nation.
They are young, confident and many are well-off, sporting the latest iPhones and Yeezy boots alongside nose piercings, dreadlocks and tattoos, although his support is not confined to the middle-classes.
Many were not born when Mr Tinubu and others fought the military government of Sani Abacha in the 1990s, or were still babies when he was governor between 1999-2007.
But they have little time for his democratic credentials and in many ways, represent the audacity of a new generation of young Nigerians who feel that the old politicians who run the country have vastly limited their potential and want them out of their way.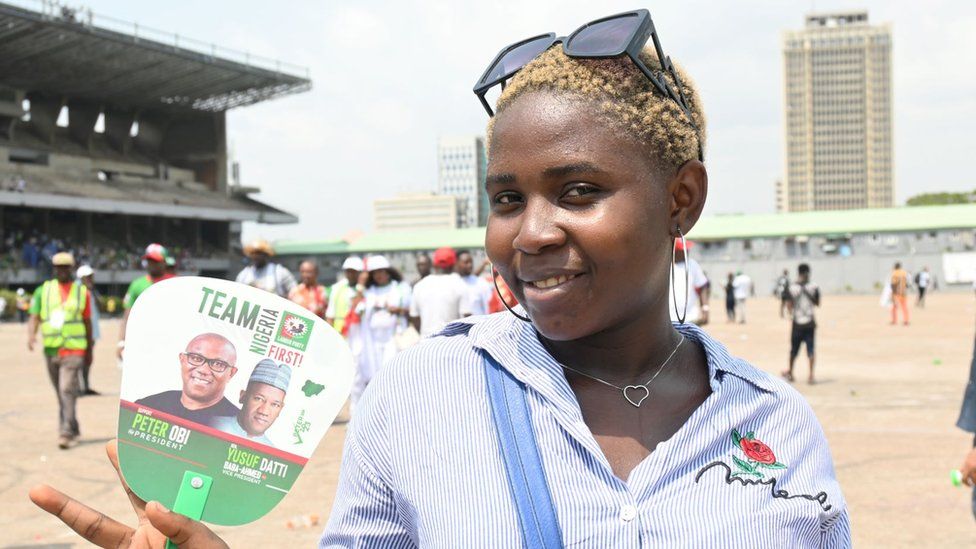 They are loyal to no-one, don't want hand-outs from the state or the jobs of street sweepers, traffic regulators and park attendants through which Mr Tinubu has employed thousands in Lagos.
They are friends with the city's successful young tech entrepreneurs and know of the immense opportunities that Lagos can offer, but they are also likely to have experienced police brutality, seen their university education interrupted by strikes and are feeling the pinch of record levels of inflation.
"I was holidaying in Europe every summer before this APC came into power," said one man who came to the rally with dozens of face caps he had personally branded for the Labour Party.
Despite his past association with the main opposition Peoples Democratic Party (PDP), Mr Obi is considered an outsider compared to the politicians his supporters accuse of holding Nigeria back.
The 61-year-old has promised to wean the Nigerian economy off its dependence on imports by creating an environment where exports will drive growth, and has built his campaign on the prudent management of public funds when he served two terms as governor of eastern Anambra state.
He has run a nimble campaign, visiting poor villagers in remote areas where he is popular, and his entrance into Lagos, when he rode in an open-roof car from one part of the city to another, felt like a victory parade.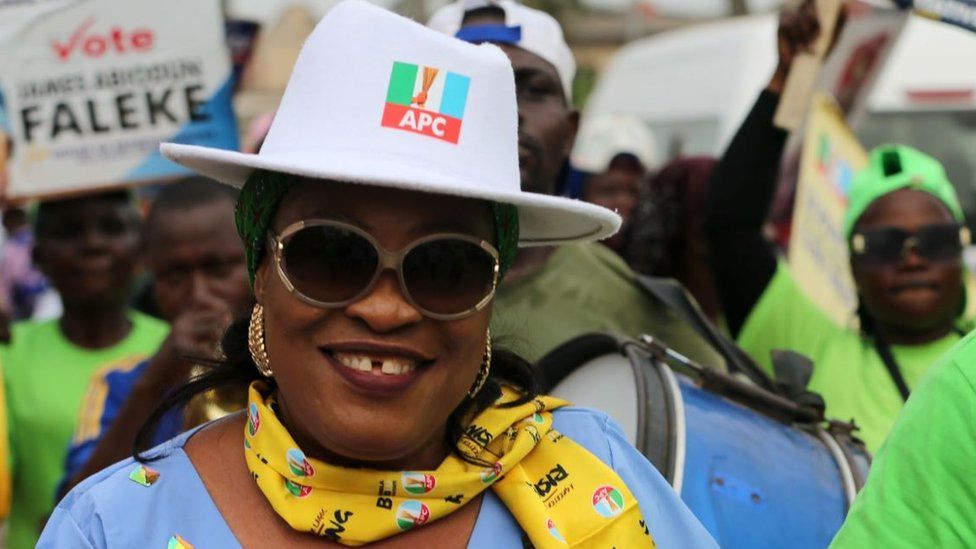 But in a worrying sign ahead of election day, dozens of his supporters were attacked and injured en route to the venue.
It is a pattern that has been seen in the past, especially in the 2019 general elections where voting in opposition strongholds was disrupted in Lagos and many voters prevented from casting their ballots.
Such attacks are usually carried out by Lagos' powerful gangs of street thugs who are mostly found at motor parks and markets.
They are a menace many in Lagos would rather not encounter but they perform essential tax-collection duties for local authorities, especially from those in the informal sector of the economy, such as tricycle riders and street traders.
Lagos has always followed Mr Tinubu since 1999 and whichever party he has chosen has swept the polls at both state and federal elections though the margins have been diminishing, with the PDP now represented by Atiku Abubakar and now the Labour Party, making inroads.
This city has seen many changes over the years, but now it feels like a showdown between the old and the new is imminent. And in many ways, its outcome will dictate Nigeria's future direction.
DISCLAIMER: The Views, Comments, Opinions, Contributions and Statements made by Readers and Contributors on this platform do not necessarily represent the views or policy of Multimedia Group Limited.