Partners and exhibitors of this year's Joy News Ecobank Habitat Fair have commended the organisers-Multimedia Group, for creating the platform to connect with potential house owners, a move that will also help reduce the rising housing deficit.
They were also impressed with this year's event, saying, it was an improvement over last year's own as organization, attendance and services provision were very remarkable.
The three days event which began on Friday 6th November 2020 and ended yesterday 8th November 2020 was graced by some thousands of Ghanaians whose ambitions are to acquire their homes, way ahead of their retirement ages.
Head of Personal Banking at Ecobank Ghana [Headline Sponsor], Kwesi Attobrah said his outfit was more than satisfied about the fair as many prospective home owners registered with the bank to sign on one of their various mortgage financing instruments to make their dreams come through.
According to him, the bank's Relationship Managers have been lined up to provide all the necessary support to the many Ghanaians who opened accounts with the bank to facilitate their dream of being 'landlords' and 'landladies'.
"We are more than satisfied with the fair. Our target have been met as we've been able to sign on so many prospective house owners. We will provide them with the housing financing solutions as well as connect them with the real estate developers so that they can get their dream homes in earnest. At Ecobank, our vision is to provide tailored made solutions and customer centric services to our clients, and we are proud to associate ourselves with the fair"
Dominic Ntiamoah of MBA Safety Ghana Ltd, an exhibitor, said though the fair started slowly on Friday, it witnessed significant improvement in terms of attendance and sales on Saturday and Sunday, stressing "we were able to make good sales."
"Comparing this year to that of last year, the participants of the fair have expressed satisfaction, meaning this year has been relatively better. Many customers who couldn't come here are calling to make enquiries", he added.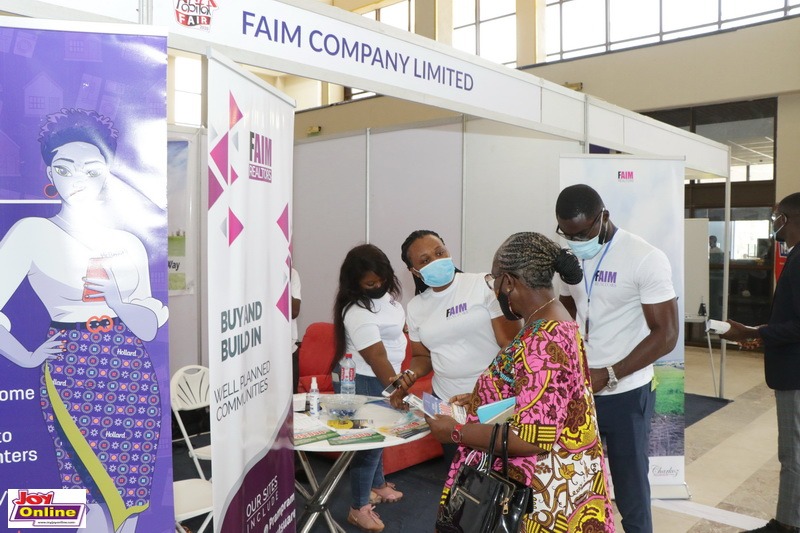 "Covid-19 prevented some people from coming but they [consumers] have people calling. Those who were not here called and said they saw the ad on Joy FM and they additionally asked whatever they want to know. Relatively, this year is better," a representative from Duraplast revealed.
A representative from Rehoboth also said "we expected this year to be better than last year. So that's what we got. We had good sales from here. Normally with the habitat fair when we come here, we get lots of people coming to the site to view so we hope that it remains the same this year as well."
"We couldn't join the fair last year. This year, we decided to join and market our products. So that's why we came and I can tell you the fair was extremely good. We're a manufacturing and distribution company called Scolmore, and we manufacture, distribute sockets and switches, wide range of wiring services. We also do security system, we do lightening, we do access controls, locks, pipes; a full range of wiring accessories", Tony of Scolmore said.
Background
From land acquisition, sale, starting to build, using the right materials, completing the building to paintings and fitting all that is needed, the Habitat Fair will always be a one-stop-shop for all your housing needs.
It will also always facilitate the acquisition of funds to make your dream of owning a home a reality.
The Fair is an initiative to support government's efforts to bridge the rising housing deficit in the country, which hovers around two million housing units, by connecting prospective house owners to mortgage financiers, real estate developers, among other suppliers to make their dreams a reality.