The norm and often practice in our neck of the woods called Ghana is to castigate the medics and criticize the hospitals for untoward behaviours or acts. We hardly do the reverse of commending them anytime they had done something very good.
Admittedly, only few people bring the good deeds of the medics to the same courts of public opinion that judges them harshly with snide remarks whenever they go wrong. Society ought to be balanced in this judgmental regard, methinks.
I must admit that in 2010 thereabouts, I nearly published my negative experience at the same Catholic Hospital, Battor when a nun who was a staff there was overly rude to me. However, I abandoned that piece after I received a plea on her behalf. It thus behooves me to offer praise this time that I had experienced something nice at the same health facility.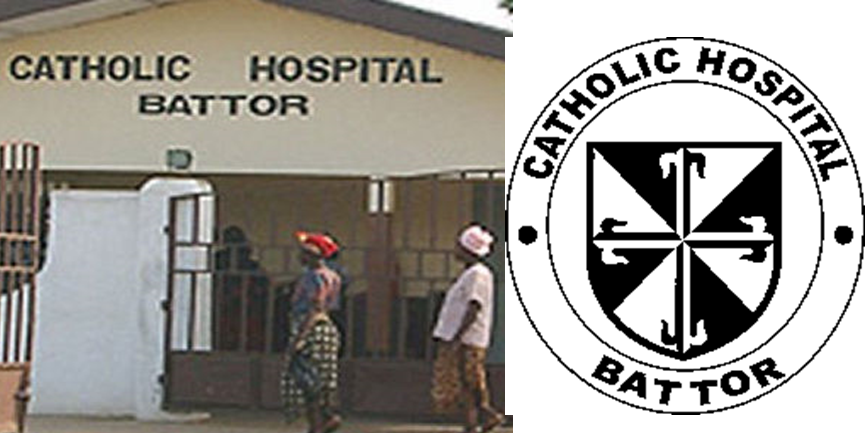 On this occasion, I choose to showcase some health workers who attended to me at the emergency ward of the Catholic Hospital, Battor on Saturday, January 14, 2023. My uncle, siblings and cousins rushed me there urgently for care in a life-threatening situation. I was in excruciating pain.
Admittedly, with the 2010 bad experience on my mind when I was being rushed to the Battor Hospital this time, I called a friend working there to make a special arrangement for me, but he said he was not within the vicinity as he had traveled to Cape Coast. However, he assured me that I would be in good hands because the workers are very professional in their dealings with patients. Well, I took his assertion with a pinch of salt mindful of my bad experience previously. Eventually and largely, he was more than right.
Immediately I arrived in the emergency ward, the nurse who was heavily pregnant rushed to me and began her questions as to what was wrong with me. Her assistant was standing by to offer me any comfort she could also give to minimize my pain.
Swiftly, they took my vitals. I became restless and thirsty suddenly, so I asked my uncle to buy me water to drink. A bizarre twist occurred. My uncle over delayed with the water. I later noticed that the orderly or health assistant was holding some sachet water, I guessed she was about serving another patient. Out of pain, I screamed as though I was commanding her to give me the water. She might have understood my plight, so she politely asked, oh you want water? I replied in the affirmative. She gave me the water unhesitatingly. All this while and until I left, these nurses did not know what I am (my profession). I am a Health Service Administrator.
I say this because, to them, they were attending to a patient regardless of his status. They did not make me pay for the water. I overheard the nurse's name as Klenam or Kekle (Shine for me or shine). She took my vitals quickly. I later got to know that her surname is Morkli. Unfortunately, I could not ask the name of her assistant before their shift ended and they left. They were on morning shift, so they left in the afternoon, but Klenam informed me before leaving.
The Vomitus
I became nauseated after drinking the water. All this while, I was seated in a comfortable chair. In no time, I felt like vomiting so I told the worker who gave me the water to give me a kidney dish or any container of a sort so I could vomit. She quickly held the dish beneath my chin, and I vomited profusely until the receptacle was full to the brim. She told me that she was going to discard the vomitus and return to me so I should control the urge. I nodded in the affirmative. However, even before she could dash back to where I was seated, I messed the floor of the ward. I felt embarrassed so I apologized but she politely said I should not worry.
The Satisfying Nursing Care
With the vomiting over, the nursing care began. I asked Klenam if they had an empty bed because I now felt like lying in bed as I was tired of sitting. She said yes, an empty bed was available. I was happy about that. She explained to me that she would take my blood sample for some lab tests. I consented. She then explained to me that she would give me an IV fluid. I asked her which one and she mentioned the name. she then asked me if I had ever reacted to it or if there are certain drugs to which I react. I said yes but not that one but momentarily, I forgot the name of the drug I do react to. She then made me comfortable in bed and started the IV drug administration. I was getting relieved. Other drugs were administered after my diagnosis was thoroughly explained to me.
Overall, the nurse and her assistant were very polite in giving the treatment and I felt pampered. They communicated to me at every stage of the treatment. I am grateful to Nurse Kekle Morkli and her assistant on duty that Saturday, January 14, 2023.
The Professional and Polite Doctor
Upon my arrival, the doctor was busy with other patients. He is a House Officer currently doing his Obs & Gynae rotation, but I later gathered that he was the doctor on call duty for the day. I observed that he was overwhelmed with work. His name is Dr. Salifu Sandow. I guess I have got his name right. He approached me after I was offered bed and told me that he was aware of me being brought and that my blood sample was sent to the lab. He added that he would revert because he had a bleeding patient to attend to. I told him to feel free because I was stable and comfortable. My pains had vanished suddenly when the IV fluid was being administered.
Hours later, Dr. Sandow returned to my bedside and clerked me into details. In fact, due to medico-legal suits that I handle in the course of my work, I tend to admire doctors and nurses who take clinical documentations seriously. Such clinical notes are helpful to Hospital Administrators who are served subpoena to appear in court or are asked to provide comments to the Attorney-General or the courts regarding the statements of Claim in a summon by an aggrieved patient.
In clinical practice, clerking involves taking a full history, a physical examination and documentation in the patient's notes, including the documentation of a working diagnosis, differential diagnosis, and care plan. Mostly, clerking is undertaken by doctors in training prior to senior review.
Dr. Sandow asked me series of questions and I answered them with admiration for him. He then told me that he liked the way I answered his questions since I am not making his work difficult at all. In turn, I told him that I admired his approach to clerking. He smiled and thanked me. There was no rudeness in him even while working under intense pressure. He exhibited equanimity and professionalism. I pray he continues being polite to his patients for this will carry him far his chosen profession. I observed with much admiration as the young man attended to other patients with much politeness and effective communication on the emergency ward.
Dr. Sandow then disclosed my diagnosis to me and handed a prescription for me to buy certain medications. I had some gastrointestinal troubles. He told me to finish the course and come for a review at Battor Hospital or present at another hospital near me for a check to see if the condition is cured. This was because I told him during the clerking that I lived in Accra. I thanked him and I left the ward.
Appreciation to the Clinical Staff and my Family
I am grateful to the Battor Hospital Management for improving on quality of care at the Hospital especially in the area of improved staff attitude to patients. To Dr. Sandow, Nurse Kekle and her assistant, other nurses on duty and the lab staff, I am forever grateful for saving my life that Saturday.
I equally doff my hats in appreciation to my siblings (Albert and Mawusi Korto), my cousins (Ewoenam Hamenu, Mansah Siame and Fo Samuel Agbagli) and to my uncle, Amadzi Dzegli who later explained why he delayed in bringing me water when I was thirsty. Albert stayed at my bedside throughout and assisted with the IV drug administration because he is a trained nurse. Thank you for being a helpful brother even in time of troubles, Albert Korto. Ewoenam, a Midwife and a cousin went for my medications. Thank you so much dear.
Conclusion
In my considered view, health worker politeness is an instrumental aspect of the patient's healing process, and this must be upheld all the time. Patients who receive top-notch clinical care but suffer emotional torture from the caregivers will not be satisfied with the care. Such patients badmouth the entire hospital mostly in the courts of public opinion.
To this end, I call on all the workers of Battor Hospital and in other health facilities to emulate the likes of Nurse Kekle and Dr. Sandow and their colleagues who treated me satisfactorily. Whilst I thank them for quality service to me, I pray that God should bless the works of their hands and protect them at higher heights. Perhaps my senior colleague, Donatus Adaletey – Chief Health Service Administrator of that Hospital should put in place, an award scheme for such committed and polite staff in case such a scheme does not exist already. I also suggest that this article be read at a staff durbar to encourage the workers. ~Asante Sana~
Philip Afeti Korto
Health Service Administrator
DISCLAIMER: The Views, Comments, Opinions, Contributions and Statements made by Readers and Contributors on this platform do not necessarily represent the views or policy of Multimedia Group Limited.