A Fellow at the Center for Democratic Development (CDD) Ghana is appealing to the Attorney-General for the Supreme Court to resume sitting and deal with some cases.
Prof. Stephen Asare said the case of President Akufo-Addo asking Auditor-General Daniel Yao Domelevo's to proceed on accumulated leave must be heard.
According to him, the court staying on vacation while there is "a serious matter to deal with is problematic."
"The Supreme Court is the sole enforcer of the Constitution. We [citizens] can discuss this here and elsewhere every day but nothing will be resolved by us. The only way to resolve this matter is to invoke as I have done, the court's original exclusive powers," he said.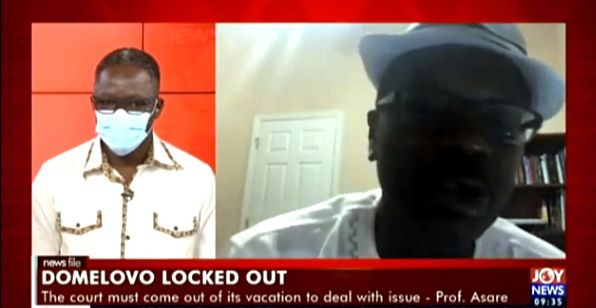 Auditor-General Daniel Domelevo's 'accumulated leave' order has been criticised by the public with many Civil Society Organisations (CSOs) calling for his reinstatement.
According to these CSOs, the move is a breach of the country's Constitution.
Nonetheless, President Akufo-Addo has indicated that he cannot rescind his decision because the move was taken based on provisions of the same Constitution.
Subsequently, the Supreme Court has been petitioned to take up the matter but court proceedings cannot go on because the Apex court is on vacation.
Prof. Asare, however, says the Court must resume to deal with the matter in order to prevent a Constitutional crisis.
"The court must decide, they must deem it important enough and of national interest.
"At the time when groupings of the Supreme Audit instructions of the world and Africa are raising questions about the directives and it's potential to compromise the Auditor-General's independence, it appears to be problematic to me for our Supreme Court to shy away from the issue and embark on a two months vacation," he said.