Key football players of the Moroccan national team including AzzedineOunahi, Youssef En-Nesyri, Nayef Aguerd and Reda Tagnaouti all come from the Mohammed VI Academy, near Rabat. Coming out of the ground in 2009, it is already beginning to provide the national selection.
On Tuesday, December 6, they were three. Three Moroccan players from the Mohammed VI Academy started in the exceptional victory against Spain. Nayef Aguerd, Youssef En-Nesyri, and AzzedineOunahi, completely charmed Luis Enrique.
"My God, where is this guy from? ", he wondered at a press conference, despite the setback. PasclThéault, the former player-coach-trainer of SM Caen, knows him.
"If Luis Enrique is surprised because he doesn't know where he comes from, we are not, we know where he comes from," says Théault. Pascal Théaultwas one of the very first to join the Mohammed VI Academy, which came out of the ground in 2009 by Royal decision, in Salé, near Rabat."
King Mohammed VI wanted to understand why football had come to such difficulties. For a long time, Morocco didn't qualify for the World Cup, wasn't able to pass the first round of the African Cups and the non-qualification of young people in African and especially world competitions.
And also the results that were missing at the level of the African Champions Leagues. So the conclusion was that
Morocco had lost a bit of the thread of training young people who were the strength of Moroccan football., explains Nasser Larguet, appointed director of the project in 2007, when his contract at RC Strasbourg came to an end.
A colossal project
The kingdom then invested thirteen million euros in the project and offered itself an ultra-modern centre, which has nothing to envy to the infrastructures of the biggest European clubs. With Nasser Larguet at the controls, the academy acquires equipment of all kinds. 
"There was everything to do well. Nasser has thought of everything. For example, he wanted children to be able to play on all surfaces. So he made grass pitches, he made a synthetic pitch, he made a stabilized pitch with earth, and he made a mini sand pitch.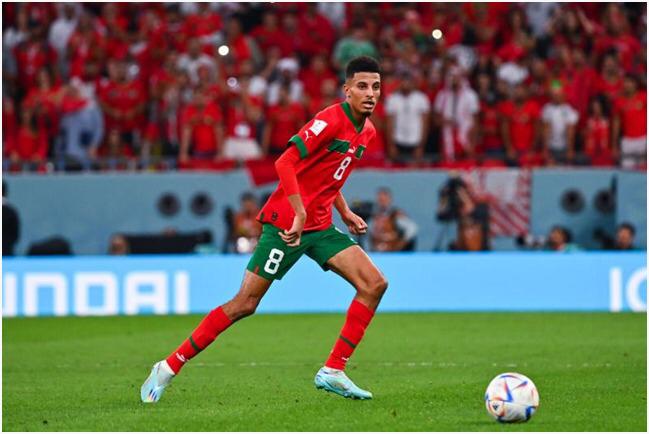 It was extraordinary," explains Pascal Théault. But this 18-hectare academy has slight delays in delivery, and the premier cru begins to ripen 40 kilometres away, in Bouznika."We start with a group of 18 or 20 kids. Facilities are not ready. It's September, it's dragging on, and it should have been ready, but it's not. And I remember that Nasser made the decision to do a one-month internship in Bouznika. 
And in this group, there is already Nayef Aguerd," recalls Théault. Not enough to undermine the morale of the trio: "We start from scratch, and that's what was extraordinary. It was great because we didn't have much at the start. We had 18, 20 players, the canteen was not ready. We were struggling. We are the pioneers. 
If the trainers have fun, all is not all rosy. We still need to develop the right formula to advance Moroccan nuggets. With a staff largely from French training, Nasser Larguet tries to apply French methods. But the experience turns into a fiasco, because at the time, according to him," a 15-year-old player has a history of training and a history of training a 12-year-old child in France".
"We were really catastrophic for six months, and I realized that we had to change methodology. That's what we did in collaboration with Pascal.
With Thomas, the physical trainer, we rebalanced the methodology a little bit and after that, we were really right with our young people, "says Larguet, who passed the torch to Théault in 2014. After a first year spent playing friendly matches, the former coach of OM registers all different categories in the local championships. For its first real season, the academy shines: "We are champions in under 15, champion in under 19 and we were vice-champions in under 17. History has made the first championship for those under 15 years old, we won it with En-Nesyri who scored with a header. And then among the U19s, I don't know if it's the third or fourth year, it's Aguerd who made us win the match with a header too, "says Larguet.
DISCLAIMER: The Views, Comments, Opinions, Contributions and Statements made by Readers and Contributors on this platform do not necessarily represent the views or policy of Multimedia Group Limited.